UNF's men's soccer finishes historical season
Head coach Derek Marinatos and the men's soccer team left their seats and shouted in excitement when Simen Solstad blasted a goal off a free kick, drawing UNF one goal closer to equalizing ETSU in its first Atlantic Sun Conference final Sunday.
Marinatos made the daring sub during the second half, putting Solstad in after he could hardly walk just five days prior.
But much like the highs and lows of the season, UNF's momentum was quickly demolished with a final blow from ETSU when it scored in the 86th minute, ending the Ospreys' Cinderella run in Ft. Myers.
This time last season, and every other season before, UNF men's soccer teams were only finals spectators.
UNF made history in Marinatos' third season as head coach of the team, doubling its win tally from only four games last season to eight this season and making its first A-Sun semifinal and final appearance in program history.
Keeper Brad Sienkiewicz knew the team had potential before the season began and thought UNF showed that talent, going undefeated in the first 5 games of the season.
"Just seeing what we had in preseason, I knew we were going to be talented," Sienkiewicz said."We started out our season on the highest of highs."
UNF beat its first Top 25 team during the unbeaten streak, taking out then No. 25 University of Central Florida 1-0 in overtime.
The Ospreys were led by the underclassmen throughout the year. They accounted for 15 of the 23 goals scored throughout the season, including tournament play. All but two of the new freshmen scored a goal. Sophomore Jean Rivaroli led the team with four goals along with junior transfer Pedro Carniero.
Marinatos said the younger guys stepped up and made a big impact on the team when they needed them to.
"It's great. When Simen got injured, for Slywester (Szczesniewicz) to step up and do well was huge," Marinatos said. "Sean Young was dangerous against Mercer, gave good minutes against ETSU. Bolt is a tough defender who had a great year. All of our young guys really stepped up."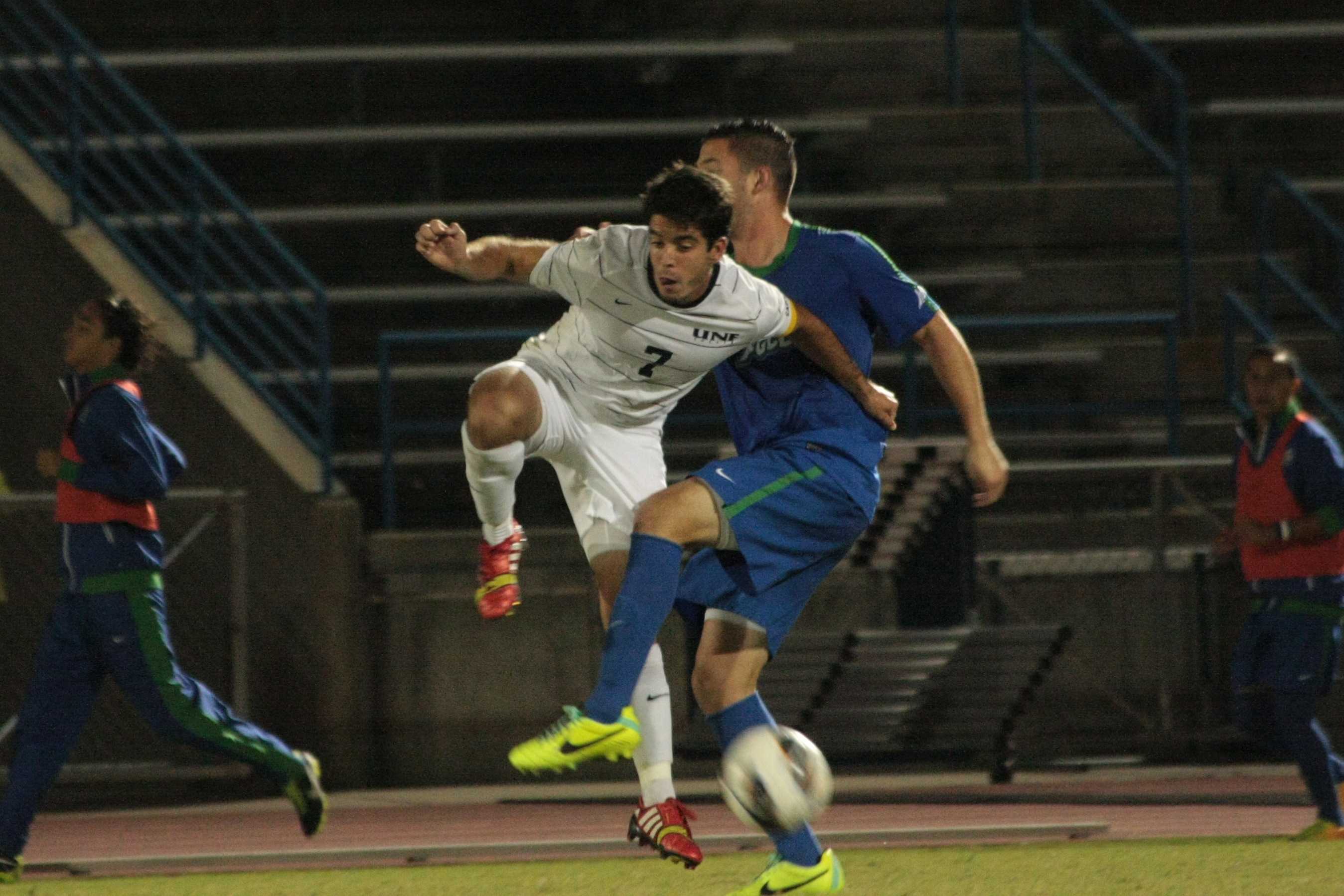 The team looked strong, only losing two games before conference play began against ETSU at home October 4.
But UNF earned just one point in the next four games.
A goal from Sean Young against Mercer ended UNF's four game losing streak on October 4, giving them a chance at postseason play with other teams struggling in conference.
With one more win over Stetson and a tie at JU, UNF secured the No. 5 seed in the A-Sun which earned its ticket to the tournament for the first time in over five years.
Sienkiewicz said with the team's efforts, he couldn't have been more pleased with them. The defense only allowed 1.12 goals per game leading up to the A-Sun final, a two goal improvement on last years 3.41.
"I can't fault the guys for the effort and their hunger or desire," Sienkiewicz said. "All of the guys fought and gave it their all and I give a lot of credit to the guys in front of me."
The team will return its entire starting backline of defenders, minus Sienkiewicz, which will help keep them strong.
After beating Mercer 1-0 in the 1st round, UNF made its way into the program's history books with its first semifinal appearance against No. 1 seed Florida Gulf Coast.
No one could've guessed the outcome.
UNF beat tournament host FGCU 2-1 with an 80th minute game winner by Pedro Carneiro.
To say Carnerio is clutch is an understatement.
All of Carneiro's goals were game winners this season coming against UCF and FIU in the regular season, as well as Mercer and FCGU in the tournament.
Marinatos said, after the season's end, it felt good to be where they are and got a lot of accolades from people.
One person who gave them credit was tournament champion ETSU's coach Ian Luya. Luya knew the final would be tough against them and thought Marinatos has really turned the program around.
"We knew that UNF, especially in the last few games, has been fantastic so we knew it was going to be a difficult game," Luya said. "I've got a lot of respect for Derek. He has built this program and built it the right way, playing the game the right way. He's got a young team and if I were guessing I'd say that UNF will be back in the championship next season."
ETSU topped UNF 3-1 in the final after scoring its second goal just thirty seconds into the half, taking UNF's legs from under them.
Alex Morrell said the season was a long one with ups and downs, but that the team stuck together through it.
"It was a long journey for us, really," Morrell said. "It was fun most of the time. Every game we celebrated as a team and we lost as a team, we just kept pushing forward and that got us here to the final."
Marinatos and the Ospreys will look to raise the bar next season, trying to make it in as the No.1 or 2 seed coming to the tournament. The head coach said he will look for the team to better themselves through fitness, a problem that may have cost the team in the second half of the final.
"Our expectations are even higher now. We want to be the No. 1 seed next year," Marinatos said. "Our goal is to get better in a few positions and bring in more depth. We'll address some fitness in the spring. When the guys come in next season, we want most of them to pass the fitness test right away."
UNF ended the season with an 8-7-3 record, its first winning record in over five years, but will look for more next year and a chance to hoist the A-Sun trophy.