North Florida surfing takes fourth overall at East Coast Regional Championships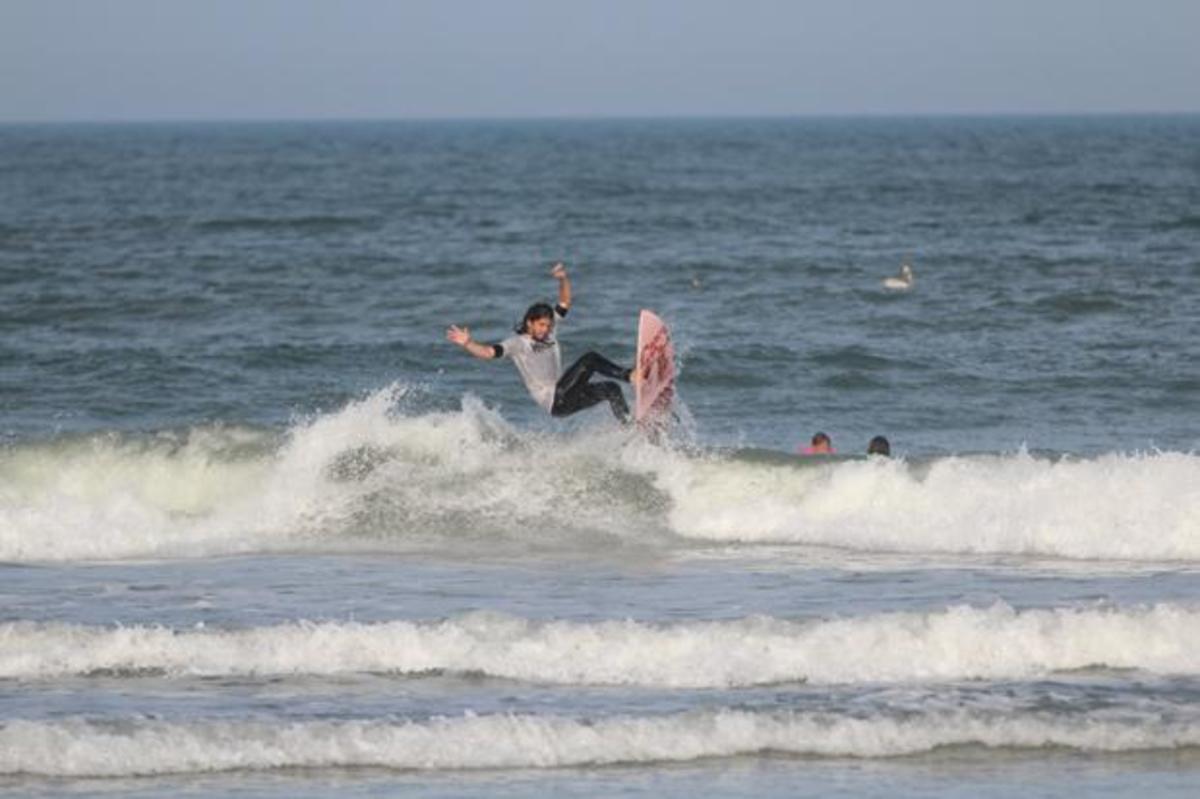 Max Mertens paddles into a set wave, knowing he needs a big score to boost him out of 5th place and into the top three to advance past the quarterfinals. He takes off down the line, building speed, throws a huge front side snap off the top of the wave, and rides out smoothly. However, the wave goes without a score, leaving Mertens on the outside looking in and missing the next round.
The National Scholastic Surfing Association hosted the 2014 East Coast Regional Championships, one of the biggest surf competitions on the east coast, in New Smyrna Beach. The tournament hosted the collegiate level competition with teams from UNF, UCF, Daytona State College, Florida Atlantic University, and five-time consecutive winner UNC Wilmington.
UNF, who dominated throughout the NSSA season winning three events in a row, found themselves without a single win for the men's team. After the first round of action, only five of 12 surfers from both the North Florida A and B teams were left standing. Max Mertens, Pat Nichols, Tyler Dean, Mel Young, and Alex Wight carried the remaining hopes of bringing home hardware to the Ospreys.
Team captain Adam Bartoshesky said it was disappointing to see his team go down early after its success throughout the season. "Things weren't really going our way in terms of waves and we were  just not getting the scores we needed," Bartoshesky said. "Pat (Nichols) needed a 5.37 to move into an advancing position and got a wave before the buzzer. He got a 5.2. It comes down to hundredths of a point and we just couldn't get them."
When the collegiate competition began at 2:30 p.m. on Saturday, the waves were already beginning to drop off in both power and consistency. Sets coming through offered surfers a chance to get bigger turns and boost their scores but with heats only lasting 15 minutes, those sets were rare.
Despite the spotty waves, UNC Wilmington's six surfers were unstoppable. Winning three of the first four heats and placing second in another, Nick Rupp, Shane Burn, and Cobi Christianson looked unmatched. It wasn't until Heat 5 of Round 1 that UNF would see a first place contestant in Tyler Dean.
Round 2 was much of the same for UNF as Dean, Young, and Wight were eliminated. Dean couldn't find a rhythm after dominating his first round heat, only catching a few waves with only one that was noteworthy.
As the sun set on the first day of competition, only Mertens and Nichols would have to wake up with a heat to worry about in the morning and a fighting chance.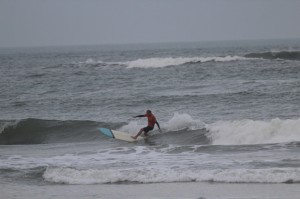 Sunday morning began early for the teams with the starting horn blowing at 8 a.m. Mertens took to the water in the first heat and struggled to get things going early.
"Having the early heat felt a bit rushed," Mertens said. "I didn't have all my equipment together and had to ride a different board. The heat started fast and I didn't catch my first wave until almost two-thirds of the way through"
But things looked up for the Osprey when he caught a 2.77 worthy ride and closed the gap on Sebastian Lang who had a combo score of 5.86. However, the heat took a turn for the worse when Mertens looked to get a wave that boosted him up to third. After the wave, the announcer was still talking about what the riders needed and there was no mention of what Mertens just did. When the final horn sounded just over a minute later, nothing had changed. Mertens was still placed fourth and eliminated.
"I got a really good turn on my last wave but the score was only a 1," Mertens said. "They may have thought it wasn't that good or just missed it. Really wanted to make the heat but wasn't worth arguing and making a big deal out of it."
Bartoshesky also said that Mertens had a slow start but late in the heat got a long right down the wave and blew the tail out, a really hard maneuver to control, and brought it back. The judges may not have counted the ride as complete because Mertens didn't ride out of the wave long enough for them to count it.
Any salvation for the team was then put on Pat Nichols in the third heat, battling Dillon Harrington and Alec Zappone of Flagler who easily made into the quarterfinals.
With one of the contestants not showing up, it was only between four surfers to get the top two spots. Nichols started out with a good wave, getting a good hit after battling through a section of crumbling white water. The score was good enough for third with 3.43, though it wouldn't hold for long after Will Warren earned a 2.50 to add to his 2.07.
Warren kept his lead over Nichols, outscoring him wave for wave through the judges eyes up until the end.
Both Flagler surfers made it to the finals along with UNC-W's Rupp, Christianson, and Burn. Rupp took home first with Christianson finishing third and Burn fifth. Captain Alek Rockrise thought his team did very well and was excited to take home the win. "It was a great contest, maybe wave-wise not the best but there were still some shredders out there," Rockrise said. "Going for six in a row we had a lot of pressure on us but we're lucky to have the team we do and have a lot of them coming back next year to continue it." Rockrise added that the team may not be financially able to make nationals but would be great to see some east coast teams competing.
With no men remaining in the shortboard, the women's division and men's longboard would be UNF's golden ticket to an overall team placement. Emily Ruppert and Kayla Durden took down the competition with ease, earning a one-two finish. "We're just doing our part to help the team," Durden said. "When the guys surfed we really didn't know how they were doing, Emily and I just want to contribute. We'll be going to nationals so we're really excited about that."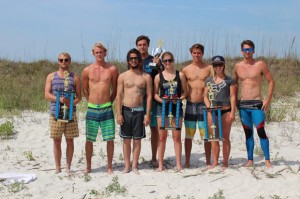 Along with the one-two finish, Nichols' performance in the longboard final earned him 2nd place and helped put UNF into 4th overall.
The team now has their sights set toward June and the nationals in California.
Bartoshesky said the team will do everything they can do to prepare for the event. "We'll be holding competitions within the team and try to compete against another team through a sub event," Bartoshesky said. "We have to get our heads back in the game and progress individually, make a better strategy, and try to get two teams out there for support."
[wzslider autoplay="true" info="true" lightbox="true"]