UNF basketball loses young talent
Scott Kunath
April 11, 2014
Updated on April 16, 2014
Sean Brennan, one of UNF basketball's rising stars this past season, will leave the Ospreys and transfer to another college next fall, citing personal reasons.
He's not 100 percent on a location just yet, but he seems to have a pretty solid idea of where he'll be going. "I have a lot of D-II looks and offers," Brennan said. "But I think I'm going to go to the University of North Georgia." Brennan said he's leaning towards a Division II school because of the transfer rules in Division I college sports.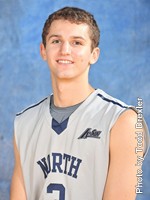 The rules state that a student-athlete transferring from one four-year institution to another four-year institution must spend one year in residence at the new school before being eligible to compete as a student-athlete. If Brennan transfers to a school with a Division II basketball program, he will be able to take advantage of a one-time transfer exemption, enabling him to play this fall at whatever school he ultimately decides to attend.
The 6'2" point guard had a very impressive start to his college career. In Brennan's first three games with the Ospreys he scored 29 points, with one of those games coming against nationally-ranked The Ohio State University. After those games, unfortunately for Brennan, the other talented young players on the team exploded offensively soon after and left his place on the team in limbo.
Brennan shot an astounding 55 percent from 3-point range this past season, making 10 of his 18 attempts during his 125 minutes on the court. His time was limited due to the seemingly endless talent at UNF's point guard position.
"Everyone wants minutes," Athletic Director Lee Moon said. "But they don't know what the situation is going to be before they get there." Brennan's teammate Dallas Moore, who was named freshman of the year in the Atlantic Sun Conference, overshadowed the other point guards by a large margin this past year. Aaron Bodager, Jalen Nesbitt, Devin Wilson, Beau Beech and Trent Mackey — who sat out last season after transferring from UL-Monroe — round out the overcrowded position on next season's roster.
He said coach Driscoll helped him learn the importance of details on the court and was grateful for the entire coaching staff and their hard work.   "Coach Driscoll is a good coach," Brennan  said. "He knows exactly where he's trying to take the program and how he's going to go about it."
Brennan will be a welcome addition to wherever he decides to go next season, as an athlete and a student. "We would've loved to have him stay," Moon said about Brennan transferring. "He's done exactly what we asked of him and he'll be a valuable addition wherever he decides to go."
For more on Sean Brennan and his basketball career, here is a highlight from his high school performance:
[nicevideo link="https://www.youtube.com/watch?v=VEP87cV_id0″]