UNF surf team takes fourth overall honors at National Championships
Champagne sprayed over Emily Ruppert and Kayla Durden as they made their way off the stage at the NSSA National Championships as the Osprey surf team's first national champion and runner-up at Salt Creek, Dana Point, CA.
After thirteen hours of competition between the three divisions, UNF was named 4th place overall, its highest place at the national level.
The competition began promptly at 7:00 a.m. Conditions were favorable compared to last year's with waves coming in at the Surfline forecast of 2-3 feet, only improving as the day went on.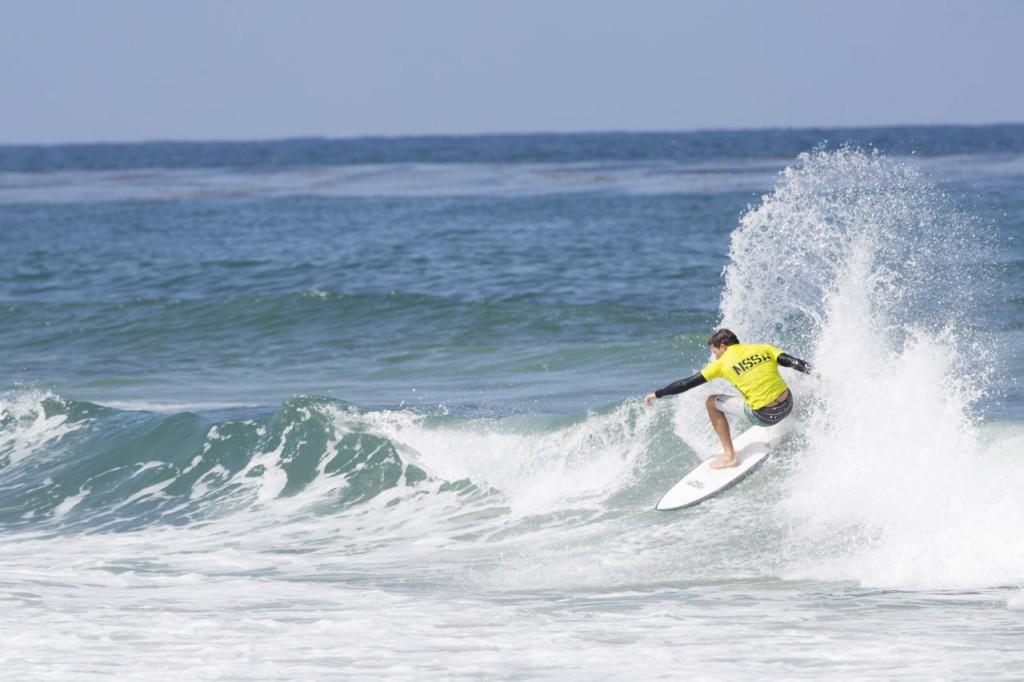 "It was looking super fun in the morning," UNF captain Adam Bartoshesky said. "Throughout the day it seemed like one heat would be on with waves and the next heat wasn't very good. It was off and on all day and fortunately the swell stuck around for final rounds." After nine heats of competition, UNF's first surfer, Bartoshesky, was ready to paddle out.
The first wave exchange between competitors put Bartoshesky in third with a 1.93. Only the top three surfers from each heat advanced to the next round. His fourth wave earned him a 2.0, enough to secure third over Florida Institute of Technology's Richard Roettger.
The next five heats included an Osprey in each of them. Jake Compton, Pat Kelly, and Pat Nichols all advanced with ease. Compton earned first in his heat, Kelly and Nichols both earned second. Heat 14 came with a surprise first round knockout of UNF's Max Mertens. Placed with three California collegiate surfers, Mertens was up against Tyler Devine of California State San Marcos, Brandon Hawkins of Saddlebrook, Colton Tsich of Mira Costa, and Casey Howell of San Diego State University.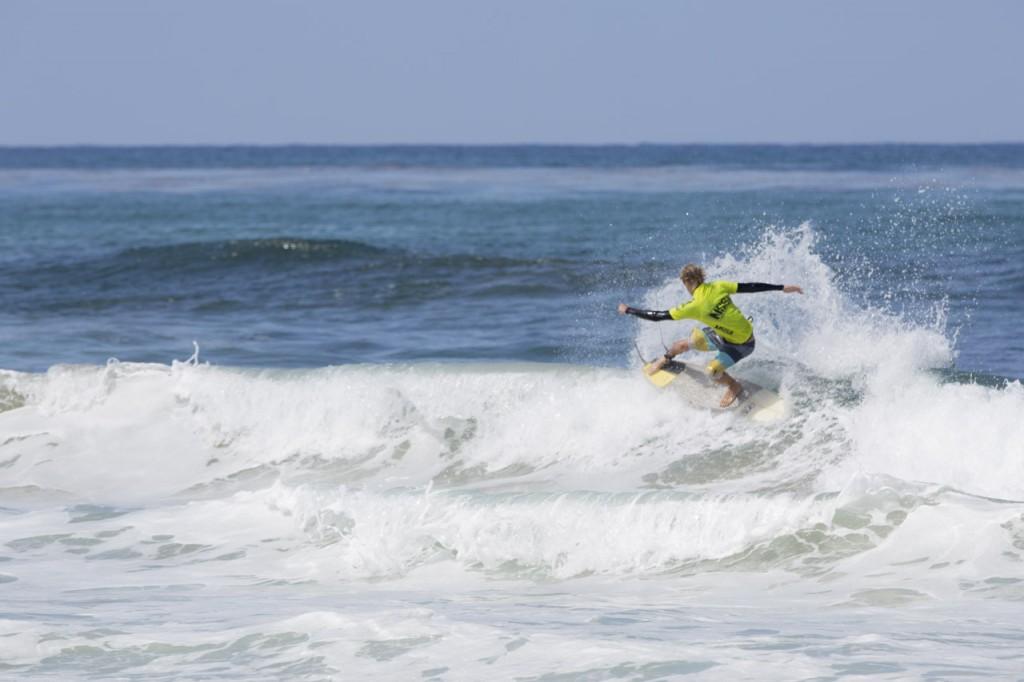 Mertens' first two waves earned him a 5.60 total, good enough for second at the time, but a 3.63 by Hawkins later in the round and 3.23 from Tsich bumped them into 2nd and 3rd place, eliminating Mertens. Mertens said he was frustrated he couldn't advance with the stacked heat he was placed in, though only needed a 3.07 to make the next round.
Tyler Kelsey ended the first round of competing for the Ospreys by placing third in his heat and advancing. "Felt good surfing but unfortunately just wasn't able to put it together," Kelsey said. "It is what it is, wasn't quite the finish you expect, always expect to make the final but it was fun."
Though the Ospreys excelled in Round 1, the team couldn't get the scores necessary to advance past Round 2.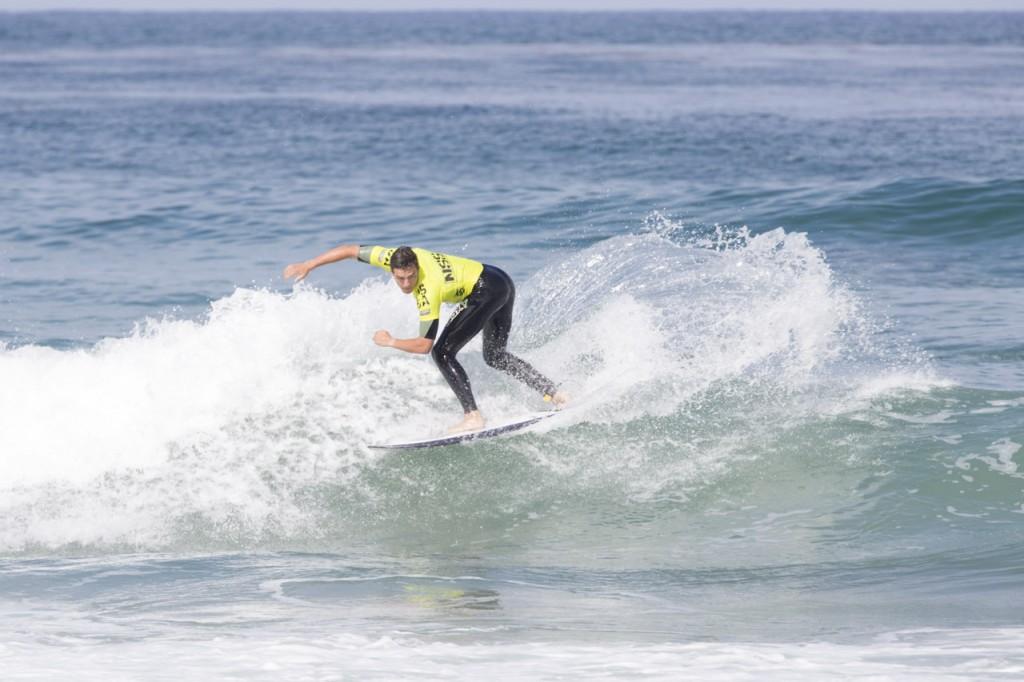 Kelsey started Round 2 off for the Ospreys and after the first wave exchange between competitors was in third place with a 3.23. However, as the heat progressed Kelsey could not find a higher scoring wave and placed fifth, needing a 6.37 to advance.
Pat Kelly and Jake Compton were placed in the same heat following Kelsey's elimination. The Ospreys had to earn two of the top three spots in order for both to advance. Kelly stayed active in the heat, using the 10 wave maximum but not scoring above a 2.73. Compton had similar struggles, only earning a 2.90 as a top score out of his five waves. Kelly and Compton took fifth and sixth and were eliminated.
"It's unfortunate that it has to happen but it's how the heat draws work and it was a bummer neither of us could make it through," Kelly said.
UNF found hope for a quarterfinalist in Pat Nichols when he placed third in his heat with a 5.23, though not scoring higher than a 2.70.
The eighth and final heat of Round 2 had captain Adam Bartoshesky pushing to get two Ospreys through to the quarterfinals. However, Bartoshesky only earned a 1.33 in his first four waves as a high score and could only add a 2.20 by the final horn. The captain placed sixth and was eliminated.
Tyler Kelsey said Round 2 was the team's downfall with the level of competition in each heat.
"There's a couple of pros out there, they're still in college but there are still a  couple pros and guys out here in California who can really surf," Kelsey said. "We have the talent too but for the men's we weren't able to capitalize past the second round."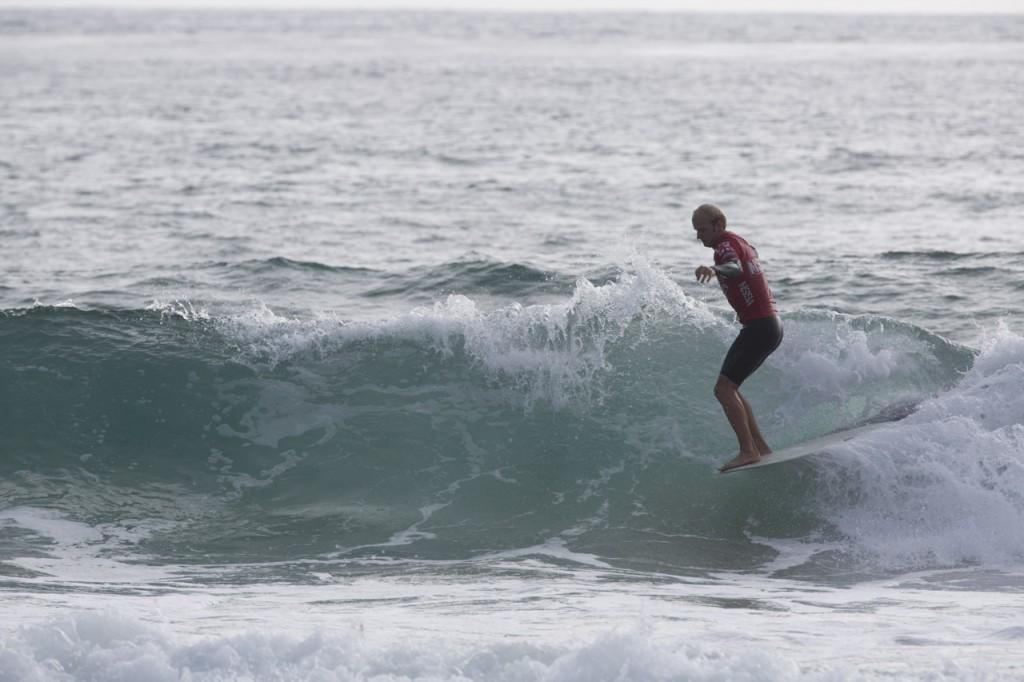 Despite Round 2 struggles for the men, the UNF women followed the boys' Round 1 success and easily advanced to Round 2.
Emily Ruppert opened with two waves that secured her 1st place finish, earning a 6.00 and a 3.90. Danielle Wynn of Saddlebrook narrowly missed first, only needing a 3.98 to win the heat.
Kayla Durden placed 2nd in her first round heat with the last wave nearly earning her first but needed .44 higher. Alexa Dilley won the heat with a 9.10 to Durden's 8.74.
Following the first round of women's shortboard, men's longboard went into action with Pat Nichols the only Osprey in the division. Dominating his first heat, Nichols won by 5.13 over Dane Peterson of UCSD who needed a 9.03 to take first. Nichols earned a 14.50 total.
Waiting out the rest of the longboard and first 3 heats of the shortboard quarterfinals, Nichols was back in the water an hour and half later for his quarter. Nichols earned fourth with only a 6.53 total.
No Ospreys remained in the men's shortboard as Shaw Kobayshi, who won all of his heats leading up to the semifinal, in which he placed second, took first in decisive fashion with an overall score of 16.00. His top two waves were a 9.00 and 7.00.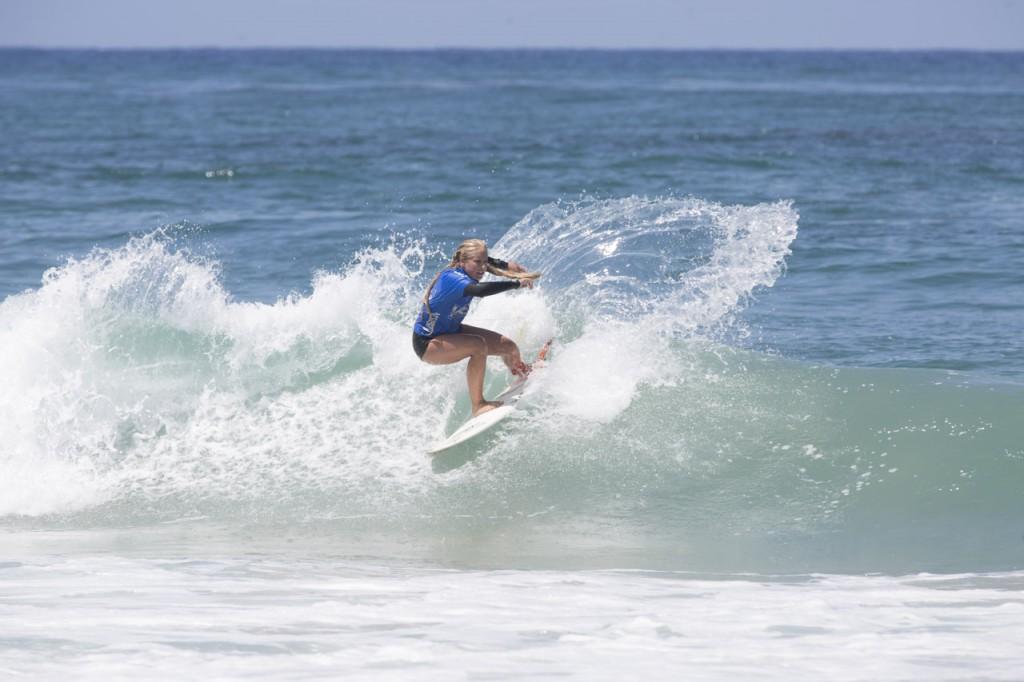 Round 2 for the women placed Ruppert and Durden in the same heat, with the top surfer advancing to the final and the 2nd and 3rd place forced to surf a repocharge heat, a second chance heat to make it in the final. Ruppert and Durden placed 2nd and 3rd and were forced to surf the repocharge in order to make the final, a heat Durden found a problem in.
"I sat on the wrong peak during my repocharge and barely squeezed through that one," Durden said. "For the final I went over to the main peak which made a big difference." The women's shortboard final heat was set with the top surfers of the day including Marissa Shaw, Alexa Dilley, and Sara Locke in addition to the Ospreys.
Ruppert and Durden commanded the heat from the beginning and didn't let up until the final horn. Ruppert scored a 6.45 as her first highest score within the first few waves and earned a huge 8.50 after executing a frontside turn off the lip and then hit two more turns before the wave fizzled out.
Ruppert was crowned the new national champion.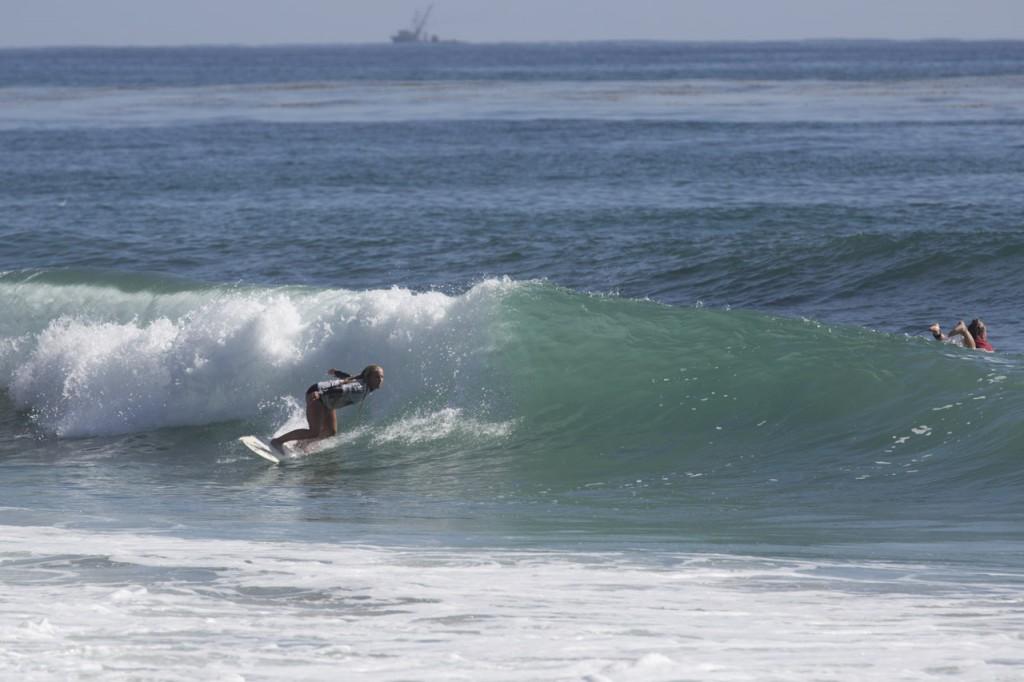 "It feels awesome," Ruppert said. "I wasn't really sure that I won when I was coming in. But then I saw the guys down by the water, and I was like, 'Sweet, I won.' "
Durden started off going wave for wave with Ruppert, earning a 6.43 as her highest score but was only able to get a 5.00 for her second. Ruppert was greeted onshore by cheering team members as the horn sounded for the start of the longboard final.
Pat Nichols started with a 5.17 as his highest score within the first few waves he rode, trailing Josh Richardson of Flagler who earned a 7.17. Nichols' second wave was not much stronger, only scoring a 5.87 to Richardson's 6.33 backup score. When the horn went off it was Richardson who came out of the water victorious.
"Definitely disappointed that I didn't take the whole thing, especially for UNF," Nichols said. "But I had a good semifinal heat and I was feeling pretty good and I think in the end the pressure kind of came to me and I thought I got a DQ so that was a bummer but it worked out"
Awards followed, with individual awards being given out to Captain of the Year, Coach of the Year, and the Chuck Allen Memorial Trophy.
Adam Bartoshesky won Captain of the year for his efforts in revamping the surf team and getting involved with the community including fundraisers and offering surf lessons.
Emily Ruppert took home the Chuck Allen Memorial Trophy, the highest honor the NSSA offers, according to Executive Director Janice Aragon. The award is given to the student athlete who embodies the late Chuck Allen's vision of what the NSSA stands for; an all around great surfer who performs on the waves and in the classrooms while showing sportsmanship in all they do.
"I really didn't know too much about it going up there," Ruppert said. "I had just found out about what it was before they announced it but it was super cool."
With the one-two finish of the women's shortboard and Pat Nichols earning 2nd in longboard, in addition to the Round 1 success of the men's shortboard, UNF earned 4th overall. The Ospreys placed highest of all the East Coast schools including Florida Institute of Technology, Flagler College, Daytona State College and others.
Though this marks the end of captain Bartoshesky's surfing at UNF, he is excited for the team's future. "The coolest thing is that the team so young, so everyone will be back next year," Bartoshesky said. "We have new talent coming freshman class that are absolute shredders. We have some rippers coming."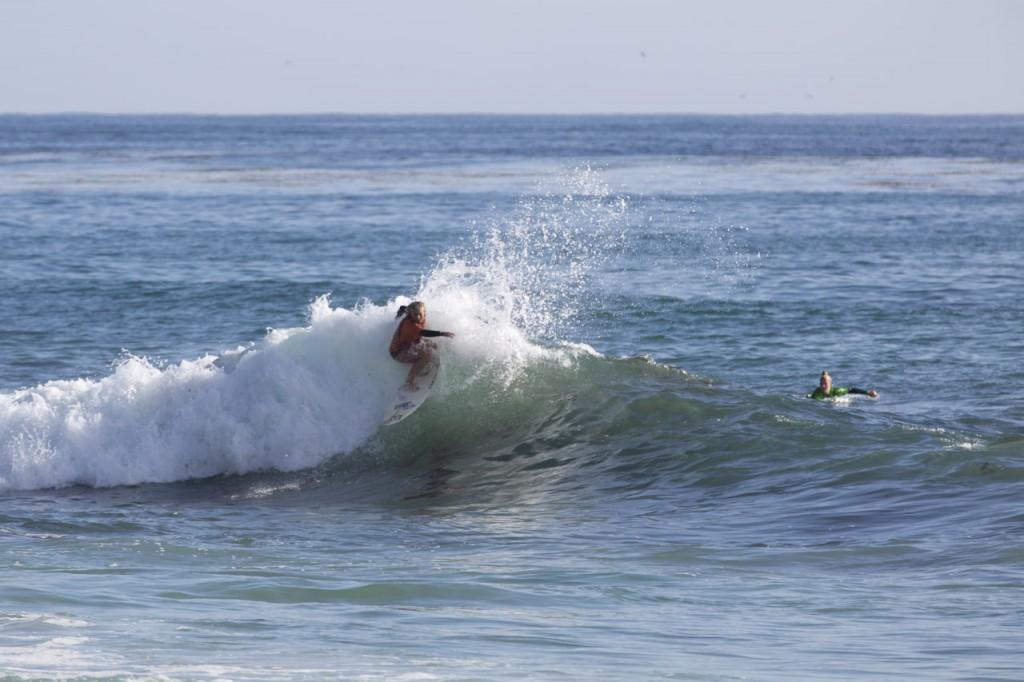 Gallery photos by Andrew Nichols

[doptg id="7″]