Spinnaker's guide to UNF clubs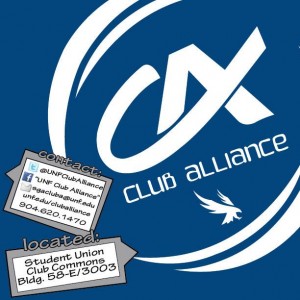 At first glance, it may not seem like UNF is the epitome of an active campus life, but UNF actually has over 200 clubs. Clubs vary from a shared love for a hobby to a deep concern for the community.
For a complete list of clubs, visit http://www.unf.edu/cluballiance/Clubs.aspx. Many student organizations and clubs will be tabling at Week of Welcome's Welcome to College Luau on Aug. 24 from 5 to 8 p.m.
Unusual
If you've always wanted to go to space, the Space Hardware Club probably can't help you do that. But it can help you design and build models that can go to space. The club forms partnerships with NASA for internships and projects. The club has compiled a list of recognitions: The club developed a space-ready satellite called Orbital Ospreys that was featured on the front page of the Florida Times Union and in the Jacksonville Business Journal. Only one other university in the US, the University of Alabama in Huntsville, has a Space Hardware Club.
Modeling is more than just a catwalk. FACES Modeling Troupe, Inc. focuses on educating its members about the many aspects of the modeling industry including photography, modeling techniques, and health awareness.
Doctor Who is not only a British TV show but the inspiration behind the club. Club members get together for trivia night, volunteer projects, and screenings of the show while promoting the values the show of more than 20 seasons presents.
The Arts
Knitting Ospreys [[email protected]]
Just when you thought knitting was a dying craft better left for your grandmother, the Knitting Ospreys proves otherwise. The Knitting Ospreys club welcomes creativity and fabric-based crafts with open arms.
Pressing command+n on a Mac typically creates something new. The idea behind the CMD+N Club is to embrace new ideas and work on promotional projects for various organizations.
Music Theater Performers [[email protected]]
If you like acting but find yourself with sweaty palms and trembling hands moments before an audition, this club is for you. The Music Theater Performers club gives members the atmosphere of a staged performances without the anxiety of auditions.
Gaming and Application Development [[email protected]]
We've all more than likely spent hours glued to the screens playing our favorite video games. Find out how to make your own addicting game with the Gaming and Application Development club. This group focuses on increasing experience in gaming, application development, and computer programming language.
Calling all DJs, wanna-be DJs, and electronic dance music fans. This club encourages potential DJs and producers to share ideas and get into music and radio business.
Educational
Joseph Bass, president of the CCC and international studies junior, said this club is the first stop for Chinese students when they get to the US and the last stop for Chinese learners when they leave. Members pick up international Chinese exchange students from the airport, exposing themselves to Chinese cultures. But members also give their two cents, showing international students American culture. Bass said when international students come, they sometimes stick together. If students choose to branch out, the CCC is there to help them do so comfortably.
The American Sign Language club hosts Silent Coffee Chats every Tuesday in the Thomas G. Carpenter Library to connect with the deaf community.
If your answer to the popular question "What do you want to be when you grow up?" was "astronaut," this is probably your place.  The club raises excitement and brings resources to everyone who shares a passion for astronomy.
As broke college students, eating organic may leave us out on the street. But that doesn't mean you can't get exposed to organic practices. Members of the UNF Organic Club work in the UNF Ogier Gardens to learn about sustainable agriculture.
Adventurous
For all those with a need for speed, you won't find yourself meeting in a classroom. The Auto Racing Club holds their meetings in the Fine Arts Center garage (number 44). The Auto Racing Club focuses on planning safe and legal motor sports events.
If you're a rock climbing expert or have never rock climbed a day in your life, the Rock Climbing Club has you covered. The club takes you anywhere from practices at the Student Wellness Center to national competitions. Nathan Zwerling, president of the RCC club and ecology junior, said even though rock climbing is an individual sport, it becomes a social event when members are shouting encouragements and helping each other out.
This club offers practices for students to experience the art of Brazilian jujitsu, a martial art and combat sport centering around self-defense. It's open for students and alumni who want to learn.
With a Cause
Divest UNF believes in putting your money where your mouth is. The group is behind the petition for John Delaney and the UNF Board of Trustees to divest from fossil fuels in the university's investments. They believe the values of the university should align with their investments.
Is there an age limit on watching Disney movies? Swoop For Disney would argue no. Members enjoy Disney animations and raise money for children at Nemours Children's Clinic to visit Walt Disney World.
Active Minds recognizes the high suicide rate among college students and the stigma associated with getting help. The organization hopes to educate and encourage students in the realm of mental health.
Email Noor Ashouri at [email protected]