Student orientation fees increased at AOC meeting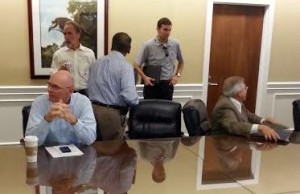 Additional orientation fees and overnight orientation programs dominated discussion at the Auxiliary Oversight Committee on Sept. 10.
Associate Vice President for Enrollment Services Albert Colom said that out of 14 available orientation dates, four would offer overnight options to stay on-campus.
The committee approved additional fees for orientation, tabling the overnight option, and approved seven other items on the agenda.
Student orientation
Colom said if this request were to go into effect, it would impact incoming Fall 2015 students because their orientations are over the summer.
Freshman and transfer students are currently charged a one-time $35 orientation fee. According to the request, here are the proposed fee changes:
FTIC Freshman are assessed $100
Overnight freshman are assessed $50
Transfers are assessed $50
Chad Learch, director of New Student Orientation, said the fee increases help fund additional staff positions and orientation programs.
More orientation team leaders will lead to smaller and better mentored groups of students, he said.
Colom said the four overnight options are part of a pilot program. He doesn't want to make all the orientation dates a required overnight stay, he said, because it can potentially deter incoming freshman from admission.
Vice President of Student and International Affairs Mauricio Gonzalez said, if overnight programs are offered, it takes a student dormitory offline and the university loses money if the potential students don't come.
Housing revenue is at an all-time low, Gonzalez said, because of the Clubhouse construction and preparation to buy The Flats.
Gonzalez said he would want all orientations to require students to stay overnight.
AOC Chair Shari Shuman said more discussion is necessary to determine if the shift to the overnight orientation program will be necessary for admission.
The committee passed the requested increase to orientation fees, but tabled the portion about overnight orientation.
Compared to other Florida universities' orientation fees, UNF has the lowest. The average freshman orientation fee of all public Florida universities is $127, while the current fee UNF charges at $35.
Requests Approved
The Music Department's request of $13,000 in budget authority passed.
Business Services request of $16,000 in budget authority passed.
According to the request, the funds cover the consulting fees from Pro Buyers, LLC for campus wide copiers, printers and mailroom management.
Shuman said the request covers the fees rolled over from the previous fiscal year.
The Fine Arts Center request of $86,195 in budget authority passed.
The funds cover the cost of two projects that were started in the previous fiscal year; repairing a curtain and replacing a rigging system, according to the request.
Fine Arts Center's request to reallocate $26,815 from the salary budget to support a full-time staff position in Talon Room passed.
The Student Union Administration request of $25,000 in budget authority from the SU auxiliary fund passed.
Director of the Student Union John Simms said $23,500 would support enhanced programming initiatives. $1,500 would go toward a 12-month lease of a storage container for securing various equipment and furniture Simms said.
The Enrollment Services request of $22,055 to cover the salary for a new Director of Student Orientation passed.
"The position currently sits at an associate director level," Colom said. "And to bring the program to the level of the university, in terms of what were doing strategically with the increasing enrollment and quality of students, this is necessitated."
Email Brandon Thigpen at [email protected]