MyWings automated class scheduler gives students more options

Students have access to a new program on MyWings that schedules classes for them.
The Osprey Course Scheduler lets students add however many courses they need to take and then the system creates as many schedules as possible, University Registrar Megan Kuehner said.
Students can also enter times when they aren't available and the scheduler works around those times. Kuehner said the program can generate 500 possible classes in seconds.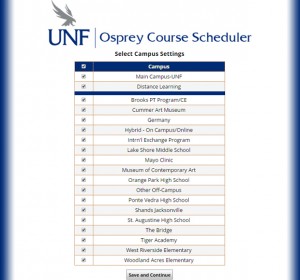 She said the assumption is that students already know what classes they need to take before they use the scheduler.
Ideally it will function off the Osprey Map, Kuehner said, but that's a long-term goal.
She said students are constantly trying a type of Tetris shuffle when making their class schedule. She said they purchased the software because of how hard it is to make schedules.
"I understand needing a certain class and not being able to get it, and trying to make life work," Kuehner said. "We wanted this tool in a way to try and ease some of that and take what can be an extremely frustrating process, make it a little easier."
She said they beta-tested the new program with members from Student Government and Academic Center for Excellence peer tutors.
Kuehner said they started trying to purchase this program two years ago, but they had to go through multiple levels of approval.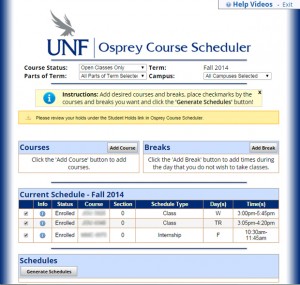 "We did a very soft launch in July for upcoming fall registration. We just kind of put it out there to see what happened and we've had currently over 4,000 students access the system," Kuehner said.
Alejandro Perez, international business freshman, said he has used the program when scheduling classes for fall and it wasn't hard.
Sociology junior Kayla Johnson said using the program will save time and that right now she just wings it when she makes her schedule.
The program is currently available on MyWings under Registration.
Email Saphara Harrell at [email protected]
*10/10/14 at 11:07 a.m. – Updated with video interview