UNF graduate a contestant on The Bachelor
UNF alumna Tracy Darakis is a contestant on season 19 of the ABC reality show The Bachelor. Darakis, 29, is in competition with 29 other women for the heart of Bachelor Chris Soules.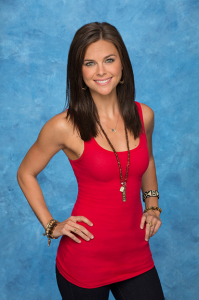 Darakis graduated with a degree in elementary education from UNF in 2007. According to ABC, she left her job as a fourth grade teacher at Royal Palm Beach Elementary to join the show.
On the season premiere on Jan. 5, Darakis made it past the first rose ceremony to ensure herself at least one more week on the show. At the end of each episode, there is a rose ceremony in where Soules gives a rose to the women he wants to continue dating. Those who do not receive a rose must say their goodbyes and are taken away from the mansion all of the women are staying in.
According to ABC, Darakis said being married means "having a sidekick and a teammate." Upon introducing herself to Soules, she read a letter to him from one of her students that explained how she did not want her teacher to end up a cat lady, which drew a laugh from Soules.
Soules was only allotted 22 roses for 30 women on the first episode of this season, and chose to give Darakis one of those roses. As season 19 continues, Darakis will compete for Soules' hand every week on ABC, Mondays at 8 p.m. Eastern Standard Time.
Spinnaker news reached out to Cathy Rehl, ABC's contact for the Bachelor, on Dec. 21 to request an interview with Darakis. According to emails with Rehl, none of the contestants are allowed to be interviewed until they are eliminated from the show and no one else involved was available for an interview.*
*1/7/14 at 10:01 p.m.- Updated with interview information.
—
For more information or news tips, or if you see an error in this story or have any compliments/concerns, contact Avery Harter at [email protected].