UPDATE – 1/22/15 at 2:30 p.m.
Governor Rick Scott outlined his proposals to students, staff and media during a packed press conference backed by shelves of textbooks on the second floor of the UNF Bookstore. He began with his tax cut on textbooks.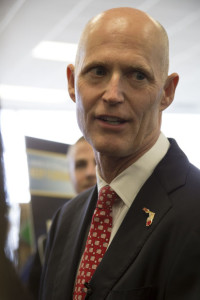 Scott said, "In my budget this year, we're going to eliminate the sales tax on your textbooks. It's a total of about $41 million a year, so if you're a student taking five courses a semester – and some semesters I took more to get done faster, it didn't cost me any more at the time if I took 18 or 21 rather than 15 or 12 – but it's about $60 a year."
If the state legislature goes along with his Bright Futures proposal, the expansion of Bright Futures to cover summer semesters will affect thousands of students statewide.
"I know all of our universities and state colleges are trying to help our students get out of school as quickly as they can so they can get into the workforce. So this will allow our students to, one, to be able to get out of school faster, but on top of that hopefully be able to reduce their costs some," Scott said.
According to a report from the Bright Futures Scholarship Program, the scholarship helped 153,800 students during the 2013-2014 school year with $303,419,763 in scholarships.
Scott closed by praising the state's higher education system as a draw for business. "Businesses are moving here because they know they can find the right workforce. They clearly want lower taxes, they clearly want less regulation, and look for a faster permitting process, but it's because of all the talent coming out of our state universities and colleges," he said.
***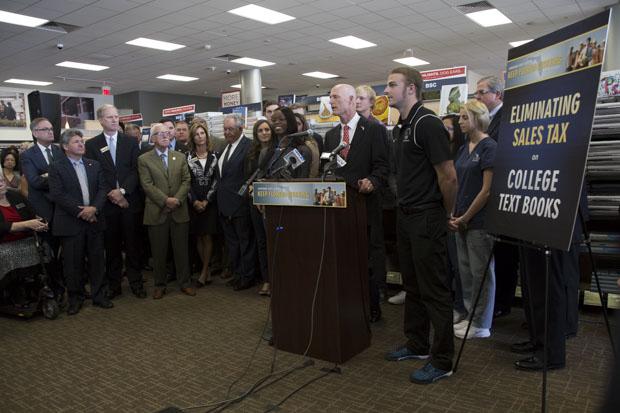 Florida Governor Rick Scott is coming to the University of North Florida at 12:30 p.m. today, Jan. 22 to announce a proposal to stop collecting taxes on college textbooks, according to Channel 12 News.
Scott will ask legislators to exempt college textbooks from both local and state taxes. According to Channel 12 News, Scott is proposing this in order to assist college students with the cost of attending classes. Scott will also propose that the Bright Futures program become applicable to Summer terms in addition to Spring and Fall terms.
The Spinnaker will update with more information.
—
For more information or news tips, or if you see an error in this story or have any compliments or concerns, contact [email protected].