UNF remembers Garth Sangree at a memorial service celebrating his life
UPDATE — 2/1/2015 at 6:10 p.m. 
According to Chets Creek Church Pastor Mark Smith, a second memorial service will be held on
Tuesday, Feb. 3
at
Boca Raton Community Church
, located at 470 Northwest 4th Avenue, Boca Raton, Fla. 33432.
***
Over 600 people attended the memorial service for Garth Sangree, UNF mechanical engineering senior who went missing while kayaking in Jacksonville Beach last Saturday Jan. 24.*
Entitled "Celebration of a Short Life Well Lived," the service included a full band and words from his pastors at Chets Creek Church, Glenn Reese and Mark Smith, as well as his friend Kevin Todd and Baptist Collegiate Ministries Minister Barry Sproles. The service was held at the Robinson Theater on Jan. 31 from 1:00 p.m. to 2:00 p.m.
Each spoke of Sangree's faith, as well as his compassionate nature for those around him.
"He took the time to love people no matter how busy he was, and he was always busy. When I think of him, I think of a man loved by God," Todd said.
Sangree was known for his work with BCM where he played drums for the band.
Pastor Mark Smith remembers Sangree's dedication to his faith. He said, "When he was in kindergarten, he started a tradition, it was simple. On every Easter Sunday he would wake up early and watch the sun rise. Even when he couldn't be with his family, he would send pictures of the sunrise from the beach to them. He watched the sunrise every Easter for 16 years."
His family asks in lieu of flowers that donations be made to Jacksonville Baptist Collegiate Ministries, Jacksonville Baptist Association, 2700 University Blvd. S., Jacksonville, Fla. 32216.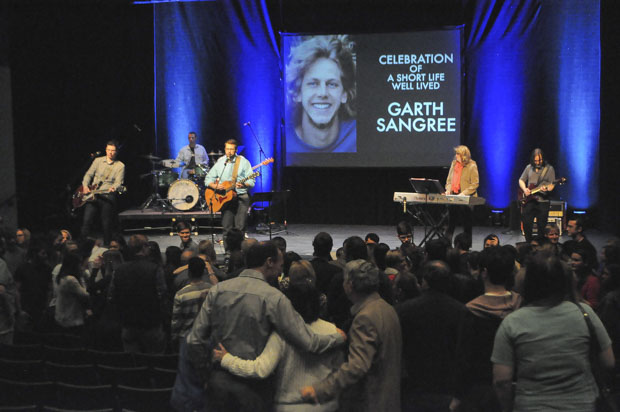 —
For more information or news tips, contact [email protected]; if you see an error in this story or have any compliments or concerns, contact [email protected].
*1/31/15 at 9:51 p.m. – Updated with information.
*2/3/2015 at 10:13 a.m. – Updated with video.