It's good to be No. 1; Ospreys steal A-Sun spotlight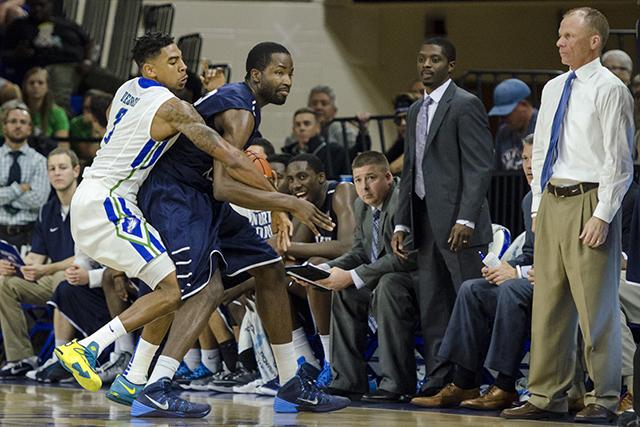 The University of North Florida Ospreys once again gain control in the Atlantic Sun Conference race with a commanding 76-62 victory over the Florida Gulf Coast University Eagles on Feb. 25. The Ospreys are now currently No. 1 in the A-Sun and have grasped hold of home court advantage for the entire tournament pending Saturday night's game against Stetson University in Jacksonville, Fla.*
On the road at the Alico Arena in Fort Myers, Fla., the Ospreys (19-11, 11-2) controlled the game after the Eagles' (21-8, 11-2) early lead on the first half.  Beau Beech, UNF's starting junior forward, scored 22 points and had 13 boards off the glass. Jalen Nesbitt, UNF's starting senior guard, had 18 points with Demarcus Daniels, UNF's junior forward, scoring 15 points.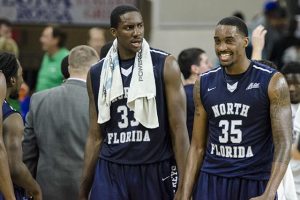 "Well first of all, the one thing we always talk about was being 1-0. In order to do that you have to be able to endure certain situations," UNF Head Coach Matthew Driscoll said. "I just love the guys. We're killing it and the way our guys continue to endure and continue to build their strengths for each other, I think that's what makes us different."
For the Eagles, Marc-Eddy Norelia, redshirt sophomore forward, scored a season-high 19 points in the loss. With this loss, the Eagles snapped their 10 game winning streak on the season. This season, the Eagles lost to the Ospreys both away and at home.
The Ospreys wrap up their regular season against the Stetson Hatters at the UNF Arena, Saturday, Feb. 28 with a 7 p.m. tipoff.
*2/27/2015 at 5:13 p.m. – Updated with corrected fact error. Home court advantage for the entire tournament was dependent on UNF's Feb. 28 game against Stetson.
—
For more information or news tips, contact reporter1@unfspinnaker.com; if you see an error in this story or have any compliments or concerns, contact sports@unfspinnaker.com.