Greater heights: UNF Physics Department soars into the stratosphere
A team from the UNF Physics Department participated in a world record space flight on Feb. 20 in Tuscon, Ariz., as commercial space aviation company World View Enterprises, Inc. successfully flew a parafoil glider to an altitude of 102,200 feet, carrying payloads manufactured by Montana State University (MSU) and the University of North Florida.
World View Enterprises has developed balloon technology that may send private citizens, research and educational groups to a near-space altitude similar to that which was seen during the expedition, which set a world record for the highest altitude parafoil flight. The company hopes to begin sending humans up as early as 2016, while the testing phase has provides an opportunity for UNF students and faculty to obtain data from high altitudes.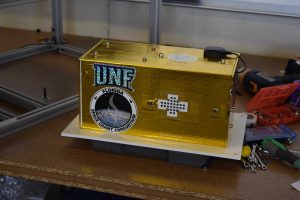 UNF was one of four universities originally selected to participate in the flight, while only theirs and MSU's high definition communication payload survived rigorous testing and proved functional.
"Our goal was to send sensors that measure the ozone gas in the stratosphere," Dr. Nirmal Patel of the UNF Physics Department said. "In the stratosphere, a concentration of ozone gas should be measured at about 7 to 8 parts per million. If it is less than 4 ppm, there will be an ozone hole there. We are interested in evaluating this type of data."
A team of UNF students, led by Brittany Nassau, electrical engineering junior, and Ken Emanuel, electrical engineering senior, fabricated this portion of the equipment sent up by World View. According to Patel, improved ozone sensors used during the flight were part of an ongoing project beginning in 2008, when UNF first began sending the sensors up while participating in the High Altitude Student Platform (HASP) program hosted by NASA.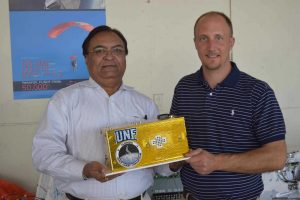 The UNF payload contained approximately 35 sensors which measured ozone gas, sunlight, ultraviolet light, height, temperature and pressure. A nanocrystalline sensor configuration, for which the patent is held by UNF team members, provided the ozone gas information currently being analyzed.
Participation in a groundbreaking event was not the only benefit afforded to those who flew with World View.
"From launch to landing, this flight took about six and a half hours," Patel said. "When you use a parachute, like we did with the HASP flights, it comes straight down. If it comes by parafoil, it will come diagonally and give us more time to collect data."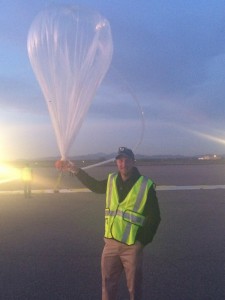 In addition to the recent historical flight, the physics team plans on continuing their research with a variety of approaches. According to Patel, future plans include proposed balloon flights with HASP this September, a flight during a 2017 solar eclipse and possibly working with the National Science Foundation, NASA and the Air Force in Antarctica.
"We are discussing it with the scientists and others involved, if everything goes nicely, we may go [to Antarctica] in a year or two," Patel said. "I want to go with one or two students, depending on the funding. It is much closer to the stratosphere, we want to measure in Antarctica."
The program has a long history of receiving grant funding from organizations such as NASA to continue ozone research, including funding to support the World View flight. Patel believes that the department is constantly improving, and that continuing to perform at a high levels such as this is important to the university.
—
For more information or if you see an error in this story or have any compliments or concerns, contact [email protected].