Senate discusses elections and organic food initiative at March 9 meeting
On the eve of Student Government's (SG) election days, SG's senate meeting on March 9 saw a Student Resolution pass, an emotional thanks from the men's basketball coach and two new appointments in SG.
During his report, Elections Commissioner Brad Johnson informed the Senate of the details of SG's elections that are taking place Tuesday, March 10 and Wednesday, March 11. He said voting stations will be outside the Student Union and the library from 9 a.m. to 7 p.m. Online voting, available on SG's website, will open at 9 a.m. on Tuesday and will stay open until the close of the physical polls on Wednesday at 7 p.m., Johnson said.
Johnson also said no active campaigning will be allowed around the polling stations.
Matthew Driscoll, head coach of the UNF men's basketball team, made an appearance in the Senate Chambers to voice thanks for the student body's support of the team during their Championship run in the Atlantic Sun tournament.
"Our students were the difference…you guys have no idea the difference you can make," Driscoll said.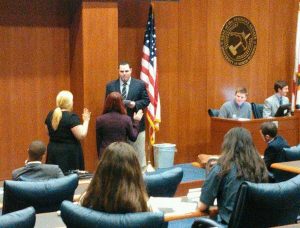 The Senate swore in two new positions. Dana Baker was sworn in as SG's new Attorney General and Amanda Harvey was sworn in as a new senator.
To conclude the meeting, a Student Resolution was presented by members of UNF's Ogier Gardens that asked the Senate to formally commit to the Real Food Campus Commitment. According to members, the Real Food Campus Commitment represents a commitment to more organic, ecologically sound and fair trade foods on campus.
The resolution passed 21-0-0, securing SG's support for the commitment, which will eventually be handed off to UNF President John Delaney for approval.
—
For more information or news tips, contact [email protected]; if you see an error in this story or have any compliments or concerns, contact [email protected].