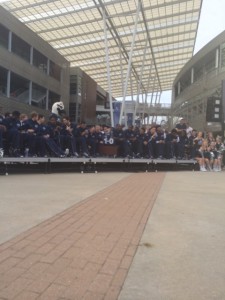 UPDATE – 3/16/15 at 7:35 p.m.
The location for the Watch Party has been announced. It will take place on the second floor of the Student Union West in the Boathouse, auditorium and the Bookstore.
UPDATE – 3/16/15 at 4:45 p.m.
Student Government  is sponsoring a bus to take students to Dayton, Ohio to watch the Ospreys' first game. According to SG's Facebook page, the bus will leave at 10:00 p.m. on Tuesday and return on Thursday at 2:00 p.m. Tickets will cost students $62.50 and can be purchased by contacting Josh Baker at [email protected] or calling (904) 620-5429. Ticket sales end tonight at 5:00 p.m.
—
The University of North Florida men's basketball team will be playing in Dayton, Ohio, on Wednesday, March 18, but UNF fans will not have to travel far to support their Ospreys.
According to UNF Public Relations, the university is hosting a Game Day Watch Party on campus at 6:40 p.m. Wednesday as the team takes on Robert Morris University.
UNF President John Delaney shared his thoughts on the event.
"We are thrilled to be part of this extraordinary moment in the University's history," Delaney said. "Sharing it with the community that has supported the team and this institution makes it even more remarkable."
The event is free, but an "e-ticket" is required to attend. The location has yet to be announced but will feature the excitement of watching the game on a big screen with fellow fans as the team continues to make history.
—
For more information, news tips, or if you see an error in this story contact [email protected].