Ramen redeemed: Bento Cafe's new angle on a traditional noodle soup satisfies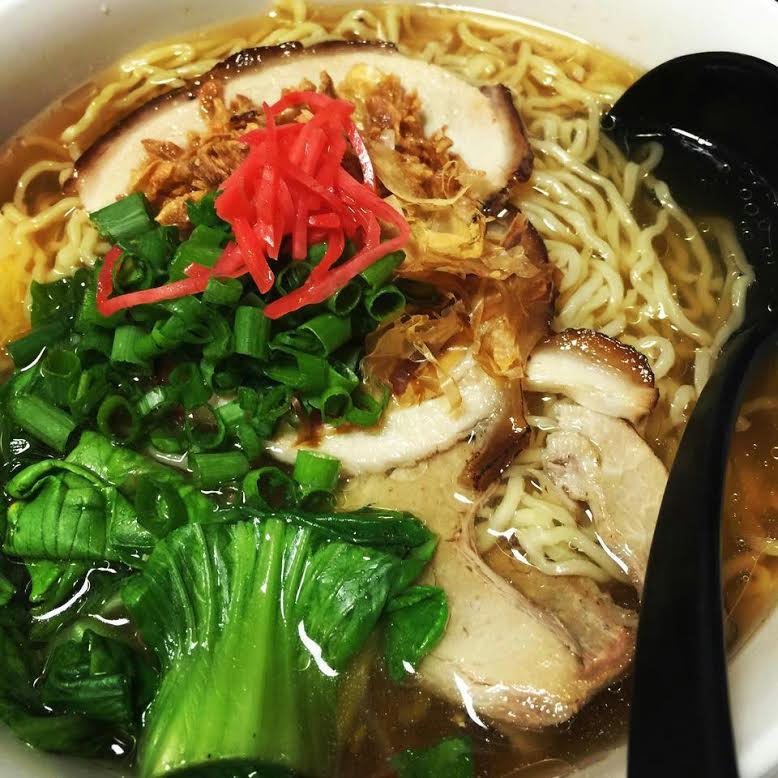 College students and ramen noodles go together like David Hasselhoff and questionable decisions. It's cheap, takes three minutes to prepare and is the bane of most college students' diets. But not all ramen has to be a regrettable decision for sustenance. In fact, it can be quite a treat.
Bento Cafe, on the corner of Deer Lake Court and Southside Boulevard, features such a treat — shoyu ramen, which shouldn't be confused with its ubiquitous cousin, instant noodle. It is a soy sauce infused noodle soup, which usually comes with an egg, fish cakes, green onions and sliced beef or pork. If you're thinking about seasoning up your soup game, Bento Cafe might be a good place to start, but you won't be the only one. I waited at least ten minutes to be seated during what seemed like a typical dinner rush.
Bento's atmosphere is a marriage between eco-utility chic and a frozen yogurt shop. If you've ever wandered in Ikea and said, "I love those ceiling lamps!" then you'll love it. Everything looks clean in an almost self-conscious way with a futuristic Asian twist.
Traditional Asian options plus a few other recognizable oriental starters encompass the starter menu. There you can find spring rolls ($2.95), dumplings ($4.25) and fried krab cheese wontons ($3.75) — the latter tasting much better than ones served at your local Chinese take-out joint.
If you are in the mood for sushi alone, Bento simply isn't at the top list. The prices are pretty standard and the sushi here is only about 20% better than the rolls at Publix. The spicy tuna roll was somewhat oversimplified, composed of a plain tuna roll with spicy mayo on top. At $6.50, you'll miss your favorite sushi place. Still, it is nice to have the option, and sometimes you just have to roll with the punches.
Now for the shoyu ramen — an item only available upon request as it is still not listed on Bento's menu. The broth was cloudy and complex, a mix between fish and meat flavors. It balanced toppings perfectly, neither too strong nor watery. Ramen is really all about the broth, and Bento hits the mark here.
It has just a slightly distinguishable fish flavor that tastes light. Bok choy, noodles, egg, scallions, fatback pork and fish cakes swam in the seasoned broth. The soup is served on a tray, which is decorated with chili sesame oil, pickled English cucumber, red ginger, dried seaweed and shichimi togarashi (a five-blend Japanese spice to add heat) to be used to taste.
While spending $12 on ramen may feel like a cardinal sin, don't fret. Not only is this meal delicious enough to warrant the budgeting, but also its portion is large enough to feed an army. I was able to have three consecutive meals of satisfying ramen over the next two days. However, if you don't want to bring home enough ramen to fill a kiddie pool, go with a friend and ask to split the bowl.

—
For more information or news tips, or if you see an error in this story, contact [email protected].