Something jumped up and bit me: Deputy Police Chief shoots carjacker in the buttocks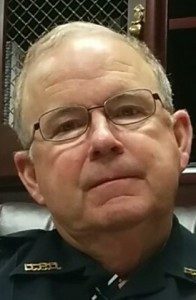 UNFPD Deputy Police Chief Charles "Bill" Strudel shot a suspect three times in the butt during a botched carjacking attempt at 10:45 p.m. on March 16, according to a phone interview with Police Chief Frank Mackesy and a police report from the Jacksonville Sheriff's Office (JSO).
According to Mackesy, Strudel was off-duty and buying ice at a vending machine near his home on the Northside of Jacksonville* when the suspect approached Strudel with a handgun and told Strudel to give him his truck. The retired JSO officer reportedly slapped away the gun when the suspect pointed it at him, at which point the suspect pistol whipped Strudel, resulting in a severe laceration to the head. The suspect also reportedly kicked at Strudel, leaving a moderate bruise on his leg.
At this point, the suspect attempted to flee, but Strudel pulled his weapon from his holster and fired three times towards the direction of the suspect. All three shots hit the suspect in the butt. Strudel, prior to firing, was bleeding profusely from his wound and blood had gotten in his eyes, according to Mackesy.
Both Strudel and the suspect are in the hospital with non-life-threatening injuries. Mackesy said that Strudel is in good condition but extremely tired from the entire ordeal.
"It's both mentally and physically taxing for an officer to fire his weapon, whether he's on duty or not," Mackesy said.
Spinnaker will update with more information as it becomes available.
*3/31/2015 at 12:11 p.m. – Updated with carjacking photo.
*4/3/2015 at 3:28 p.m. – Updated with clearer location of event.
—
For more information or news tips, or if you see an error in this story, contact [email protected].