Working out with Andrew Clayton, America's fourth strongest man

The University of North Florida has been home to a wide range of unique individuals, and recent athletic training graduate Andrew Clayton is no exception. At 22, Clayton stands at 6 feet 4 inches and is 255 pounds of sheer mass. He is a professional strongman who earned fourth place in last year's America's Strongest Man competition. Clayton said he carried 1,200 pounds for 35 feet in his top performance. To progress as a strongman competitor, Clayton has created an intense workout regimen.
Before touching the weights, Clayton said he eats a pre-workout meal about two hours before he begins. His usual platter consists of 11 oz of chicken, 2 cups of rice, 40g of dried mango and 2 blocks (22g) of dark chocolate — a meal ranging from 800 to 1,100 calories. Clayton said the dark chocolate's fat helps slow down the intake of the carbs from the other food and also contains caffeine and antioxidants.
After the food digests, he suits up in his signature pink competition socks and elbow pads, ready to lift weights for the next few hours — though he doesn't train alone. Clayton credits his current fitness plan to his workout partner Austin Voutour. Voutour said he found Clayton's name on a strongman competitor list in 2013, saw he was from Jacksonville and began working out with him soon after.
Stretching for Clayton is a three-step process. First, he stretches his chest muscles by lifting 25-pound weights over his torso and behind his head while contracting his muscles tightly to prepare for the heavier lifting to come. Second, Clayton stretches his latissimus dorsi muscles by lifting 100 pounds on a machine. After switching between steps one and two for a total of three times each, stretching ends with lunges.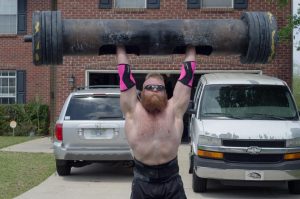 The next step of Clayton's workout entails practicing specific competition events like deadlifts, super yoke and carry medleys. This is the bulk of his workout, which is followed by cardio and sprinting drills. Clayton said he occasionally does exercises more in tune with bodybuilding — lighter weights and more reps — in an effort to keep a lean figure. Clayton then explained there is a common misconception that having a higher body weight boosts performance, but in reality a higher body fat content can actually be damaging to muscles and tendons.
After his workout Clayton finishes by drinking protein mixed with branched-chain amino acid.
Clayton said he realized his passion for weightlifting while playing high school football. He recalled feeling behind compared to his teammates and started to invest more time in the gym lifting weights. Bodybuilding took priority soon after Clayton discovered he enjoyed working out and watching strongman competitions on television, rather than spending time on the field.
He then started creating homemade strongman competition weights, working out in his garage and soon entered his first tournament in Orlando at age 16. He hasn't stopped since.
After attempting to bring his own equipment to the Student Wellness Complex, Clayton said he was turned away because of potential liability issues. Clayton estimated his home gym's weight collection to include around 5,000 pounds of plates, multiple concrete atlas stones, a small collection of weighted concrete slabs and two goliath-sized tires weighing 550 pounds and 900 pounds — a collection of homemade, second-hand and brand new weights.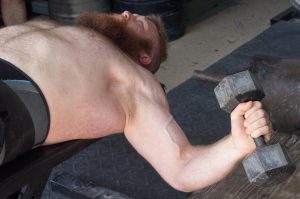 Although Clayton considers himself a professional and has previously ranked fourth place in the America's Strongest Man competition, his work in the sport hasn't become a useful source of income for him. In addition to his training and competition schedules, Clayton works as a personal trainer at his local YMCA during the day and is a bouncer at night.
"My end goal is to at least be able to make a part-time income from it," Clayton said.
Clayton said the strong man community in Jacksonville is relatively small, but competitions happen fairly often in the surrounding areas.
"There's generally a competition every couple of months within a four hour radius [of Jacksonville]," Clayton said.
Until his competition this fall, Clayton said he plans on continuing to build lean muscle mass and sticking to his diet and workout plan.
—
For more information or news tips, contact [email protected]; if you see an error in this story or have any compliments or concerns, contact [email protected].