Campi: A new app creating opportunities at UNF developed by student
There's a new social media platform catered solely for University of North Florida (UNF) students, designed to create a more direct communication route between peers
Campi was created by Roman Desmond, a UNF business student, with his friend, Micheal Faris. The pair established outlets for use at Boston University and UNF. Since its launch in November last year, the app has reached 400 UNF students.
Unlike mainstream outlets, Campi requires users to sign in with their student email addresses. This eliminates the filtering through other accounts when searching for campus-related news on platforms such as Instagram or Twitter.
The app consists of a news feed page where students are free to share updates, achievements or events that they or others may find interesting while keeping up to date with dozens of clubs and organizations. 
There is also a marketplace option on the app, similar to Facebook Marketplace. Students can list a variety of items from textbooks and calculators to new roommate applications. Aside from the roommates, the items listed on the marketplace are straight from the university, ensuring their compatibility with their curriculum.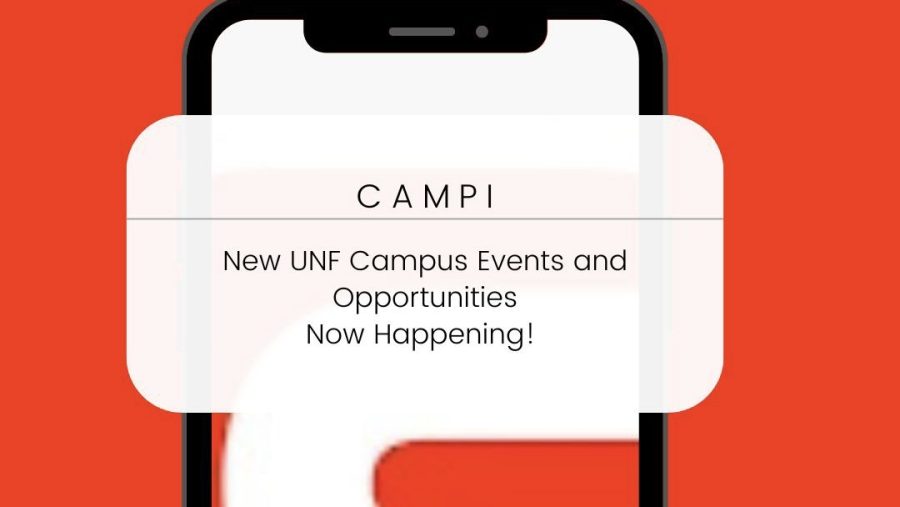 "Campi is something that is aimed to get the whole campus connected, even faculty," co-creator Desmond said. 
Part of connecting the campus is achieved by partnering with campus clubs or organizations and funding them with grants to put on events.
"Students can reach out to us through the app if they're looking for help covering an event and we'll lend a hand," Desmond said.
One student who has already been connected is Saylor Gilliam. Whom Desmond approached when looking for help with marketing the app after seeing her promote her own social media content. This merger meant Gilliam could "expand what I've been creating as a hobby, into something that essentially was the same thing, but could be used on a résumé."
Gilliam, who is a UNF junior and nutrition science major, has big plans for the Campi app as she tries to gain more traction for the app with gift card giveaways, for instance. 
The surge of a new app on campus has created not just a creative outlet but an experience that has furthered her education.
Which she says "allows her to evolve her passion for design right here on campus". 
Campi is a completely student-run app that continuously looks for business and marketing students to help share their talents by supplying employment and internship opportunities. Desmond sounded hopeful when panning to the future.
"This is only the beginning of getting more connected with one another," he said.
___
For more information or news tips, or if you see an error in this story or have any compliments or concerns, contact [email protected].