She's spent the past decade at UNF's LGBTQ Center. Soon, she moves to the University of Virginia.
Climbing the ranks from student assistant to program coordinator, Dwan Love-Dinkens has worked for the LGBTQ Center at the University of North Florida for nearly 10 years. 
Now, the long-time staff member is moving to the University of Virginia in August to be a diversity program manager in their Office of Diversity and Inclusion. 
Continuing her work in diversity, equity and inclusion, she will keep working with students—both areas of passion for the Pennsylvania native.
"I missed being up North," she laughed. "I kind of missed the change of seasons and, plus, I look at it as something new."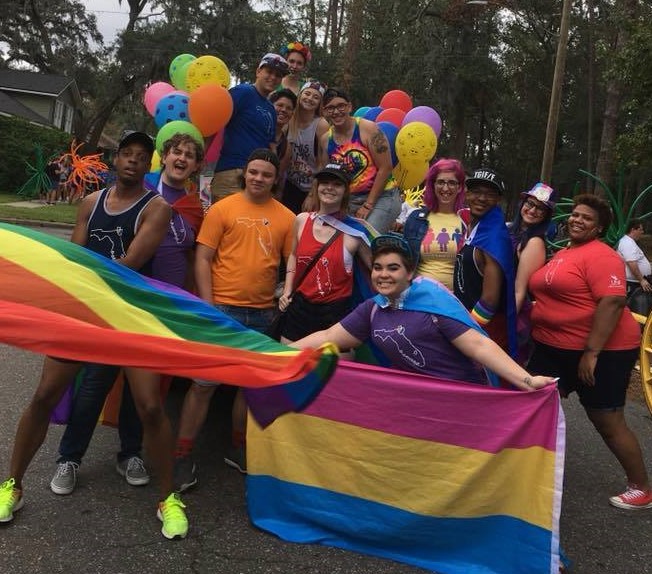 After COVID-19 restrictions were lifted and students returned to campus, Love-Dinkens said that the center changed for the good and there was a whole new vibe.
"It's been a very exciting change because you have a lot more students who want that community," she said. "Especially coming out of lockdown where they didn't have that […] so that was a big change—seeing the amount of students who wanted to be engaged."
Working as a student assistant from 2014-2016, Love-Dinkens said she came back in 2017 as a professional staff member and has worked there since. 
"[The LGBTQ Center] has grown from just having a little area with two student desks crammed into there and fitting all these people in, to just space," she said. "Well, not enough space. It always needs more space, especially for the amount of things we do here."
It's impossible to choose just one favorite accomplishment or memory, Love-Dinkens said. 
The Lavender Graduation—a yearly celebration to honor lesbian, gay, bisexual, transgender, queer and ally students—is one of her favorites. 
"It became a celebration that we had in the Student Union Ballrooms. We didn't have that in the past, it was in the University Center in just a room," she said. 
Past celebrations had about 30 people, but now, at their latest one in the spring, Love-Dinkens said they had almost 200. Queer prom is up there as one of her favorites that's grown in her time at the Center. 
Drag Queen Story Hour in 2019, a collaboration with the UNF Library, is something she's especially proud of. 
The now-nationally-recognized LGBTQ Center was founded in 2006 largely due to student outcry and activism over LGBTQ+ rights. Since then, it has evolved. 
"Oh my god, it has grown leaps and bounds," Love-Dinkens said. "Just the amount of students, the amount of funding, the programming. It's been an amazing growth. It had a strong backbone, but it has flourished."
Though leaving to serve students elsewhere, Love-Dinkens had one piece of advice: 
"Use your voice. Your voice has so much power, and I say this all the time to students. Your voice carries so much more weight than you realize and you are important. Use your words. Use your voice. Speak out as often as you can—don't be scared, just speak up and speak out."
___
For more information or news tips, or if you see an error in this story or have any compliments or concerns, contact [email protected].