Over 300,000 people attended this year's One Spark festival and its creators garnered 117,170 crowd votes, according to its press release. The creator stretch germinated the swapping, spreading and validation of all ideas, big and small, practical and wondrous. Many UNF students and alumni participated as creators, showing off their projects at the third annual crowd-funding event, and some students worked as a media pool covering all things One Spark. Here's a sample of creators and an organization Spinnaker spoke with.
"Every Community has a Story" History Through Technology – Creator #22016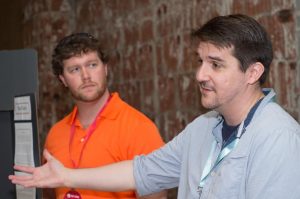 Epoch History Technologies aspires to produce the first ever Jacksonville history tour app, and its creators — all three of them — are UNF history students. Bryan Higham graduates this semester from UNF's American history graduate program, Peter Thomas Jr. is a graduate student studying 19th century South American history, expecting to graduate this June then go to Auburn University to pursue his Ph.D.  Josh Salestrom graduated last April with an American studies masters degree and currently works for the National Park Service. Salestrom said he was the guy who thought of turning the project into a smart-phone app.
Together, the group hopes to raise $25,000 to fund their project.
They said the idea came to them in a UNF public history class. Higham and Salestrom were in a group together and they created a walking tour podcast. The two created a musical history tour and later realized they wanted to create an app version of the project. The guys took their idea to last year's One Spark and discovered there's a bigger story they wanted to tell.
Salestrom said the feedback from this year's One Spark has been overwhelmingly positive.
"We're going to give the broad narrative, but the application will be an avenue that will allow individuals to give input and to share their own story," Salestrom said.
Higham said the team didn't realize how impactful this project can be and said they spent the last two years gathering the information to construct the app. He said he doesn't want the app to be a "one-trick pony," where one takes the tour and then moves on. Ideally, the team would like to have a push notification feature, so that if one was to drive by one of the historical sites, it would alert them. The team wants to continuously add more stories and tours on the app.
"There are so many stories to be told. Having new stories will keep you interested in Jacksonville to continue to build that narrative," Thomas said. "We feel that there are some compelling stories that no one knows about."
Higham said he hopes the app will raise awareness by developing a sense of community to contribute to the "cultural renaissance" happening in Jacksonville.
OctoDye Tie-Dye – Creator #22225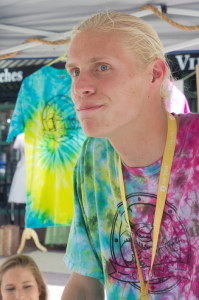 Seth Carey, UNF marketing junior, is the founder of OctoDye, a mission-minded apparel company that uses profits to fund global mission work. At his One Spark booth, Carey has many varieties of tie-dyed shirts, scarves and a few dresses.
"If I could be a full time missionary, I would," Carey said. "But I really enjoy business, so I feel like this project is the combination of my passions."
OctoDye started in March 2014 when Carey sold tie-dye shirts to finance his way to Peru for a mission trip. He said he also gave away shirts to the children in Peru. This year, Carey set-up his tent downtown to pitch his idea at One Spark.
Carey said as a first-year creator, he has experienced more than what he anticipated. Already OctoDye has received several monetary donations, raising over $800 out of the requested $5,000.
"I think the purpose behind the project is what's driving people to vote," Carey said. "Tie-dying isn't revolutionary but the thought of changing the world through clothes is unique."
Carey said he hopes to start up a retail website this summer and expand his products in surf shops.
Textbook Boomerang – Creator #21951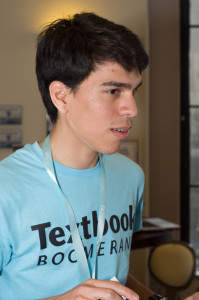 Emmanuel Matias is a UNF business administration graduate and the cofounder of Textbook Boomerang. So far, the project is a website that allows college students to trade textbooks with one another from all corners of the country. Students list the books they want on the website and algorithms find matches with other students across the country.
Matias said this idea has been tried before through smaller companies, but the execution was not there. He founded the company after feeling limited as a student to trade textbooks with friends or anyone else he may know.
The Textbook Boomerang team set a goal to raise $350,000 to hire college ambassadors at the largest campuses across the country in an effort to spread word about the company among students who are tired of dealing with the bookstore.
According to One Spark's website, Textbook Boomerang placed second in the education category earning 1,109 crowd votes, which translates to $1,419.85.
Matias said Textbook Boomerang will launch nationwide this fall.
#IgniteMedia
#IgniteMedia is a news bureau comprised of 20 UNF communications students covering all things One Spark on the streets and in its pop-up office downtown.
Dr. Paula Horvath, UNF communication professor, started this student-led project to immerse them in a real-world experience of journalism.
The students are not one of the hundreds of One Spark creators, but their participation is vital to documenting the festival and more importantly to themselves.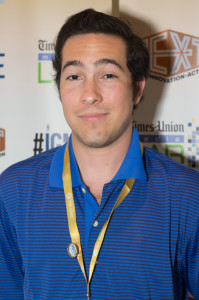 Anthony Cinca, a multimedia journalism senior, is a reporter and the broadcast manager. He admitted the class was more than he expected, but said his experience reporting for #IgniteMedia has pushed him to improve his skills as an up-and-coming journalist.
Cinca said students are expected to cover events, creators and shows using a multi-platform approach. Along with the popular social media avenues like Facebook, YouTube and Twitter, the #IgniteMedia team has a Snapchat account where the team documents the event via 10 second and emoji-imbued snaps.
"I feel personally that I've grown so much as a journalist and this experience has been invaluable," Cinca said.
Cinca said journalists are not only expected to just write a story, but to shoot and edit the video and take photos that complete a multi-media story package. This allows journalists to vary and shift their skills to other platforms, rather than just choosing one aspect of journalism and sticking with it. When it comes to plans after graduation, Cinca said he's going to go wherever the stories go.
—
For more information or news tips, contact [email protected]; if you see an error in this story or have any compliments or concerns, contact [email protected].