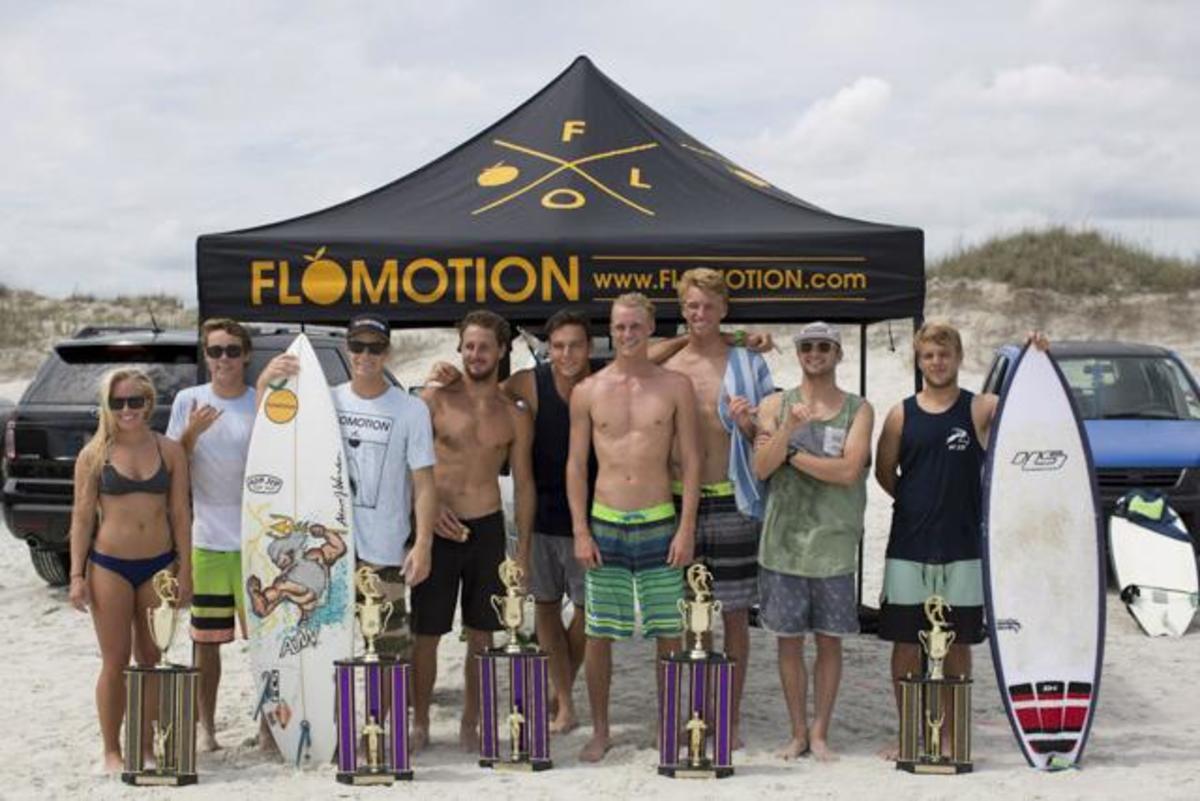 This weekend, the UNF Surf Team will be competing in the 2015 NSSA National Collegiate Surfing Championships at Salt Creek Beach in Dana Point, California with hopes to become the first East Coast college to win a national title.
Last year, the team surfed at the national level and placed fourth overall, with UNF senior Kayla Durden placing second overall in the Women's Collegiate division and teammate Emily Ruppert placing first overall. Durden and North Florida men's captain, Max Mertens, both said, however, that the team will be moving up the ranks all the way to number one at this year's competition.
Both Mertens and Durden agree that the team has been able to refine themselves enough for this possibility through solid mindsets, positive team bonding, phenomenal new talent and overall organization.
"The main thing is just keeping everyone organized," Mertens said. "Everyone loves to surf, but a lot of people kind of do their own thing, so making sure everyone has the same goals, the same mindset is what I think I helped them with making the team come together as one."
The team's personality runs deeper than being a new and improved well-oiled machine. The reinforced bond between the surfers has made tremendous waves in their goals both individually and as a whole.
"I've grown more of a team mindset," said Durden, who will be vying for a national title in the women's collegiate competition. "With surfing it's always individual, but the more I've been around this team, we've gotten to be more of a team. We used to never hang out, never talk, and then show up at contests, and now we're all together. If our team could win that would be huge for our school and for the club."
The race to the title has been eye opening for Durden as she has found her place as not only an individual success story, but also an overall team success facilitator.
"For me I think I've grown a lot as a teammate," Durden said. "I've kind of taken the focus off my shelf and put it on the team's shelf. I'd say in that aspect I've grown a lot, in kind of putting aside what I want for the better of the team."
Earlier in April, the team put their heads together for another way to raise cash for their California or Bust budget with the Surf Team Date Auction. At this creative event sponsored by Flomotion, the women of UNF and beyond bid on the men of the team for the reward of a private surf lesson and lunch date by the water. According to an article in Void magazine, the team earned over $2,800 last summer on their way to nationals, expecting another fruitful event this summer.
In addition to the date auction, the team began a GoFundMe account where donors gave money online that went straight to the team's effort. As of June 11, the team has received $825 in donations of the $1,900 they wished for to cover their $7,709 trip. Expenses include everything from team entry fees and luggage costs to meals and bars of surfboard wax. Since the team is not part of UNF's official athletics department, they receive little direct financial support from the university.
Regardless, the athletes reached their goals one way or another and landed in California on Thursday to begin their shot at the national title and to represent the East Coast surf culture.
"Everyone's been training and practicing, so we're ready to just get in the water and surf," said Mertens as he got off the plane. "When you're feeling good you usually surf good."
This will be the last UNF competition for Durden, who is also competing Saturday in the USA Surfing Championship at Cardiff Reef in San Diego, Cal. Next year she has her hopes set on qualifying for the pro division, so second place is not an option. Competing one last time at the NSSA championship with her UNF team, however, means more to her than personal success.
"I think I'm just kind of going to enjoy being in this event and being out in California with my friends," said Durden. "This is my last full year at UNF and I just want to enjoy being out there with the team because it's my last time, so I'm just going to make sure I'm getting the most out of it and don't regret anything."
The other North Florida surfers who will be competing include Corey Howell, Merrick Cunningham, Chris Igou, Hunter Roland, Jake Compton and Pat Nichols.
The competition will run June 13-15 at Salt Creek Beach in Dana Point. The surf forecast from surfforecast.com predicts swell periods ranging from 11-13 seconds and wave heights up to three feet. The swell, paired with an average temperature of 72 degrees, should provide some favorable conditions for the Osprey Surfers.
—
If you have news tips or more information, or if you see an error, contact [email protected].