Album Review: Justin Bieber revolutionizes pop music with jaw-dropping beats, vocal prowess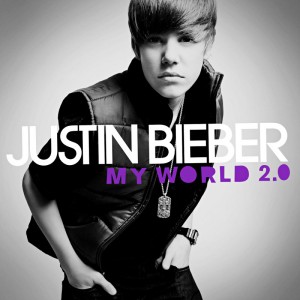 His music is the voice of a generation: the voice of pre-pubescent angst and rebellion against the oppression of overprotective parents. The sound of his name chimes the start of 100 12-year-old girls dousing their pants with fresh urine before fainting on the floors of a Salt Lake City record store. Move over Miley, Justin Bieber prepares to gently pimp-slap you with "oohs" and "ahs" that will have you screaming for more of that teen-pop awesomeness.
Bieber's debut album "My World 2.0" mixes the soulful flavors of Toni Braxton with Usher's trills, together creating an amazing blend of emotional tenacity and flowery melodies laid against empowering synth. The songwriting is a standout strong point of the album, marking a new evolution of songwriting, co-writing songs with the largest amount of people as possible. You know, to inject a sense of vast variety.
Instead of incorporating technical instrumentation and flashy guitar riffs behind polyrhythmic percussion patterns, Bieber plays the smart route, using drum brains to pump out useful beats. The synths used on the tracks are great, sticking to what works and making sure the album has a sound that permeates each song.
Lady Gaga might be selling a mixed bag of pop-music goodies, Bieber goes with what he knows people are going to like, allowing listeners to revel in the moment. He sings about pressing issues in his generation, including relationship drama, going to the dentist and being forced to go shopping with parents.
The monster single featuring Ludacris, "Baby," evokes strong emotions of heartbreak and loss when Bieber sings about losing the love of his life. According to the music video, the couple really liked bowling. "Are we an item? Girl quit playing/ 'We're just friends'/ What are you sayin'?"
Bieber shows off his mastery of assonance and knowledge of the English vocabulary during the song's chorus. "And I was like/ Baby, baby, baby oohh/ Like baby, baby, baby noo/ Like baby, baby, baby ooh/ Thought you'd always be mine, mine."
He slows it down a bit on the voracious "U Smile," an awesome ode to his girlfriend's teeth. "Ain't no way you're ever gon' get/ Any less than you should/ Cause baby/ You smile, I smile (oh)," Bieber swoons over slamming piano that rings louder than the masculine melisma coming through Bieber's pearly chompers.
Another revolutionary pop artist, Sean Kingston, graces the track "Eenie Meenie." Kingston opens the song up with an important message: "Eenie meenie miney mo/ Catch a bad chick by her toe/ If she holla (if, if, if she holla) let her go." This song evokes strong passion about meeting indecisive women, also known as "eenie meenie miney mo lova[s]."
With a lack of groundbreaking albums being released this year, "My World 2.0" needs to be in your world. The hooks are slick and soft for your musical palate, in case artists like the Jonas Brothers and Ke$ha are too edgy for you. Grab a copy today, you'll be glad you shucked out your hard-earned money to pay for this kid's mansion.