No plans to repurpose UNF's demolished skatepark site
UNF's skatepark was demolished just before the start of summer and the Department of Campus Recreation has no plans to rebuild it.
If there is to be another skatepark, it is up to Student Government to provide the funds necessary.
Elise Byrd, a medical science freshman, said the number of skaters at UNF would benefit from a campus skatepark.
"I think it's a good idea to have one, because there's a lot of people with boards around here," Byrd said.
Officials closed the park for the first time in December of 2012, five years after the skatepark opened, because the Skatelite, the paneling that protects the ramps from wear and tear, was itself deteriorating, leaving the ramps vulnerable.
The department of recreation rebuilt part of the structure and the paneling on the half pipe and reopened the park in February 2013, according to Facility Coordinator and Summer Camp Director Daryel Gullett.
However, when a section of the half pipe needed repairs again in January 2014, the department temporarily coned off the section, allowing skaters to continue using the park.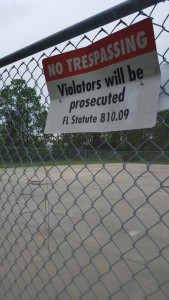 In June 2014, officials closed the skatepark due to a lack of funds. The park reopened in July when the student life and service fee picked up the cost for skatepark attendants. However, the accumulating cost of the skatepark could not be ignored.
Recreation held a pilot study last year, but was only able to set aside enough funds to staff the park 40 hours a week, according to Director of Recreation Becky Purser.
Gullett said the study results revealed an average of 42 patrons a month.
Purser does not believe the number of hours the park was open affected the patterns of usage. "The hours that we were open were the hours of heaviest use," Purser said. "We selected hours to be open that we knew the students would want to use the skatepark."
The study was originally supposed to measure student usage of the skatepark through June 30. However, when the department realized the widespread deterioration of the infrastructure in March, it had to permanently close it.
The department paid for an attendant to turn away skaters each shift to make sure nobody used the deteriorated park.
The results of the pilot study were used to help the 2015-2016 administration determine the future of the skatepark. Besides the park's low monthly attendance, the department of recreation simply did not have enough funds to rebuild or repair it in its condition.
When asked if the department would rebuild the park, Purser said, "That's a question for Student Government. But, right now there is no funding for any future skatepark."
There are currently no plans for the university to repurpose the skatepark area.
—
For more information or news tips, or if you see an error in this story, contact [email protected].