Ospreys soar over Eagles 2-1
UNF men's soccer (4-5) defeated the Georgia Southern Eagles 2-1 on Sept 27. The Ospreys took advantage in the second half after a red card left the Eagles (2-4-1) down a player.
In the first half, the Ospreys were in a scoreless deadlock until sophomore midfielder Joshua Castellanos netted the first goal of the match at the 37-minute mark. The lead was short-lived after GS senior forward Emmanuel Raji scored a goal to tie the game 1-1 with 6 minutes left in the first half.
In the second half, the match got much more physical.
Around the 72-minute mark, an altercation occurred between several players from both sides. UNF Senior Alex Morrell received a yellow card and GS sophomore forward Adam Abdellaoui received a red card for the incident.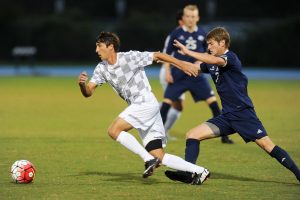 "There was a tackle a little bit before that that I got into so I was a little heated," Morrell said. "As soon as they found me the next play I got in their face a little bit because they fouled me and they overreacted."
UNF capitalized on GS being down a man when junior midfielder Milan Kovacs scored the game-winning goal at the 77-minute mark. The score marked Kovac's third goal for the season.
Osprey men's soccer coach Derek Marinatos thought the performance had room for improvement.
"I thought we made the made the game more difficult than it needed to be," Marinatos said. "We created nice chances and didn't take advantage of them."
The Ospreys travel to Nashville to kick off their Atlantic Sun Conference schedule against Lipscomb (2-5-1) on Oct. 3.
—
For more information or news tips, contact [email protected]; if you see an error in this story, contact [email protected].