Red Team Senators target SG Elections Supervisor, deny her appointment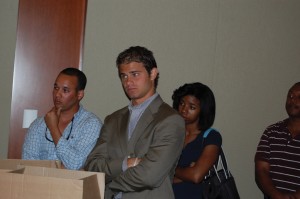 Elections Supervisor Erica Richey was not appointed as senator April 7 after Red Team Party senators questioned whether the elections were conducted fairly.
Richey did not run for re-election this spring in order to maintain her duties as elections supervisor and therefore went through the appointment process.
Several current and former Red Team senators and campaign officials accused Richey of leaking the vote totals from the first day of balloting,
which was March 30.
Richey admitted to revealing the results of day one voting to an unnamed person who she described as her "mentor."
Richey said this person is no longer a student at UNF and was not involved in the elections.
But she denied releasing results to any candidate or person directly involved in the election.
"The Red Party felt like I was harder on them than the other parties, but I wasn't at all," Richey said after the Senate meeting.
Senators questioned Richey vigorously, and many came to the conclusion that leaking election results should bar her from appointment to the Senate.
"This has been a mistake, and now we are going to have to pay the consequences," Sen. John Jordan said.
Outgoing Student Advisory Committee Chair Danielle Tarangelo said Richey told her the results at a Bible study. Tarangelo was not running for re-election and was a member of the impartial elections commission.
Richey admitted to telling Tarangelo but said she didn't believe it was out of line to do so because Tarangelo was a member of the commission.
Sen. Kyle Zaffran was the only senator to come to Richey's defense.
Zaffran said everyone was "coming down on" Richey over "hearsay."
Sen. Justin Barcenas, a United Osprey Party senatorial candidate who did not win re-election,
said if day one numbers were leaked, his party didn't need them to know their electoral fortunes.
"We didn't need numbers, we didn't need this story to tell us what was going on and what was going to happen after the first day," Barcenas
said.
The SG Elections Commissioner Lindsay Calkins questioned Richey's account.
She said Richey was a hard worker and cares about the students but concluded that she may not have been telling the truth.
"In regards to her integrity and honesty, I don't know if I think she should be [appointed]," Calkins said.
Former Sen. Kyle Nelson and Red Team Party campaign manager Abhishek "OB" Bera also questioned Richey's integrity.
Nelson said the senate should not appoint Richey because she made a mistake in leaking election results and that when he made a mistake, he stepped down from senate.
In open discussion, Sen. Laura McGregor, who ran as the student body vice presidential candidate
for the Red Team Party, brought up this point comparing the violations of Nelson and Richey to be equal and both worthy of expulsion from
the senate.
Nelson said Richey's violation was much greater than his and also maintains she was in violation of Title VI.
SG Attorney General Jonas Cummings interpreted the SG Constitution to define "results" as final results. The results after election day one is vote count, and if Richey did leak the vote
count after day one, it did not violate SG statutes, he said.
Chapter 611.1 Subsection B of Title VI of the SG Constitution, which regulates elections, says "Election results must be sealed from view until official publication."
Bera said there was a plethora of issues with regard to Richey but mentioned one example being a four-page election advertisement in the March 24 issue of the Spinnaker.
On the Red Team Party page, it said Red Party while on the United Ospreys Party page, it was written United Ospreys, which OB said
shows Richey's bias.
The advertisement was approved by Richey, and the Spinnaker made no changes after that.
Another bias Bera and Nelson pointed out was the board of senators running that was posted at the polling locations failed to include
one Red Team Party candidate.
Following the questioning of Richey and senator statements, no motion was offered to appoint Richey, and thus her nomination died.
Senate President Mack Volk said what happened surprised him.
"I was thrown a curveball," Volk said.
Volk was disappointed with the Senate's decision and thought it was a personal attack.
"People were upset because they didn't get their way in the election, and they wanted to see her suffer because they thought she was responsible," Volk said. "At no point do I think she was responsible for [the Red Team Party] loss in
the election."
About an hour after the senate meeting, Richey received a text message from former Red Team Party presidential candidate Tom Blanchard's phone.
The text message said "Hope you had fun."
Blanchard denies a text message ever coming from his phone to Richey that day. But Richey produced the text message from her phone to the Spinnaker.
Red Senator Concerns
Most of the concerns about whether Richey leaked the vote count center around the United Ospreys Party, who were behind after the first day of elections. On the second day of voting, March 31, United Ospreys Presidential Candidate Mike Saathoff campaigned for the Yellow Party.
Richey said she never told the results
to Saathoff, and he also said Richey never contacted him.
Saathoff added that leaking election results would not have changed the election.
"If somebody leaked results or didn't leak results, it's not going to change the outcome of the election," he said.
Saathoff said he could tell he was behind after day one by doing personal polling.
He said he was confused that she was questioned at the senate meeting regarding her
elections conduct because no violations were filed by the April 2 deadline to put a stay on the election.
E-mail Josh Gore at
[email protected]