Volleyball falls to Stetson Hatters over the weekend
Video by Kayla Sumner and Michael Herrera

UNF dropped three straight sets against the Stetson Hatters on Oct. 17 at the UNF Arena.
UNF (16-7 overall, 3-4 A-Sun) moved down to fifth in the conference while Stetson (8-12 overall, 3-4 A-Sun) remains sixth in the conference.
There were 13 lead changes and 26 tie scores through the three sets.
In the second set, the Ospreys stayed within two points, but the Hatters would win 26-24. For the first and third sets, the Hatters controlled the tempo, securing a 25-17 set point and a 25-13 win respectively.
UNF volleyball head coach Steve Loeswick said adjustment is important for the team's success.
"It is never fun losing and our team has some things we've got to work on," Loeswick said. "And hopefully we can fix some of that relatively fast because we turn around and play JU next weekend."
Stetson freshman outside hitter Haley Tippett led all scoring with match-high 13 kills.
UNF junior middle blocker Erin Edwards earned 8 kills while her teammate junior middle blocker Morgan Van Alstine added 7 kills.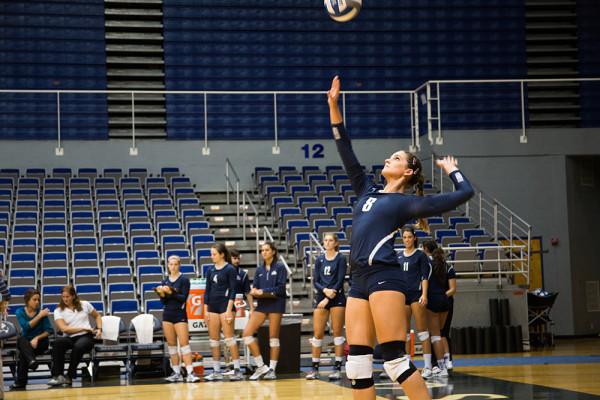 "We really just need to bounce back, take time to ourselves, play as a team, treat each other as a family even in hard times," Edwards said. "We will be fine."
Next, the Ospreys will face their cross-town rivals, the Jacksonville Dolphins (7-12 overall, 4-3 A-Sun) at Jacksonville University's Swisher Gym on Oct. 23. The Dolphins are currently ranked third in the Atlantic Sun Conference standings.
—
For more information or news tips, or if you see an error in this story or have any compliments or concerns, contact sports@unfspinnaker.com.