2016 Caring Award winner acknowledged for her Theatre On A Mission non-profit work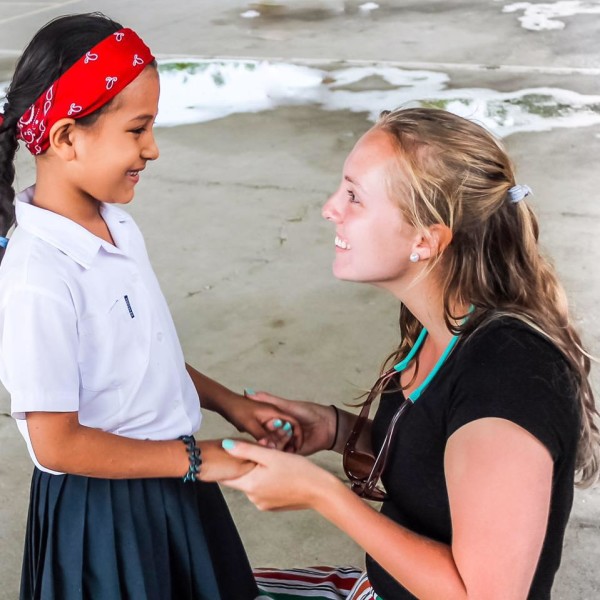 Since 2012, UNF student Chelsey Cain has been using the arts to bring hope and education to children in developing countries as a way to raise awareness of their poor living conditions. UNF recognized her efforts on November 19th when she received the 2016 Caring Award.
Cain is the founder of the nonprofit organization Theatre On A Mission (TOM). TOM's goal is to bring theater to children in impoverished locations who could not otherwise experience the joy of theater.
"I think the arts have so much power to overcome social issues," Cain said. "The arts are around us every single day."
TOM's mission, according to Cain, is to try to alleviate social injustices by raising awareness towards the impoverished lives for children in places like Kenya and Costa Rica, the education system and what it means to be an orphan. American high school and college students make up this passionate team that's currently trying to raise money to build a school for the arts in Bondo, Kenya. Cain said she's tossing her $1500 award in the fundraising pot to make this dream a reality for the Bondo children.
"There are no arts in the schools in Kenya," Cain said. "The education system is very corrupt, it's very flawed."
According to Cain, there are not enough desks or books for all students. Her goal is to build a school with enough resources to support all students in the Bondo community and hopes will inspire the construction of other schools. "It brings a lot of hope, I've seen, in working with the children," Cain said. "They're just solely focused on survival. They don't have time to experience the arts."
Cain hopes to maintain the influence of the arts and good educational practices by setting up study abroad trips to the school through UNF.
The TOM troupe of student actors, have had a gregarious history in fundraising. Back in 2014, the team won  $11,930.15 after participating in One Spark, Jacksonville's annual crowdfunding festival. The money secured the down payment for land for the prospective art school.
The group was founded during Cain's junior year of high school at Douglas Anderson School of the Arts. Since then, TOM has taken two trips to Kenya and one trip to Costa Rica. On the first trip to Kenya, TOM was able to get running water to the orphanage. On the second trip, TOM worked with an orphanage to produce and host a play that featured some of the children at the orphanage.
People from the community and government officials were invited to the performance and were encouraged to donate funds to the orphanage.
Cain said she's glad to provide a creative outlet to the children she met at the Kenyan orphanage.
"I have such a passion and a desire to make a difference in the world," Cain said. "I know I'm not going to be able to change the whole world, but I can change the lives of the people I meet."
Anyone interested in learning more about Chelsey Cain and Theatre On A Mission can visit their site at TheatreOnAMission.org.
—
For more information or news tips, or if you see an error in this story or have any compliments or concerns, contact [email protected].