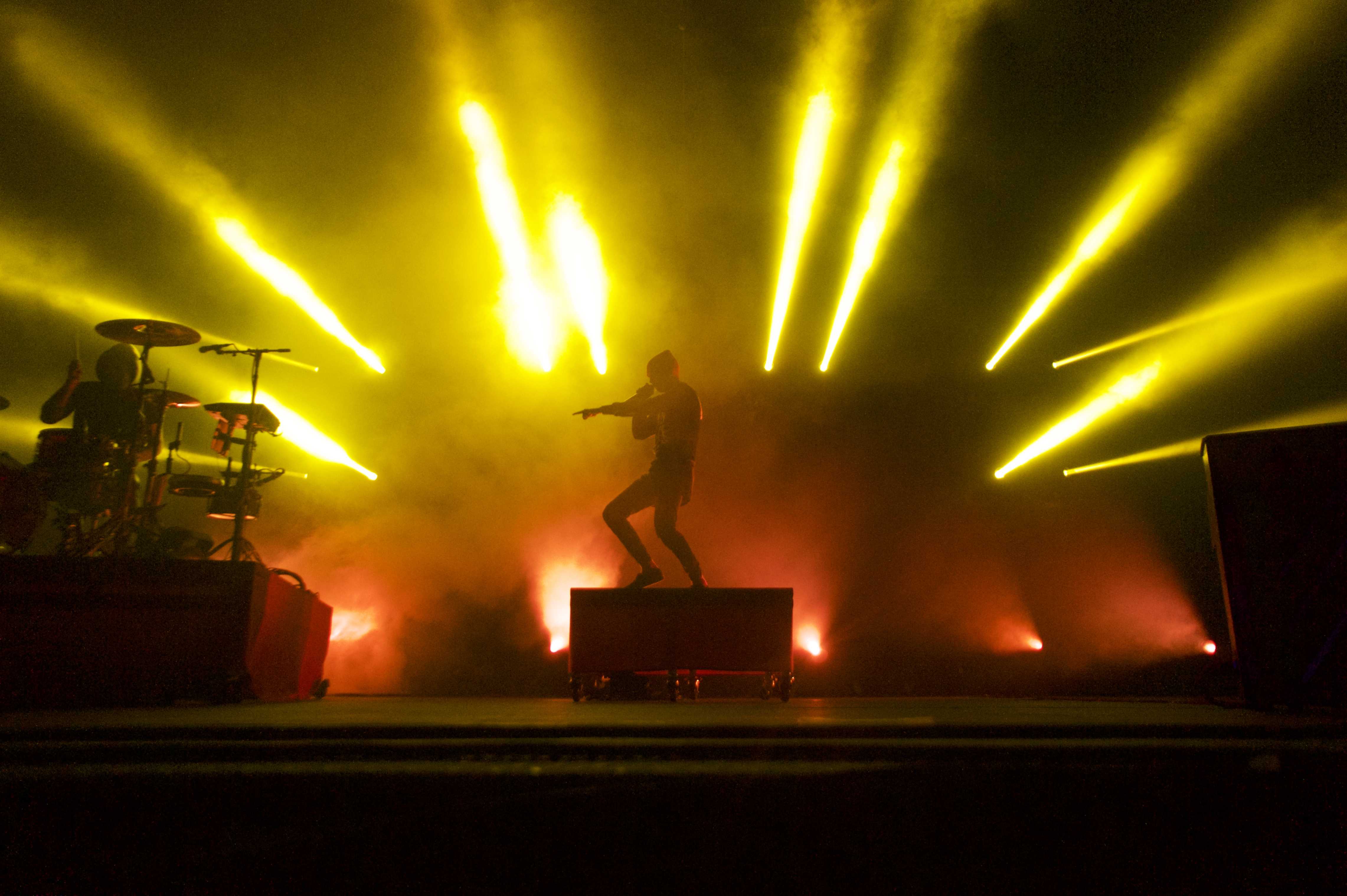 Check out the full video interviews with Lola Rising, Robert Delong, and MUTEMATH by clicking on the band names in the article.
Before the music even started at the Big Ticket on Sunday, I thought we were at a Twenty One Pilots (TOP) concert.
When I arrived to the media check-in, a huge mass of black shirts and TOP-red beanies buzzed behind the General Admission gates. This fest featured tons of big name radio bands, hence X102.9's sponsorship. But the crowd seemed to be unaware.
I spoke with two girls in the front row of the Monster Energy stage from the photo pit at around 10:30 a.m., and when I came back to take photos for TOP around 9 p.m., there they stood, adamant as they were almost 12 hours ago.
I had to know if it was true.
"Weren't you two here this morning?" I asked. I could remember them by their TOP-themed face and body paint, also a popular look at the Big Ticket.
They looked up from their sleepy gaze and lit up a little bit, when I noticed their downright persistent devotion.
"Yeah, haha, we were," the girls said. "We haven't moved."
Now that is impressive. But even though TOP are enormously popular, I thought it was a shame more of the festival-goers didn't seem to be there for anyone else. The other acts, I thought, deserved more attention than that.
As part of UNF Spinnaker, a few from the staff at Spinnaker Radio and I sat down for interviews with Lola Rising, Robert DeLong, Glass Animals and MUTEMATH to see what they thought about what was going on, besides TOP.
Video by Rachel Cazares
First we sat down with
Lola Rising
, a four-piece band of experienced and talented musicians from Denver, Colorado. These charming guys have been friends and musicians for quite a few years now, but they were still excited just to be there.
"We're humbled by having the opportunity to even be here," said vocalist, guitarist and ukulele player Kevin Eady. "It's been a great opportunity for us, and for the future, hopefully we can keep these festivals coming and bigger shows."
Big shows aside, these guys make the essence of music their driving force for creativity.
"We've been playing music for a while, since we were kids," Eady said. "For me, I think just the energy between person-to-person, kind of takes all the pain away, or brings you happiness. Having that connection with people, young people, older people, someone who's dancing way out far in the distance or whatever, just being able to share something together is really powerful for me, and being creative."
Later in the day, we met back up again with a Dave Bayley and Joe Seaward from the Oxford, UK indie rock group Glass Animals. We were jealous of the fact they come from the actual setting of Harry Potter, and not the makeshift Diagon Alley at Universal Studios in Orlando. They said they would drop in the next day, though, and see how it matches up to the real deal.
"We're actually from London so we've seen the real deal," Seaward said. "That's actually what happens when you walk into the pole – platform 9¾ you go through!"
More importantly, these guys told us a lot about what playing a music festival in the U.S. – Bonnaroo — was like compared to the festivals they've played in the UK.
"It felt quite, English. It had an English Festival vibe," Bayley said. "A lot of English Festivals have people really wasted. Too many drugs, and it was a bit like that. It was fun, there was loads of weird stuff to do like water slides. It was a good vibe."
Even though the Tennesee Bonnaroo experience was a little too similar to Glass Animals' home, America still proved to be quite the experience for the group.
"Everything is different," Seaward said. "The food is different, people are different everything looks different, the temperatures are different. You get a lot of very different cultures quite close together. So you drive and play different cities, different language, the crowd is a different vibe, but it's different. It's quite funny, but it keeps it interesting."
Video by Rachel Cazares
The final group we chatted with at the Big Ticket was
MUTEMATH
, a pop-rock four piece from NOLA that's really got their group chemistry down pat.
"You end up realizing at the end of the day there's a chemistry the four of you are, and that's kind of what you do," said drummer Darren King. "As much as you feel like you went way out in left field, it just sounds like us. Some records have been more rock, some are a little more electronic, but all in all, we're this pop-rock four-piece with some crazy sounds. That's what we do.
As far as the Big Ticket went, MUTEMATH were thrown back around 8 or 9 years to when they were last in Jacksonville, playing at Jack Rabbits downtown.
"The only one you can ever remember is Jack Rabbits," said vocalist and pianist Paul Meany. "That is the place to play."
Since playing the basement of Jacksonville music venues, MUTEMATH said they were stoked to be back in Jacksonville at the Big Ticket with such a great lineup.
Talking with these groups highlighted further my feeling that there was actually something more to the Big Ticket than Twenty-One Pilots. After spending time with these groups and adding a personality to their performances, I'm sure their fans were just as present as the TOP crew was.
Before TOP stole the night, however, other big names and radio hit songs were played right on the grounds of Metropolitan Park downtown. Radio fans were very content to be singing "Shut Up and Dance" with Walk the Moon, and "Sweater Weather" with The Neighbourhood, and "Little Talks" with Of Monsters and Men.
I should talk about TOP's actual performance though, shouldn't I?
It was truly impressive. To answer the first question I know is on the minds of the fans who couldn't go: no, they did not play "Goner". Did you really think they would?
Josh Dunn and Tyler Joseph, with their performance, made those girls in the front feel quite justified for camping out 12 hours.
The famous ceiling-based microphone from the "Stressed Out" music video dropped down to the stage, and that was all the fans needed to go absolutely nuts.
Tyler Joseph walked the famous strut from the "Fairly Local" music video, Josh Dunn played drums atop a board held on the hands of his fans, Joseph climbed to the very top of the stage scaffolding during "Car Radio", and the "hazmats in gasmasks" even made a special appearance.
Alright, I see what all the fuss was about.
—
For more information or news tips, or if you see an error in this story or have any compliments or concerns, contact [email protected].