North Florida flies high in 95-83 victory over Lipscomb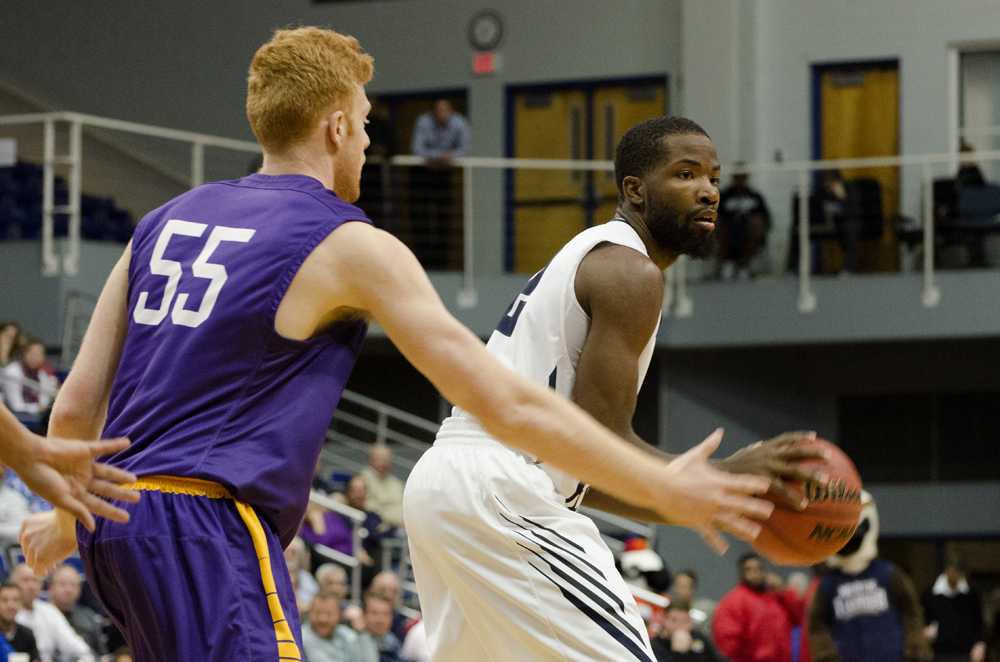 Osprey men's basketball (14-6 overall, 3-0 A-Sun) beat the Lipscomb Bisons (4-15 overall, 0-2 A-Sun) 95-83 in the UNF Arena on Jan. 14.
The game extended UNF's school record home win streak to 16 games dating back to the 2014-2015 season. Points from free throws and from downtown played a role in the fast-paced game.
In the first half, the Ospreys came out of the gate with a three-pointer from the hands of guard Beau Beech. The Bisons responded behind center George Brammeier with a putback. Seconds later, forward Chris Davenport slammed one down for an early 5-2 Osprey lead.
Both teams went basket for basket behind runs and defensive stops throughout. The Bisons trimmed the Ospreys' lead to two points midway in the first half as the Birds of Trey went into a slump from downtown.
With 12:31 left in the first, guard Nick Malonga drove to the basket to elevate UNF 12-8 over Lipscomb.
As the half carried on, the Ospreys began to pull away, entering the locker room with a 44-33 advantage at halftime.
UNF men's basketball head coach Matthew Driscoll said the night was filled with threes.
"Any time we have the number one and number three best three-point [shooting] teams in America play against each other," Driscoll said, "there is a chance it is going to get up there in points, there is a chance there is going to be a lot. Obviously a lot of attempts and the key is how well you can guard the arc."
The second half opened with Malonga at the free throw line. There were 35 free throws made between both teams for the night. Lipscomb's bench scored 34 points compared to just 8 UNF bench points.  Points in the paint were in the Ospreys' favor with 35 compared to 28 from the Bisons.
Bison guard J.C. Hampton contributed 21 points and 6 assists while forward Eli Pepper pulled in 15 rebounds.
Osprey guard Trent Mackey tallied 24 points while connecting on 6 of  9 treys. Beech finished the night with 21 points and 10 rebounds for a double-double. Beech said that despite giving up shots to the Bisons, a win is a win.
"Defensively we did well, I thought, in the first half," Beech said. "They shot 38 percent and then the second half, like coach said, we went up 17 and we just gave up threes that got them back into it."
Next the Ospreys face the Kennesaw State Owls (5-13 overall, 1-1 A-Sun) on Jan. 16 at the UNF Arena. This is the last game for the Ospreys' in their three-game home stand.
—
For more information or news tips, or if you see an error in this story or have any compliments or concerns, contact [email protected].