Breaking Bad's "Gus" Giancarlo Esposito wrapped up UNF's Black History Month festivities on Feb. 25 for UNF's Black History Month Proclamation. Esposito, an African-American actor and director, reflected on his own life and gave advice on achieving success, particularly in the film industry.
The event was also to celebrate the 25-year presence of UNF's African-American Student Union.
Within the Student Union Ballrooms, Esposito opted to forgo the microphone and podium set up on the stage, and instead moved freely and spoke directly to the audience.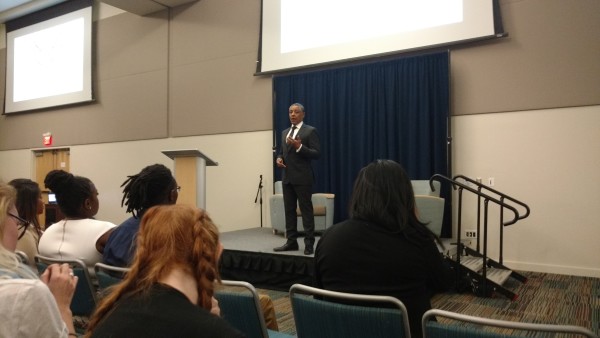 Esposito, born to an Italian father and an African-American mother, moved to the U.S. at five years old.
"I came to the U.S. and experienced the incredible amount of racism that existed then here, and still does now, and had to figure out how to navigate that," he said.
Working as an actor and a filmmaker, Esposito said that films should reflect more racially diverse characters because the entertainment world influences reality.
He said he does not like working on scripts that exploit violence and, according to an A.V Club article,Esposito had often declined roles as drug dealers because he wanted to avoid presenting African-Americans in an unfavorable light.
Esposito explained that acting heals him, even though much of the film industry tends to underrepresent non-white demographics.
When it comes to cultivating one's craft, Esposito said, getting ahead should not be the only priority for an actor. Esposito said that he started becoming successful in his career after letting go of the idea of being famous.
"Why would I just want to go and find the end of the road and only want to be a star? That's hollow, that's empty," Esposito said.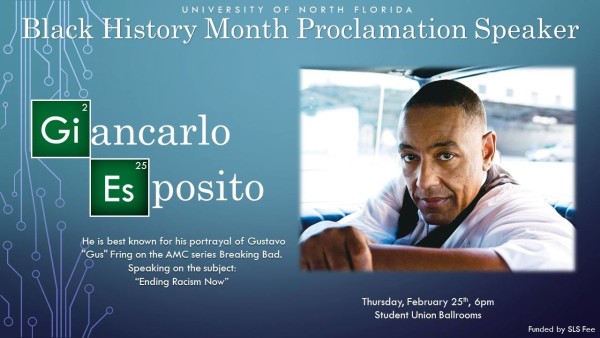 In particular, he said that when he was perfectly content with working on local theater projects in New York, often getting around the city via bicycle.
During his speech, Esposito discussed the importance of staying true to oneself.
"There is most definitely a reason you're here," he said. "There is an obligation not to succeed, but try your best."
Esposito concluded his speech by reminding the audience that one's priority in life is to find dedication, love, and passion.
"When you want something, you need to think about it and plant the seed. Then, you write it down. Put your energy into the world," Esposito said. "The universe wants us to thrive."
—
For more information or news tips, or if you see an error in this story or have any compliments or concerns, contact [email protected].