Men's basketball advance to the semifinals
Video by Joslyn Simmons
Three Ospreys scored over 20 points as the men's basketball team surged past the USC Upstate Spartans 92-69 in the A-Sun Quarterfinals on Tuesday from the UNF Arena.
The Ospreys started with a bang, when forward Chris Davenport slammed a dunk for the first points of the game. During the first half, UNF scored 14 points off turnovers, compared to zero from Upstate. Chris Davenport and guard Trent Mackey led the Osprey charge with double-digit points, allowing UNF to lead 47-40 going into halftime.  
The Ospreys came out of the locker room on fire, knocking down threes and creating fast break points off turnovers. Atlantic Sun Player of the Year Dallas Moore and First Team A-Sun selection Beau Beech found their stroke in the second to extend the lead.
Upstate center Michael Buchanan finished with 11, after scoring a combined 51 points in the first two meetings. UNF's zone defense caused Buchanan to have multiple traveling violations.
Five Ospreys scored double-digit points in the teams win.
Spartan's guard Michael Cunningham contributed 17 points, while teammate Deion Holmes added 15.
Spartan's forward Josh Cuthbertson said transition plays were a theme of the game.
"Well first I thought we could have did better in transition finding them," Cuthbertson said. "They got out on the break every time they got a defensive rebound, and they found their shooters. And I think we could have did a way better job defensively getting out there to their shooters, finding them in transition. I think that was possibly the biggest thing."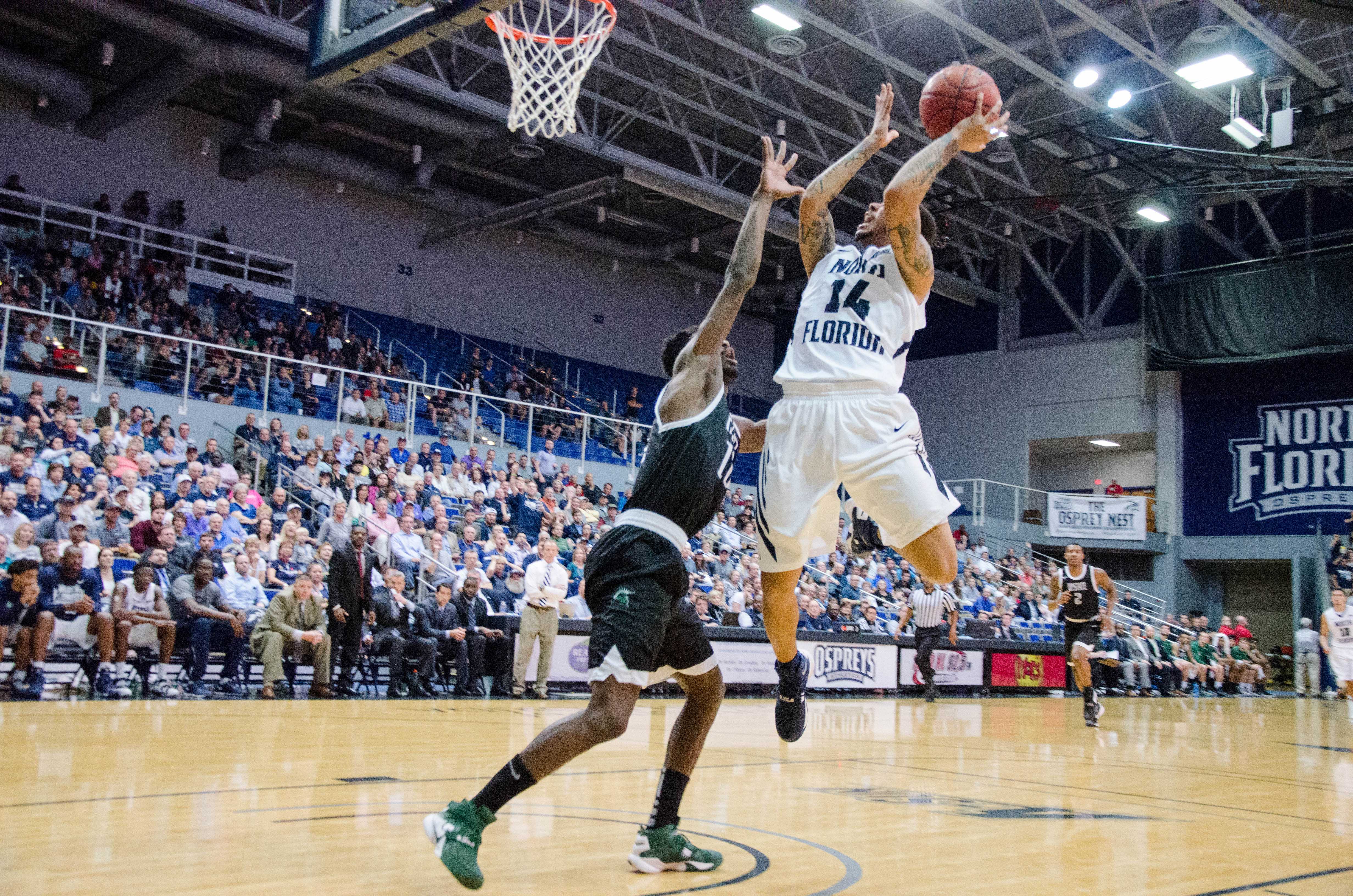 Moore led the team with 22 points. Beech reeled in 10 rebounds and scored 14 en-route to a double-double. Davenport snatched 8 boards off the glass and finished with 20 points.  
Davenport described the sense of urgency surrounding the team.
"It is basically about having a sense of urgency this time of year," Davenport said. "I think you know our sense of urgency needs to be at a high level, and I think tonight it was and that was everybody. Everybody was playing  at a high level. Everybody getting to their spots where they should. I think that's really all it was. We are just executing our game plan."
UNF dominated most aspects of the game, edging out Upstate in second chance points, points in the paint, fast breaks, points off turnovers and bench scoring.
The Ospreys played a complete game, scoring 48 points in the paint to accompany eight three-pointers.
Coach Driscoll described how the team bounced back in the second half.
"Obviously at this time of year, when you are talking about survive and advance, win or go home, everything is critical, every play is critical, every possession is critical," Driscoll said.
The Osprey defense scored 23 points of 14 turnovers, while Upstate scored zero points off six turnovers.
The Ospreys will host the Florida Gulf Coast Eagles on March 3, from the UNF Arena in the A-Sun Semifinals.
—
For more information or news tips, or if you see an error in this story or have any compliments or concerns, contact [email protected].