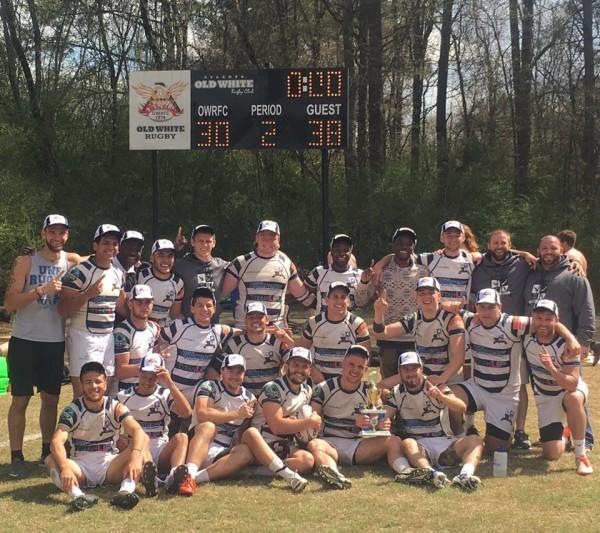 For the second-straight year, the North Florida Rugby Club (9-1) has made it to the Sweet 16. Now it's time to see what the Deadbirds make of it.
On March 19-20, North Florida found themselves in a familiar spot. After winning their conference for the fourth consecutive year, the Deadbirds represented the state of Florida in South Cup. Though the team knew they'd have their work cut out for them, it would be even harder since three players were ineligible for play.
The three ineligible players, including junior prop and team captain Evens Dorelus, were huge blows to the team. Sophomore fly-half and match secretary Keith Messer explained the rule.
"If you have players from a nearby school, both schools populations have to add up to less than 4500 full time undergraduate males." Messer said. "FSCJ and UNF together do not comply; also the three players, Evens Dorelus, Karoy Lewis, and William Leighty all were only taking 3 credit hours, the minimum requirement to participate in NSCRO is 9 hours."
The loss of a captain is a crippling blow for most teams. The Deadbirds didn't let it get to them.
The first match pitted the Deadbirds against North Alabama.  It was a high scoring match with four different Deadbirds scoring tries, including a hat trick from senior inside center David Aguilar. Though North Alabama put up several tries of their own, it wasn't enough to overtake North Florida's high-octane offense and the Deadbirds won 43-32.
The win set the stage for a showdown between North Florida and Tennessee Tech in the South Cup final. The players described the game as the "hardest game ever played in their lives."
Not only were the Deadbirds missing the ineligible players, but injuries began to take a toll. David Aguilar's omnipresent knee problems took him out of the second match and senior captain William Mueller played 75 minutes with a broken hand.
"They [Tennessee Tech] played forward ball the entire game." Messer said. "We are not a big team and they just wanted to smash. They never gave up and if we got complacent they would be there to take advantage. The game was just never over and it was extremely hard hitting."
Despite the struggle, the Deadbirds came out on top and earned a 38-30 victory to win their second-straight South Cup. The win sends them to Charlotte, NC to play Mount St Mary's in the National Small College Rugby Organization's Regional Semifinals on April 2-3.
Spinnaker will follow that tournament and bring you updates.
—
For more information or news tips, or if you see an error in this story or have any compliments or concerns, contact[email protected].