UNF's Chamber Singers are releasing an album as the ensemble continues to push their vocal limits and prepare for their trip to Portugal in late April.
Come by Here, recorded last year at St. Paul's by-the-Sea Episcopal Church, features songs that represent diverse time periods, languages and styles that allow the singers to show off their talents in various ways. Some of the songs in the album include: "Lonesome Road," "August Moonrise" and "Come by Here."  The album was made with collaboration from pianist Yukino Miyake, cello professor Dr. Nick Curry and voice professor Dr. James Hall. The program is having pre-sales to help fund the trip and the CDs will be in just in time to sell overseas.
While in Portugal, the singers will work with vocal programs from three universities that will further help the students learn how music is the universal language. This is the first time that the vocal ensemble makes its way to Portugal.
Leading this expedition is Dr. Cara Tasher, the UNF's Director of Choral Studies and Associate Professor of Voice. Tasher, who received the 2010 Outstanding Undergraduate Teaching Award, is also proficient in several languages, and international awareness is a core of her teaching.   
Though many of her students aren't fluent in several languages, they believe in the power of song and how it connects different cultures.
"Music is a way for people to connect and live through them vicariously," said Zhenya Gnezdilova, a vocal performance major.
While unity is important to Gnezdilova, she believes the way the Chamber Singers come together as a team helps them grow individually.
"It's more beautiful when it's blended rather than hearing each individual voice," Gnezdilova said. "It's cool to know your section can sound like [only] one person singing."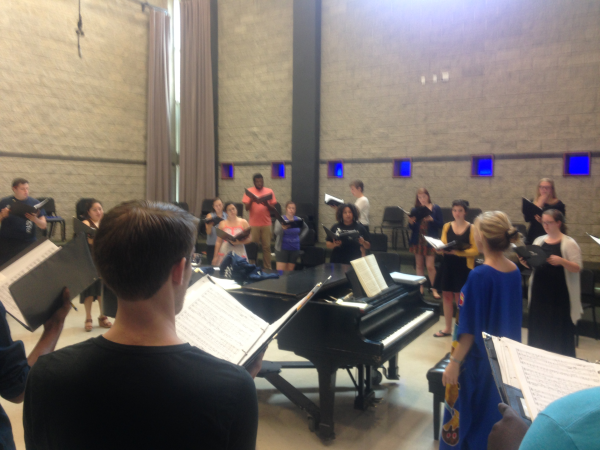 The Chamber Singers' goal, according to communications student and chamber singer Brooks Baptiste, is not only to bond in a different country and learn about another culture, but to also perform music in a different environment.
Julimar Alarcon, a vocal performance major, talked about what feelings arise from performing music.
"Everyone can feel it and everyone can get some kind of understanding from it and you move people with music," Alarcon said. "You change lives."
Come By Here is the manifestation of a professor and her students sharing songs in hopes of capturing audiences around the globe and to reveal the universal power of music.
Click here to donate to the Chamber Singers tour to Portugal, and reserve your copy of Come By Here by mailing a $20 check to Cara Tasher, Choral Music, 1 UNF Drive, Jacksonville, FL 32224.
—
For more information or news tips, or if you see an error in this story or have any compliments or concerns, contact [email protected].