Looking at domestic violence off-campus
According to The National Domestic Violence Hotline, one in four women and one in seven men will experience domestic violence in their lifetime. Some in our community are, or will become, part of those statistics.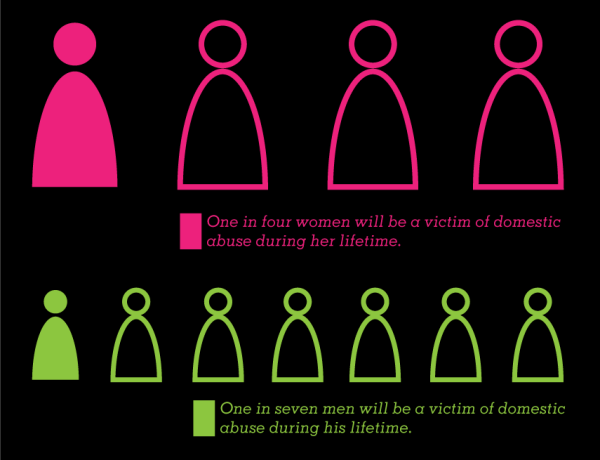 Small social networks, isolation from family or close friends, limited finances and social media make escaping abusive relationships especially difficult. The terrifying numbers and those added obstacles of being a college student can make matters worse. 
But, what exactly defines domestic abuse or violence?
The Hubbard House, a Jacksonville-based organization committed to ending relationship violence, identifies four main types of abuse: physical, emotional, sexual and economic.
Physical involves any physically aggressive behavior such as slapping, choking, punching or object throwing. Emotional is more difficult to identify and can include insults, extreme jealousy, degradation or even threatening your pets. Sexual is commonly identified as forcible sexual acts but can also include sex through manipulation or denying a partner of contraception. Economic is limiting or dictating a partner's money to restrict their options.

Although UNF has campus resources available to all students, and added protections in dorms, most Ospreys are off-campus residents. This can leave those in abusive relationships feeling helpless, especially students not from the Jacksonville area.
While you might not be telling the folks all about your collegiate escapades on your next trip home, parties happen, you go on dates, and sometimes you set aside good judgment for the sake of fun – it's college, it's okay. Always be aware of your situation though. Don't leave drinks unattended and keep a friend nearby.
When you go chill with that guy or gal you met at the party last weekend make sure you are comfortable with them before being alone, carry a fully-charged cell phone, tell a friend or roommate where you are going and stick to any physical or sexual boundaries you have.
What if things have escalated, you two are serious now, but something isn't right?
Hubbard House recommends the first step for individuals in an abusive relationship is to develop a safety plan. This should be a comprehensive plan to protect yourself and detail how to escape your partner if they become violent.
The plan should list safe rooms (one with an exit, not restrooms or closets), various exits in the home and where they lead, safe places to go outside of the home, and people to contact.
Despite planning and awareness, assault and violence can still happen. In these situations where should you go? Who can you talk to?
If you're a victim of violence or in danger call 911 immediately. Document abuse (pictures of injuries, ripped clothing, etc.), file police reports and have medical personnel document hospital visits. While this can be difficult, it creates evidence of the abuse.
The decision to report domestic abuse is extremely personal and emotional, resulting in countless undocumented incidents. A good friend or family member can be a much-needed resource but sometimes speaking to even the closest people in your life about abuse is too difficult. Hubbard House offers a 24-hour hotline at (904) 354-3114.
The organization also offers an emergency shelter (with a confidential location) for people with no safe place to go, an outreach center with advocates, children's services and counseling.
Hubbard House also encourages friends and family members of abuse victims to use the organization's resources to assist their loved ones in escaping violent relationships. The organization stresses you support victims by avoiding blame, remaining non-judgmental and keeping promises of support.
College students shouldn't be discouraged from experiencing relationships, love or consensual sex because of statistics. However, it is certainly something to be aware of and knowing what resources are available can better prepare you should you (or a friend/roommate/family member) become a victim.
For more information or news tips, or if you see an error in this story or have any compliments or concerns, contact [email protected].