UNF student makes history as first on team to qualify for national equestrian competition
A childhood filled with horseback riding and an equestrian for a mother paid off for one UNF sophomore devoted to the sport.
Leah Irwin, sophomore athletic training major, will spend the first weekend of summer break (May 5-8) competing at the Intercollegiate Horse Show Association's National Competition in Lexington, Kentucky.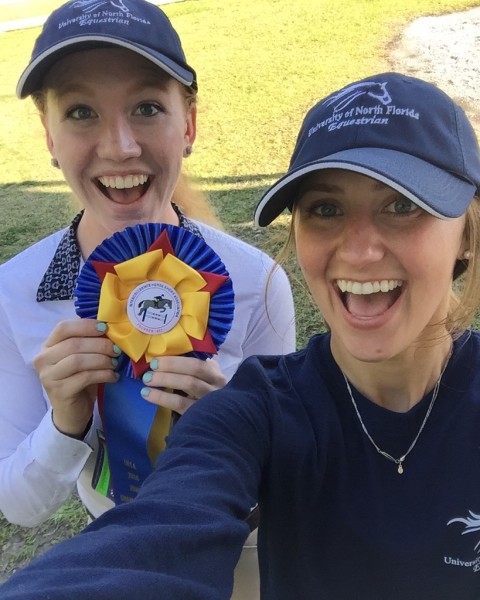 Irwin became the first student from UNF's Equestrian Club to qualify for the ISHA National competition as a result of her Walk-Trot Equitation at the Savannah College of Art and Design on April 2.
Irwin initially just wanted to win first place at the regional competition at the University of Florida on March 13, but her community realized her potential and helped her go a step further to place at Zones and then qualify for the national competition.
UNF's Equestrian Club has two competing teams: Hunt Seat and Western. In both teams' competitions, riders are judged on their ability and style. The main difference between the two is directly related to the history of the sport in different regions of the world.
Irwin informed the UNF Spinnaker that a rider from UNF's Western team made it to Zones (where students from universities in the southeast compete) a few years ago, but did not move on to the national competition.
Irwin said she was "flabbergasted" when she found out that she qualified for nationals. It wasn't until she started driving back to campus that the news sunk in, and she began crying. Irwin said her captain, Reily Rieker, reacted the same way.
"I want to say that's the first time one of us has made her cry happy tears," Irwin said. "And then she hugged me and everything like that."
Irwin said qualifying for nationals puts her one step closer to her goal of helping UNF's Equestrian team gain more exposure.
"I feel like [qualifying] is a good thing, because I'm wanting to draw more attention to this club and this team," Irwin said, "since we are only eight people, but we always do well overall."
Although Irwin has been a member of UNF's Equestrian Club for less than two years, riding is in her blood. Irwin's mother has been riding horses since the age of 13, and she introduced Irwin to the sport as soon as she was old enough to mount one.
Irwin took a break from riding during high school to explore other sports, but she joined UNF'S Equestrian Team during her first semester in college. Her experience with UNF's Equestrian team has helped her become a better rider.
"I would definitely say my equitation has now improved," Irwin said. "How I look on the horse, how I can ride the horse."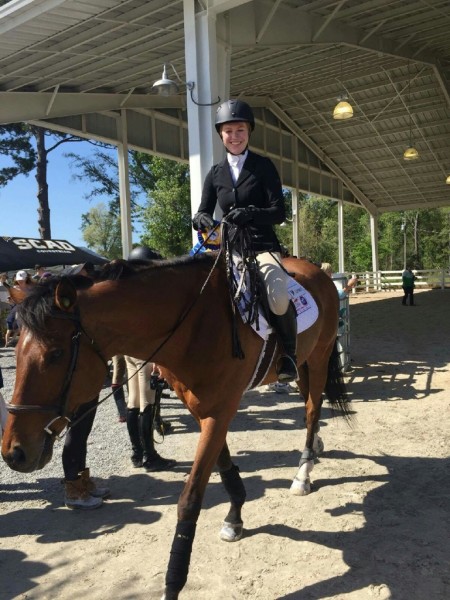 When either team competes at another university, they have to use the hosting school's horses. To make the competition fair, riders randomly select a horse's name out of a hat on the day of competitions.
"You're kind of going in blind, but they're good horses," Irwin said. "A good rider can ride a horse, but a great rider can ride any horse."
The Hunt Seat Team's trainer, Kristal Tooma, helped Irwin become more comfortable with riding a range of horses. Irwin said Tooma chose specific horses to help the team prepare for the type of horses they will be riding on at certain schools.
"At [Tooma's] place, she has so many horses, so I never ride the same horse for a lesson," Irwin said. "Some horses at some schools are very robotic – they know what to do- and other ones are a little bit trickier."
Because the equestrian teams compete year round, they see each other often and become friends. Even though the riders are competitive, Irwin said they want to see each other succeed.
"I had the FAU coach be my substitute coach for the day at zones, and she was extremely proud and happy that I was able to move on to nationals," Irwin said. "The UF captain helped me get ready too, as well as my captain."
Irwin plans to enroll University of Florida's Biomedical Science program after graduating from UNF. She believes that doing so will allow her the opportunity to train horses and riders, as well as conduct her own research.
"That's what I'm also trying to do is bridge the gap between the athletic world and Equestrian training world, because equestrians are athletes too." 
—
For more information or news tips, or if you see an error in this story or have any compliments or concerns, contact [email protected].