Library installation shows off Jacksonville's electronic dance music culture
Most students heading to the library this time of year are only thinking about upcoming finals. But before you prepare to swipe your card to enter the library, check out the newest installation displaying memorabilia of Jacksonville's underground dance music culture. The items in the installation, featuring posters, old ticket stubs and books, spans between the 1990s to today.
The installation was put together by Eden Shurman, a student double majoring in accounting and interdisciplinary studies. Shurman wanted to exhibit Jacksonville's rich electronic dance music history and expose artists people may not otherwise hear about.
The installation shows off items from shows Shurman has been to. "I've just collected these flyers over all these years," he said.
Shurman grew up in New York and moved to Jacksonville in the 1980s. He said at the time, it wasn't as easy to listen to new music as it is today. Music wasn't available online and he often spent time at record stores to check out new bands and albums.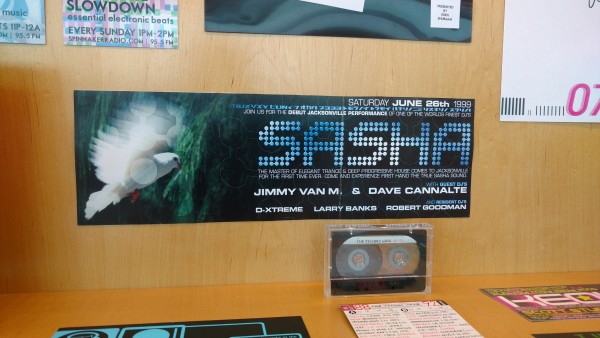 The most memorable piece, he said, is a poster that promoted the electronic superstar Sasha's show in Jacksonville in 1999.
"For [the city] to get Sasha to come here in '99 was a big deal," he said. "I even made my own T-shirt."
Other notable shows represented in the display are Paul Oakenfold in 2003 and Orbital in 1996. A few flyers represent Jacksonville's record stores from over the years.
Shurman wanted to show students the library provides on the history of electronic dance music.
Techno Rebels: The Renegades of Electronic Funk
, a book featured in the installation, describes the early days of techno music in Detroit. Other books in the installation include
You Better Work! and Electro Shock!: Groundbreakers of Synth Music
.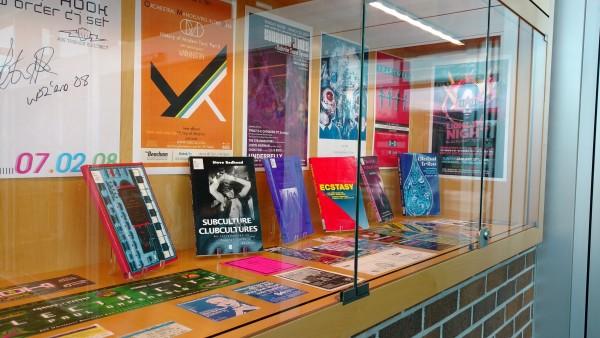 He said in the early 1990s, Orlando rivaled New York and LA as a stronghold for popular UK acts. Many big stars, such as Sasha and John Digweed, played in Orlando.
Flyers in the installation highlight those shows as well as important dance music clubs in Florida. A club called Simon's opened in Gainesville in the early 1990s and has become a big venue for electronic dance music. One flyer advertises a show at Club 5, which was in the building that is Sun Ray Cinema today.
Shurman said the culture still exists today, but there is less of a community. In the 90s, he said, "it was not as segregated." Shurman is still active in the culture but sees less participation on the dance floor. Even at crowded shows, he said, not many people dance.
"Nowadays, people come less for the music and they come more for the experience."
Nonetheless, Shurman reveals his appreciation for the music by documenting a culture that had much influence on Jacksonville's music history.
The installation will be on display just inside the entrance of the library until May 1st.
—
For more information or news tips, or if you see an error in this story or have any compliments or concerns, contact [email protected].