She waited five years to travel on a boat for a marathon in Earth's no man's land. Not to mention, she gets seasick easily.
While Jacksonville citizens lined up on pavement for the Gate River Run, Dr. Lucy Croft, the associate vice president for student affairs, stood in mud ready to run 26.2 miles on Antarctica's rocky terrain.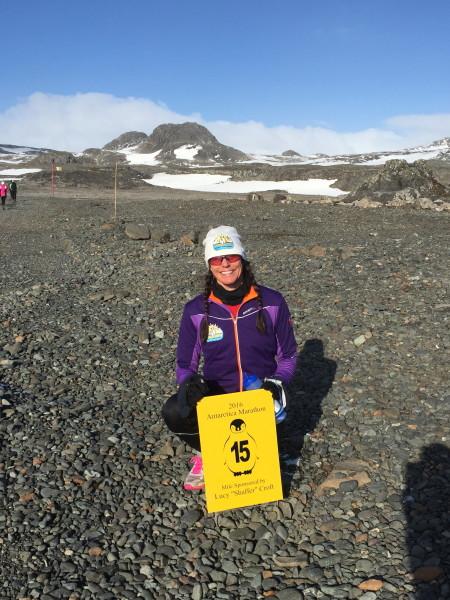 In early March, Dr. Croft had set sail with a group of runners on rough seas for a 10-day journey in a not-so-luxurious boat called the Akademik Sergey Vavilov.

"It wasn't a luxury cruise ship with all the amenities you could imagine and with champagne and crystal glasses," Dr. Croft said. "It was your basic Russian expedition ship with your bare minimum, as far as amenities go, but phenomenal food and just an incredible crew."
The boat served as the runners' home throughout their journey, but they had many opportunities to travel on snow-coated land. After recovering from a spell of seasickness, Dr. Croft was able to experience the beauty of Antarctica's ecosystem before the big race.
"There are some really fun pictures of the penguins," Dr. Croft said. "There are runners, and then there's a penguin like, 'I wanna run. Let's run.' It was really cute."
Penguins weren't the only animals showing off.
"Lots of birds: albatrosses, all kinds of water birds, and of course penguins and seals."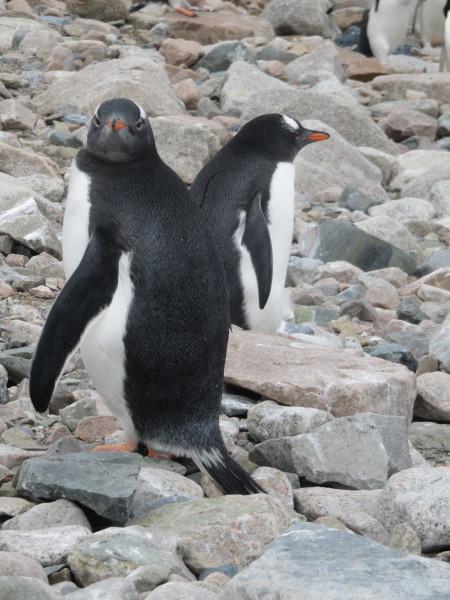 Dr. Croft has always considered herself an athlete. She had more time at her disposal after earning her doctorate, so she took up long-distance running. Her love for marathons began when she and her sister, Nancy, realized they were quickly approaching 40 and 45, respectively.
"Unbenounced to her, I signed us up for a marathon in San Francisco, California," Dr. Croft said. "My sister and I ran the San Francisco marathon for our first one, and both of us caught the bug."
Since that marathon in San Francisco, Dr. Croft has ran roughly 27 marathons. While at a convention for a marathon about six or seven years ago, Dr. Croft came across a brochure reading "Run a marathon in Antarctica" at the booth for Marathon Tours.
She connected with the continent through Dr. Jerri Nielsen's experience as a researcher near the south pole. Dr. Croft met her in the early 2000's, when she was at the University of Cincinnati, and followed her journey until Dr. Nielsen passed away in 2009.
"She talked so highly about the continent and the beauty of it, and the quietness of it, and the untapped serenity," Dr. Croft said. "I was intrigued."
Dr. Croft said the waiting list was five years when she came across the exciting challenge of running long-distance on the largely uninhabited continent, but the timing could not have been better.
"I did it in honor of my fiftieth birthday, looking for the fountain of youth," Dr Croft said. "I like exploring new area. I like challenging opportunities. It just all tied in together."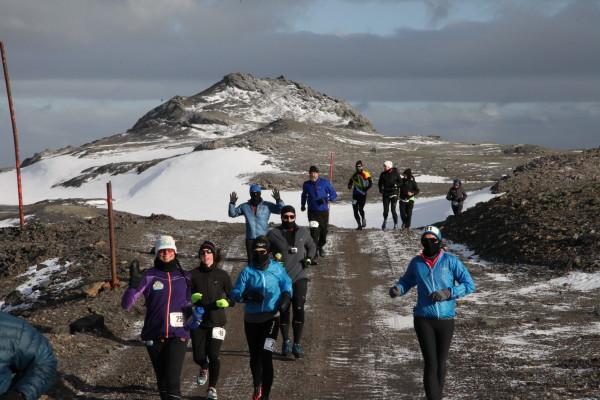 The tour company used research bases on Antarctica to create the runners' paths. The original path involved China, Russia and Uruguay's camps, but it was not safe enough to run on when Dr. Croft's team arrived.
"We just did six laps back and forth to China and Russia," she said.  "Lots of rocks, a lot of mud, lots of hills. So really I'm not a trail runner. This was technically the first trail marathon I've ever done."
The group on the sister ship, the Akademik Ioffe, that was scheduled to run on Sunday experienced terrible weather and did not have that opportunity.
"We had a little snow flurries but nothing that you wouldn't see in a typical northern state here in the U.S.," Dr. Croft said. "The next day, Mother Nature decided to wake up."
Dr. Croft said Marathon Tours started pulling people off the course after four hours so they could make it back to the ship before the waves prevented them from leaving the continent. The runners from the second group who did not complete the marathon unofficially finished on their boat.
Some of the runners ran out the rest of their miles on a "rustic old" treadmill since the weather kept them from completing their marathon. Fortunately, Croft was able to complete her runner's journey.
Her trek in Antarctica only lasted 10 days, but during this time she grew closer to "99 really cool people."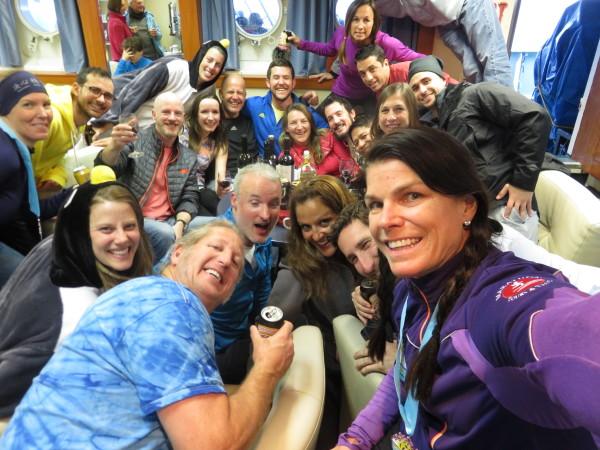 "I miss them. You get to know them when you're on a boat for 10 days," Dr. Croft said. "We have a group of 30 [people] or so constantly emailing each other at night and during the day and just saying, 'Hey, how's it going.' It's pretty special."
Her experience in Antarctica didn't slow Dr. Croft down by any means. She plans to run a marathon with her family in Africa next year, and she has her eyes set on Madagascar.
Dr. Croft said she lives by a wellness model, a component of which is physical fitness. Being able to maintain a challenging career and exciting life outside of work allows her to lead by example.
"My approach to leadership is being a well-rounded individual and part of that is being healthy," Dr. Croft said. "And so running and swimming and biking, because I do a lot of triathlons too, it just helps to keep me grounded in a physical way."
—
For more information or news tips, or if you see an error in this story or have any compliments or concerns, contact[email protected].