New Orleans memorabilia dances around Gumbo Ya Ya's on Beach Boulevard in the form of Mardi Gras signs on the front door and fleur-de-lis on Saints jerseys and the bar.
This Cajun restaurant offers customers an atypical casual dining experience — national news, as opposed to a sports game, plays on the television behind the bar, and the soda fountain is closer to customers than the kitchen. But the host, who also stands in as a waitress and busser, serves the food and drinks.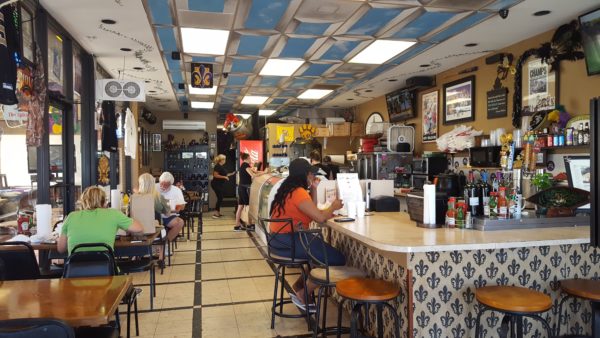 Gumbo Ya Ya's has an extensive menu with gluten-free and vegetarian items sprinkled throughout. For those who prefer to cook at home but love the New Orleans flavors, the restaurant doubles as a store with Ya Ya's hot sauce, muffuletta bread, beignet batter and more on the "Groceries to Go" section of the menu.
The Shrimp Po' Boy features crunchy fried shrimp, shredded lettuce, sliced tomatoes and creamy mayo slapped onto New Orleans French bread. This is the bread with a crunchy crust that crumbles when you bite into it.
The side of Cajun fries aren't salty like most seasonings. Those with a low tolerance for spicy food will find them hot, but I limited myself to a few fries between bites of my meal and was fine.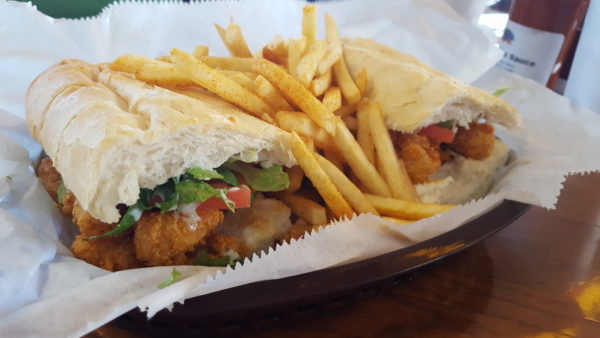 A bowl of Jambalaya is filled with chunks of chicken, spicy sausage and sausage links. The variety of peppers the menu says are in the dish are chopped finely and mixed in with the rice to make every bite spicy. I was happily surprised that the eight ounce cup — Gumbo Ya Ya's also offers a 16 ounce bowl — was filling.
For dessert, I chose the Jack Daniels bread pudding over traditional New Orleans desserts like pralines and king cake. I ordered it to go so I could pair it with a scoop of vanilla ice cream. The bread pudding was sweet (as expected) with a hint of Jack Daniels, but I know now not to treat it like banana pudding.
Gumbo Ya Ya's is a great option for both stingy and extravagant Ospreys, as prices range from $4 to $18. It's loyalty program (customers get a free meal for every 10 visits) and location near the corner of Beach Boulevard and San Pablo Road make Gumbo Ya Ya's a convenient way to get a taste of Cajun food right here in Jacksonville.
—
For more information or news tips, or if you see an error in this story or have any compliments or concerns, contact [email protected].