Bears Can't Drift!? is pawsibly the best karting game on PS4
Bears Can't Drift!? is a nostalgia trip taking considerable inspiration from Crash Team Racing, Sony and Naughty Dog's attempt at a Mario Kart clone back in 1999. If you ask me, the tracks and drifting mechanics made Crash Team Racing the best karting game on Playstation, and one of the best ever. I see similarities between Bears Can't Drift!? and its obvious inspiration in everything from the game's simplistic musical score, the elemental track venues and exaggerated drifting mechanics. Bears Can't Drift!? nearly carbon copies these qualities and that bears well for this modern take on a racing classic.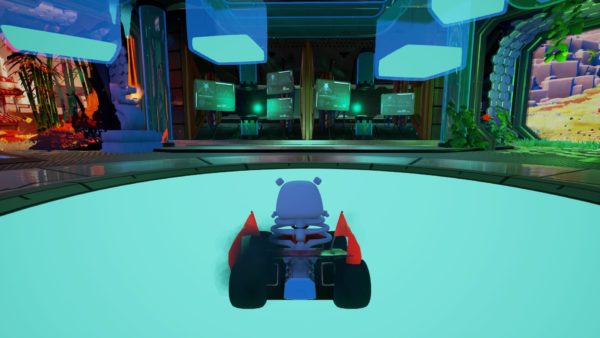 When you first load the game, you're greeted with an anthropomorphic bear and three lanes in front of you, each with a different bear emoji representing its difficulty. I implore you to throw pride aside and head for the pacifier emoji bear, because if you don't, this game will punish you.  
Easy mode is easy, normal mode is very difficult and hard mode is absolutely grizzly at times. Higher difficulty means higher speeds, smarter opponents and a higher chance of drifting off the map, especially since most tracks are lacking in the railing department. Every track is essentially Rainbow Road in this game, with the added difficulty spike of there being no mini-map in the bottom corner to aid you. Like I said, start on easy mode, or prepare to be frustrated, and not appreciate all the game has to offer.
Bears Can't Drift!? includes three modes, two I found to be comedic and entertaining additions, and one that offers no incentive for participation.  
Races pit you against seven other bears in classic kart racing featuring rockets, traps and a heavy dosage of shortcuts. What's unique here is the shape power-ups take. Goldfish become highly destructive and ricocheting rockets, owls are a real hoot with the speed boosts they give you, beehives can sting you with a spin-out and iguanas can morph into a protective barrier. While not the most outrageous mode in the game, it was the one where I found the most enjoyment.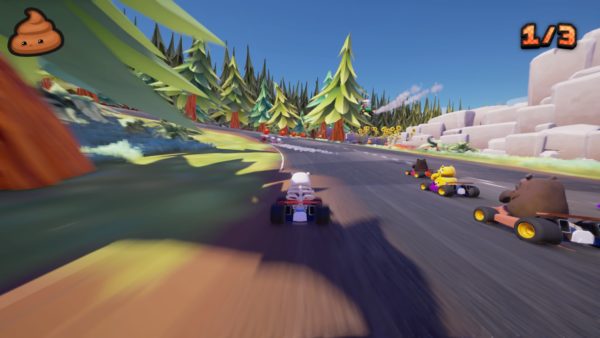 Unfortunately, time trials offer no incentive for completion. The lack of online multiplayer stunts the competitiveness leaderboards stacked with other players would provide.
The third mode provides a twist on the arena mode supplied by most karting games. Your goal is to eat enough food before your opponents do. Simple enough except for the goldfish, the AI or your friends will be constantly hurdling at you. Your journey to fatness is made more difficult due to your character's ever-increasing size; you won't be able to see whether you're eating a donut or a shish kabob by the end of the match. The arena mode provided some serious laughs between myself and friends during split-screen matches, where up to four can share the console in a return to true couch co-op, something I truly appreciated.
The game isn't without its shortcomings. Directions for literally anything are absent here. In fact, the only guidance you're given is to press X on the start screen. I had to figure out the controls, difficulty settings and customization for myself. Normally, I hate when a game wants to hand hold you through the experience, but here, it would have been a welcome inclusion.
It took me over 30 attempts to make a jump at the end of the hard difficulty lane to trigger a more challenging mode. The absence of a mini-map is annoying even after ten hours of gameplay. It makes exploring hub worlds and learning tracks a chore. I hope the team at Strangely Named Studios adds a controls viewer in the option menu soon, otherwise, the game may become unbearable for novice players.   
Long-term issues can be seen in the lack of iconic characters in Bears Can't Drift!? Whether it's Mario Kart, Crash Teaming Racing, or Sonic & Sega All-Stars, recognizable and universally-loved characters litter those games. Bears Can't Drift!? features eight cosmetic changes to the same nameless bear, something that won't encourage the staying power of a game trying so hard to emulate the past.
Is Bears Can't Drift!? a Mario Kart killer or Crash Team Racing replacement? No, but it scratched an itch I've had since buying my PS4. At $10, there isn't better retro style racer to play with friends.
4/5
—
For more information or news tips, or if you see an error in this story or have any compliments or concerns, contact [email protected].