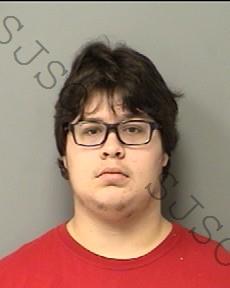 UNF student Neal Buckles was released from jail Friday morning according to St. John's County Sheriff's Office (SJCSO) inmate records, after posting bond for two counts of child pornography possession and one count of child pornography transmission. His bond was set at $22,500, at $7,500 per count.
Buckles is not allowed to have unsupervised contact with minors or use the internet or electronic devices, according to the St. Johns County Clerk of Court.
SJCSO Public Information Officer Chuck Mulligan said they arrested 19-year-old Buckles after he transmitted graphic images of young boys committing sexual acts following a month-long investigation.
Authorities received a tip that Buckles had possession of child pornography and had sent it to an associate out-of-state. Detectives were able to locate the IP address from Buckles' Ponte Vedra home.
Mulligan would not comment if the images pertained to Church of Eleven22, where Buckles previously worked. The Spinnaker reached out to the Church of Eleven22 and received no immediate response.
Buckles, a child psychology major, advertised a private babysitting service called "Buckles' Babysitters" on his Facebook page, which has since been deleted. Buckles also volunteered at Osprey Productions, who declined to comment.
Mulligan said SJCSO arrests one to two people on child pornography a month on average. He said the ages of offenders range from 18 to 40 and it's pretty random.
Mulligan couldn't comment as to whether Buckles' may have harmed children. He said parents with children who had contact with Buckles should report it to the police immediately.
The Spinnaker will update this story as more information becomes available.
—
For more information or news tips, or if you see an error in this story or have any compliments or concerns, contact [email protected].