Swoopopoly: The newest addition to UNF's Game Room
Video by Brittany Moore
Ospreys can become monopolists at UNF, buying books and diplomas at the Library and Student Union, as they travel around campus in the form of a golf cart, basketball, graduation cap or the lazy river at the Fountains.
Other universities like UF have their own Monopoly-themed games, but Swoopopoly was created by UNF faculty and students with every card and piece having a direct link to Osprey campus life.
UNF's Game Room team started working on Swoopopoly, UNF's version of Monopoly, after receiving approval to purchase a 3D printer. Event Planning Associate Brock Ertel brought the idea to Director John Simms after a class introduced him to the printer's practicalities.
"A while ago I took a course in 3D printing, and this was right before I took over our marketing office," Ertel said. "At that time, we were doing a lot of programming and some other things, and it was a terrific way to like put your stamp on something. It just had a lot of capabilities that I was interested in."
The Student Union approved his request on the condition that the printer be used for gaming and programming needs. According to Ertel, it made more sense for the office to purchase the printer instead of continuously purchasing replacements.
"Often times, replacement pieces cost almost the same as just replacing the board altogether. So we thought, 'Fiscally, it might be more responsible for us to get a 3D printer," Ertel said. "It fits the creative component of what we wanted, and at the same time financially it could really work."
Having a 3D printer allowed the Game Room's team to do more than just save money, though.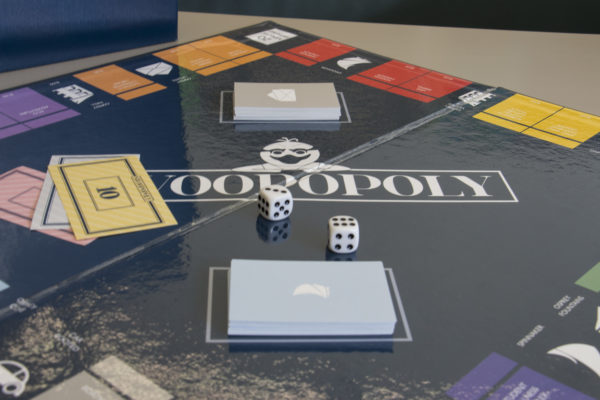 "We were trying to think of other unique ideas that we could do (with the 3D printer)," Ertel said, "and so we came up with this idea of a UNF-themed Monopoly."
Megan Porter, a graphic design senior who designed the game, said there were several name ideas, including UNF Monopoly, until she and Ertel decided on Swoopopoly. She hopes the game will live up to its design.
"I hope it's like an Osprey pride kind of thing. You can relate to it as you play it," Porter said. "Everything rings true to UNF specifically, except for the dice."
Ospreys can check Swoopopoly out in the Game Room beginning in October. The team has not finalized a release date, but the game will be displayed during Parent's Weekend on October 16.
__
For more information or news tips, or if you see an error in this story or have any compliments or concerns, contact [email protected].