Classes canceled after 3 p.m. today; On campus plan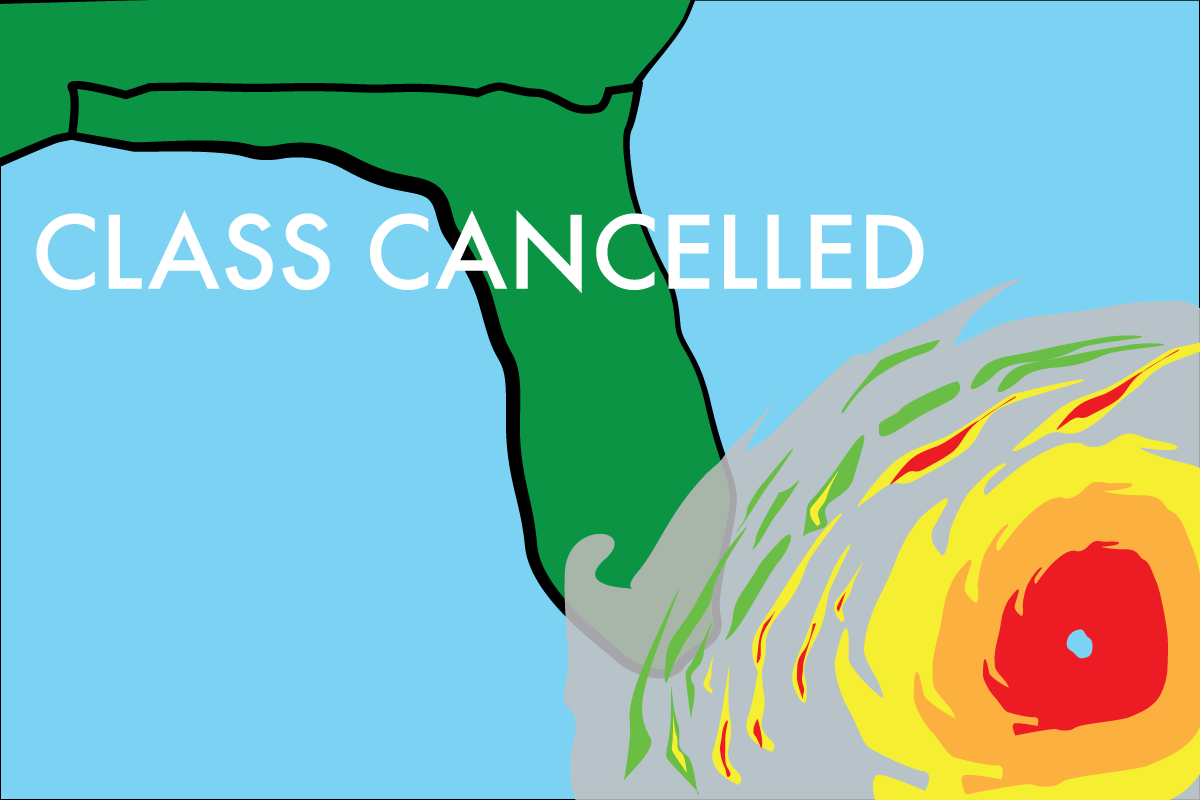 Classes and all other student activities at UNF are cancelled after 3 p.m. Wednesday and all day Thursday, Friday and Saturday, according to an email sent out to students and staff.
Hurricane conditions are expected to impact Florida late Thursday according to the National Hurricane Center. Residential students are encouraged to leave campus. 
According to the update from the UNF Crisis Management Team (CMT), in the case of a campus evacuation, Residence Life staff will travel with and remain with students as long as necessary. Should conditions become extreme, the university also has a plan in place with the American Red Cross.
"I would say it is not likely that they will be forced to leave," Sharon Ashton, Vice President of Public Relations, said. "We are ten miles from the coast, we are not in a flood zone, and our residence halls are pretty sturdy. So while anything can change, I do not anticipate them having to leave."
Students who live on campus will have limited food access, the update stated. The Osprey Shuttle is remaining in operation today for students to be able to take the shuttle to Publix or Target to get the supplies they need. The shuttle will not be in operation on Thursday, Friday or Saturday.
"As long as the Osprey Cafe can safely remain open, it will," Ashton said. "In the past, we have packed up brown bag lunches for the residential students who have decided to stay and we have gotten them those brown bag lunches."
The announcement regarding university cancellation was originally scheduled for noon on Wednesday; however, the CMT and President Delaney decided to provide more time for students who live in other parts of the state or country.
"Should conditions worsen, we have a plan," Ashton said. "We've long had a plan with the American Red Cross — a Memorandum of Agreement for a shelter that our RAs will staff… and therefore our students can have immediate access to their shelters."
Should the university lose power, Ashton said the university does have generators, and have an advantage that normal residences don't: underground powerlines.
"Ours are all underground in the core of campus, so that's very helpful to us," Ashton said. "So as long as the hub that provides electricity to the core of campus, we're in very good shape."
Ashton encourages students who have already left campus but have classes early today to reach out to their professors to talk about their personal situations.
Employees are allowed to leave at 3 p.m. today.
Ashton said she expects campus operations to return to normal on Sunday.
—
For more information or news tips, or if you see an error in this story or have any compliments or concerns, contact [email protected].