Lumberton, North Carolina is still underwater as I write this on Tuesday, Oct. 11 from the comfort of a cozy office in recently washed clothes and a clean body. As my editor put it, this is the story of how I tried to escape Hurricane Matthew, only ending up in its path a few days later.
Thursday
When Hurricane Hermine came through in August, my mother wanted me to stay with her but I opted to stay in my dorm room and get some homework done. When four to five ambulances passed by my work in one day and Walmart ran out of money the next, I decided it was best to stay with her and her friend in North Carolina for Hurricane Matthew.
My roommate wouldn't come with me, causing me to experience a mixture of anger, frustration and worry. If you follow me on social media, you probably saw my numerous posts and tweets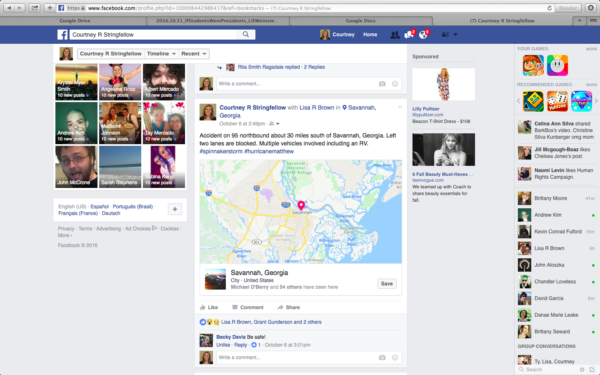 which only spread the fear I was experiencing — for this, I apologize. When another editor reported that students were being evacuated to the Fountains, I tried to focus my attention on the road ahead knowing that she was safe.

On the drive up I-95, cops helped evacuees change flat tires and they resolved a few minor accidents. A major accident 30 miles south of Savannah, Georgia convinced me the end was near — the end of escaping the hurricane that is. Only one lane was open to the thousands of Floridians who were trying to evacuate.
My mother's speedometer read 85 mph in the hours following the accident, but when I looked around I noticed every car was travelling at the same speed. I decided now was not the time to be a backseat driver.
A flash flood watch was in effect when we finally arrived in Raeford, North Carolina (near Fayetteville and about the hour from the coast). The watch was supposed to end Sunday at 6 p.m. but the area is still receiving alerts.
The flooding made sense. North Carolinians experienced a flash flood the week before Hurricane Matthew hit, so it was likely that all of the rain from this system would cause another problem. But the water never completely receded from the first flood, which would later cause dams to break.
Saturday
We weren't prepared for Hurricane Matthew — we weren't prepared for a hurricane at all. I learned that we would experience hurricane force winds only an hour before we lost power. I cannot remember if this was because I was focused on Florida or if I was following too many networks at once. My mother was blowdrying her hair when the power went out. I was supposed to take a shower after her, but I wasn't about to shower in the cold.
Sunday
The next morning we started running out of water and I was wishing I had taken my chance to wash up. There was enough water to wash my hair, but that was all. The cold water ignited the nerves on my scalp and I kept the water turned off as often as I could, for my sake and for the sake of everyone else in the house.
Even worse than not being clean was not being able to enjoy warm food. I had a leftover chicken burrito in the fridge, so I ate that. Then came the chips and salsa. My tongue is still a little sore from the rough texture of those chips.
Despite reports of trees and rivers causing road closures, my mother and I packed the car Sunday morning in hopes of making it back to Jacksonville that evening. We kept the radio on as we saw the devastation that matched the reports.
A tree as large around as a sedan lay dying across the main bypass we needed to travel on, and my mother's Toyota Corolla was not about to make a muddy journey in the ditch to the other side.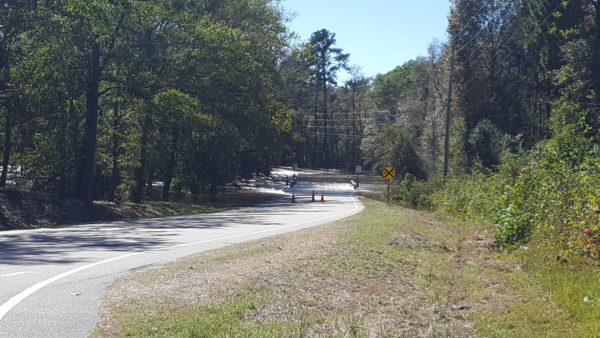 We returned to Raeford, North Carolina in search of food after driving for two hours. We finally found Hardee's, Popeyes, McDonalds, Taco Bell and a few other chains, but the drive through lines filled the roadways and dining rooms were not open.
We decided to enter the long line at Food Lion with water, bread, and other non perishables. I don't think Food Lion ever had as much business as it did that day. When we returned from the store, the power was back on after 19 hours.
Crews had most of the trees out of the way by the time we tried again around 3 p.m. but the floods that engulfed bridges, interstates and pastures were still too prominent and too high for us to get through. Some local women gathered water from a flooded pasture and elementary school playground when we passed by this time. We were under a boil alert just like the beaches.
We wouldn't be making it back. I emailed my Spinnaker crew, informed my work, messaged my roommate and close friends, and prayed classes would be canceled. I was thankful President Delaney finally made the executive decision to do just that.
Monday
Many exits in South Carolina did not have power, which meant there were no restrooms nor gasoline for miles. The first exit with power looked like it was preparing for the end of times. Cops directed traffic at the only gas station near the on ramp.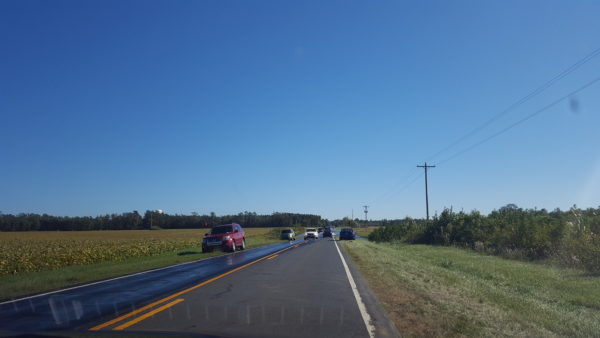 Cones blocked all but one entrance to the station, so my mother and I would have to wait in the line without an end to use the bathroom. We decided to hold it, and kept moving.
I finally made it back to my dorm room around 4:30 p.m. on Monday, Oct.10. I will never again be able to justify sitting in my dorm watching television as I could Monday night.
—
For more information or news tips, or if you see an error in this story or have any compliments or concerns, contact [email protected].