The most hated people on campus: Parking services employees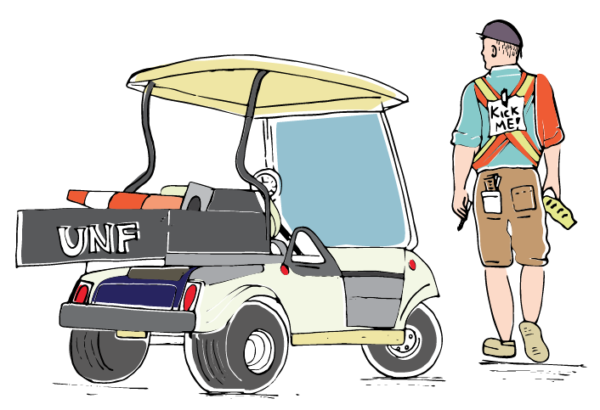 With the fall semester underway, we're all going toe-to-toe with the campuses greatest oppressors: the parking garages. Even I have found myself circling around, angrily texting my coworkers that I'm going to be late because of how long it's taken to find a parking spot.
Is it worth the ticket to just use a faculty spot and not be late? How are there possibly this many people with blue permits on campus at 8 a.m.? Do you think I could call and make a  friend park for me, so I don't have to deal with this right now? These are the questions that haunt my mornings and inspired Spinnaker to ask a whole lot more.
In pursuit of the wisdom and patience I need to not cringe at the thought of campus parking, I met with Erika Lee, a graduate student in International Affairs, who happens to work for Parking Services.  
Lee has been around UNF for about five years, as both a student and employee. She started out with undergraduate degrees in anthropology and religious studies and now works for parking services full-time.
Spinnaker sat down with Lee and asked her anything and everything we could have thought to ask, and she answered.
Spinnaker: Why did you decide to work for parking services?
Erika Lee: For the benefits. The school is a really good place to work. It's close to my classes, obviously, so already being here and taking classes here is a lot better for my schedule. I've worked here just under a year, and I'm full-time right now.  
What are your favorite and least favorite parts of the job?
I love the campus. I'm kind of invested in UNF — I've seen it change over the years and that's been kind of fun. My least favorite part, honestly, is the way that other people on campus see us, in terms of parking itself. They forget that there are people on the other side and we're just trying to work and go to school and do the best we can, instead of just seeing us as an entity.
Do you feel like other students treat you differently once they know?
They do. I hear a lot, whenever people see my shirt or they see parking or I tell them I work on campus. They always say "oh, the most hated department on campus." I've been called the Antichrist. I've been called fascist. I mean, most of the time they're kidding, but not really. Or, they ask "why are permits so expensive?" and I don't know. That doesn't go in my pocket.
Has someone tried to talk you out of a ticket?
Yes. Usually – and this is the hard part – people try to lie and say "oh, I was only there a few minutes." It takes a few minutes to write a ticket, so if I've already got it written up by the time you come out, you've already not been there at least five to ten minutes. I understand that people don't want tickets, but when they're lying to my face at the same time, it's frustrating.
Where do you park? Do you get a discount on permits?
In lot 100, at the Parking Services building. We don't get a discount, but we can have it taken out of our paychecks over time, so we don't have to pay it all at once.
Are there any tricks or tell-tale signs that someone is parked illegally?
Trying to obscure a daily permit is the number one thing. If they have a temporary permit shoved in their windshield to hide the date, it's usually because it's not for that date. If they're backed in really close to the wall, they come up with a lot of tricks, but for the most part it's really easy to tell.
What's your worst story from on the job?
We put boots on cars if someone has more than three unpaid citations that are late. So, we were in the garage and the patroller that had written that particular citation was there and they called to get the boot put on, and the customer was going off about how he was going to find the patroller who wrote them that ticket and he was going to get in their face and the patroller is standing right there. When they get belligerent that way, we have to protect ourselves. We have to leave the scene and warn other patrollers, and that's why we don't want to identify all of them, is because they do get yelled at in class. They have issues where they get confronted in the parking lot and asked what their name is and people get really angry.
What's the greatest outstanding balance you've seen in one semester?
$500. Seriously. I think it was all in one semester and for like, 20 tickets.
What's the most tickets you've seen issued in a day?
Me, not that many, but I've seen 90 done in a day at the beginning of a semester before.
How many were issued the first week of this semester?
Probably close to 2,000.
How many people work to patrol? What kind of training do you go through?
In any given semester, it's probably 10-15. They spend their first few days not actually writing tickets but shadowing another patroller and learning all of the rules and lots. Then, they shadow and write tickets and are paired up with someone else before they're able to go out and do it on their own.
Have you ever been confronted in class about it?
Yeah, but mostly just asking questions. 'How come,' 'that's not fair,' and things like that.
Do you personally feel like permits are over-sold?
Well, we have numbers. We have a number of spaces and we sell that many so it's just a matter of when people have classes. People figure out where to park. Everyone wants to park in lot 2 and in 44 in the first week and then they realize they can't do that so they end up having to spread them out a little bit. But there is a formula.
More information about Parking Services can be found online.
—
For more information or news tips, or if you see an error in this story or have any compliments or concerns, contact [email protected].