Women's Basketball Backcourt Duo: Sierra Shepherd and Claire Ioannidis
This years women's basketball squad may have new faces, but at the hem are two familiar players looking to take the team to the next level.
Recognized as members of the ASUN Preseason All-Conference Team, Sierra Shepherd and Claire Ioannidis are two of the Ospreys' most potent offensive weapons. While their styles may differ, as a they are a one-two punch.
Self-described "yin and yang," these guards bring out the best in each other on and off the court.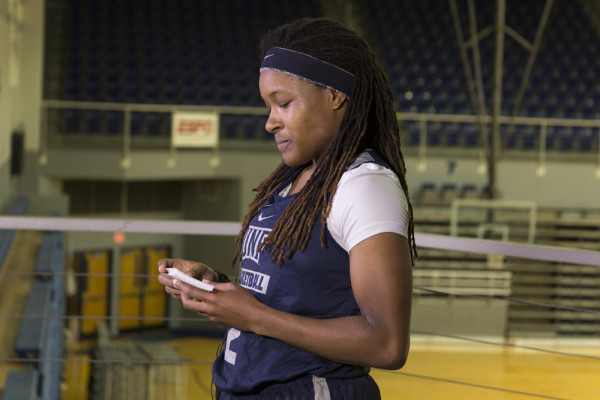 Coach Darrick Gibbs sees Shepherd as outstanding player for the team who has continued to grow on the court.
"Sierra is dynamic, quick, athletic, very explosive," Gibbs said. "I don't think she realizes how impactful she can be from that standpoint of things. She is someone we rely on to push tempo. There are some very special qualities about her basketball wise."
Shepherd, a junior sports management major, spent her career as a dominant guard for North Florida. Starting in all 30 games, she averaged a little over 33 minutes a game. Shepherd had the team-best shooting percentage with .434. She was second in scoring behind Ioannidis, having seven-game double-digit scoring streak to close the season. Earlier in the season, she went on a nine-game double-figure run.
Her play led her to make marks in the conference in the top ten of several categories. Last season, she was fourth in assists (109), sixth in steals (51), and seventh in points per game (11.7).
Shepherd said that her strength is more than what's on the stats sheets.
"My strength is my ability to lead by example. I try to like push myself as hard and motivate myself so teammates can follow that," Shepherd said.
As a Jacksonville native, she's used to playing fast after being a part of the powerhouse Ribault program that won two FHSAA 4A State Championships while she was there.  It's a community that still supports her as she wears her North Florida uniform.
"I think it is good, just because my family gets to support me at every home game. And I got a lot of support from friends and other people that are still in Jacksonville," Shepherd said.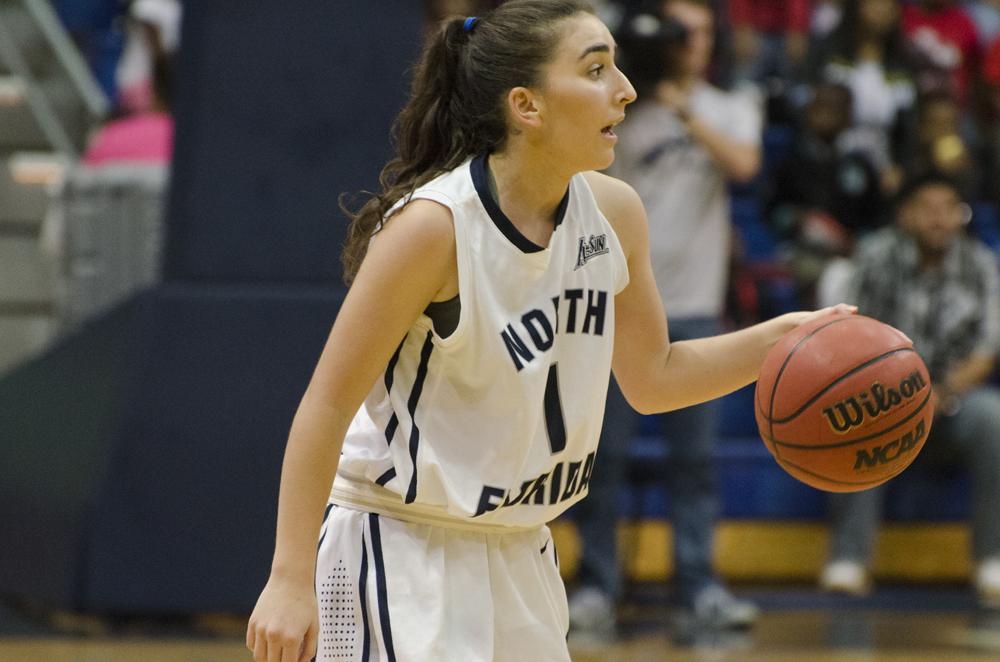 On the other hand, Coach Gibbs describes Ioannidis, who thinks more about the team's success than her own.
"Claire is a great leader. She is the steady hand of our team," Gibbs said. "She makes sure everyone is engaged and in tuned with what is going on. Obviously on the basketball court, she is our leading scorer, probably one of our better shooters. But I think she brings some much more to the table from an intangible standpoint to what she brings."
Ioannidis, a senior psychology major, brings balance as a floor leader for North Florida. A key trait needed as a point guard in any league. Before lacing up for UNF, the Australian played at Trinidad State Junior College in Colorado for two years. While there, she was the all-time leader in assists with 202.
Ioannidis played in all 30 games, starting in 27 (only three less than Shepherd.) Last season, she tied a school record with 80 three-pointers. She became a leader in scoring, three-point percentage and minutes for team who could use the offensive power. It wasn't uncommon for Ioannidis to post double-figures in the scoring column.
Her leadership carried in the conference as she was second in free throw percentage (83 percent) and fourth in points per game (15.1). She was awarded the ASUN Conference Newcomer of the Year for her breakout performance.
"I would say my strength as well is more vocally leading. Not so much by example but sometimes I feel like a mother-figure of the team," Ioannidis said.
Coach Gibbs describes the two as being valuable pieces to the squad where their experience will help push their teammates around them.
Last season, the team went through growing pains with a new coaching staff and new players, including Ioannidis.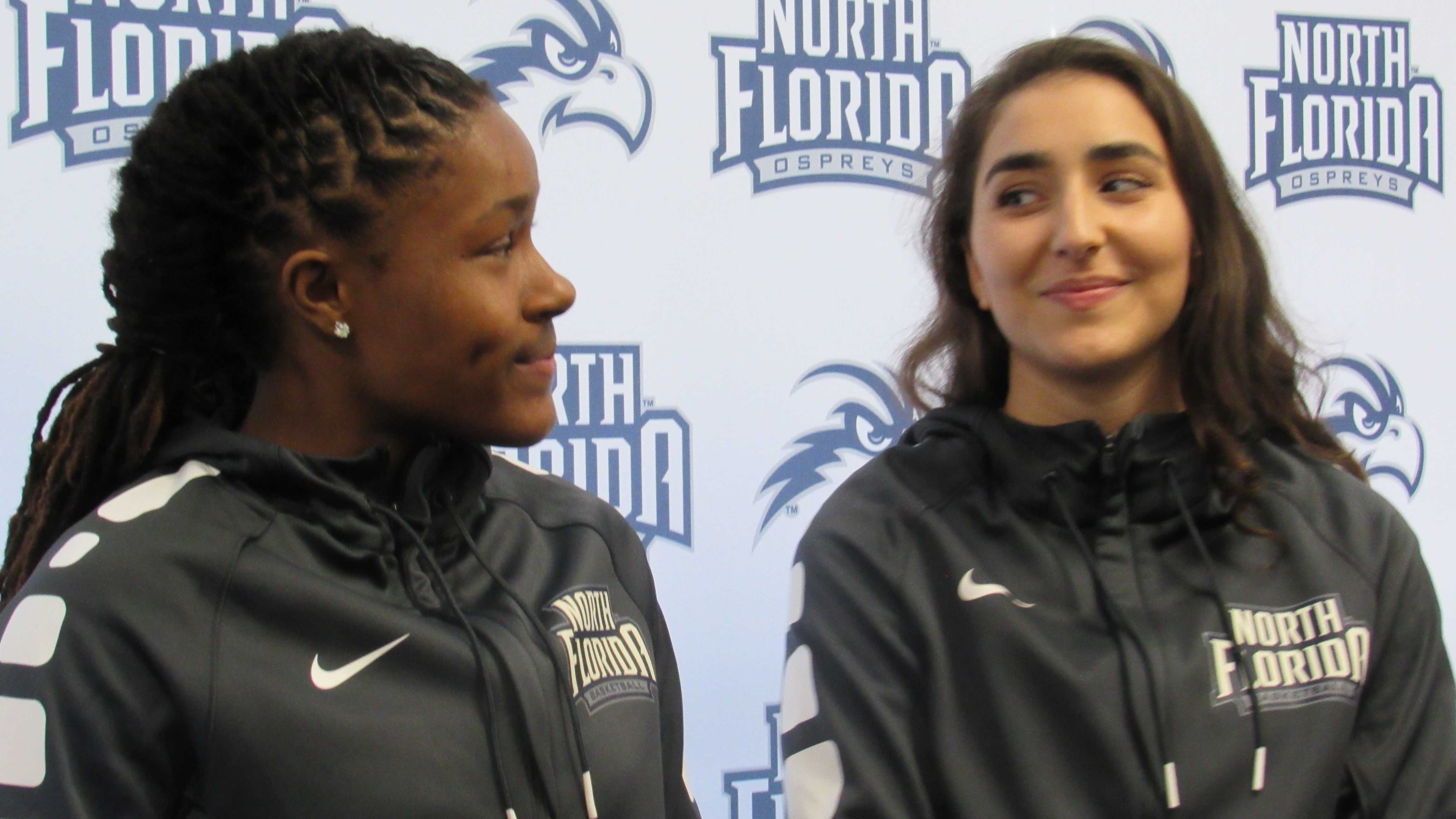 As a duo, Shepherd and Ioannidis both agreed that the guard position and defense will be the greatest strengths of this year's team.
"We have big guards, little guards, shooting guards, guards that who can attack really well," Shepherd said.
Ioannidis added, "We will be fast this year for sure."
As for the team's expectations, Shepherd had this goal: "I want us to be known as team to be tough. Just like a force to reckoned with."
North Florida women's basketball tips its season off at UNF Arena Nov. 11 against Florida A&M at 3 p.m.
—
For more information or news tips, or if you see an error in this story or have any compliments or concerns, contact [email protected].