Shooter contained on Ohio State campus: 10 injured, one critical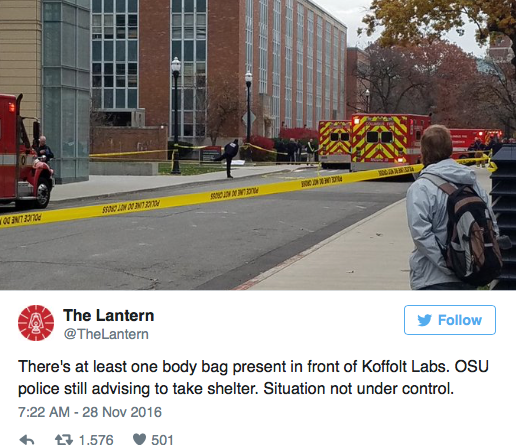 ***UPDATE: 1:10 p.m. –
A spokesman for Ohio State University says that 10 are injured and one is in critical condition following the campus attack in a press conference.
According to the Associated Press, Ohio State police are now saying that the attacker purposely drove into pedestrians and attacked people with a butcher knife, not a gun.
BREAKING: Ohio State police: Attacker purposely drove over curb into pedestrians, got out and stabbed people with butcher knife.

— The Associated Press (@AP) November 28, 2016
---
***UPDATE: 11:58 a.m. –
A suspect is dead and the threat is believed to be contained, CNN reports.
A suspect has been killed after a reported shooting at Ohio State University, according to local media reports https://t.co/q8cxONSDpV pic.twitter.com/QjU49iQ59W

— CNN (@CNN) November 28, 2016
---
An active shooter was reported on Ohio State campus at 9:56 a.m. Nov. 28.
Buckeye Alert: Active Shooter on campus. Run Hide Fight. Watts Hall. 19th and College.

— OSU Emergency Mngmnt (@OSU_EMFP) November 28, 2016
Ohio State's Emergency Management tweets out this alert that reads "Run Hide Fight."
The Buckeye alert system is urging people to avoid the area of the college and to call the police with any information.
Buckeye Alert: Continue to shelter in place. Wait for Police officers directions. Please contact Police / 9-1-1 only if you have information

— OSU Emergency Mngmnt (@OSU_EMFP) November 28, 2016
As of 11:07 a.m., CNN reports that 8 have been hospitalized and one is in critical condition.
The Lantern, Ohio State University's student newspaper is live tweeting the tragedy on campus.
There's at least one body bag present in front of Koffolt Labs. OSU police still advising to take shelter. Situation not under control. pic.twitter.com/fIdvjpwbzD

— The Lantern (@TheLantern) November 28, 2016
They have confirmed that a suspect has been removed from the scene in handcuffs, however, it is still unclear if that suspect is the shooter.
https://twitter.com/TheLantern/status/803270623778709504
Spinnaker will continue to update with more information as soon as it becomes available.
—
For more information or news tips, or if you see an error in this story or have any compliments or concerns, contact [email protected].