Students watch inauguration, voice opinions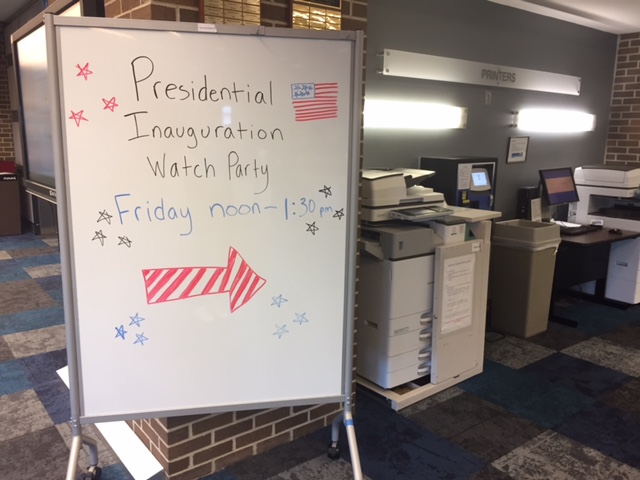 On Friday afternoon students crowded around the first floor of the Carpenter Library for the inauguration ceremony of President Donald Trump.
Popcorn and soda was served while students listened to Trump give his inaugural speech. The new president called for unity and proclaimed he would give the government back to the people.
"We must speak our minds openly, debate our disagreements honestly, but always pursue solidarity. When America is united, America is totally unstoppable," Trump said.
Trump touched on infrastructure, trade, foreign policy and immigration. He said his oath of office was an oath of allegiance to all Americans.
Even while Trump called for unity, members of UNF's Students for a Democratic Society protested his inauguration today, demonstrating it will take more than a speech for the country to come together.
At the end of Trump's speech some students clapped while others silently stared at the TV screen.
As the inaugural ceremony continued, conversation was hushed as students debated what Trump just proposed.
One such student, Jesse Rodak, junior, mechanical engineering, said he's excited to see what Trump has to offer for the country. While not "super political," Rodak said he is a Trump supporter.
"Obama's been doing a lot of things and I don't always agree with them. It's exciting to see what Trump does with all that has been in place," Rodak said.
Business administration graduate student Kamal Dames, while not a Trump supporter, expressed hope that the president will lead the country down the right path.
"It's always interesting to see who is going to lead the country no matter their decisions, there's nothing really you can do so you kind of have to support the inauguration itself," Dames said.
"I hope that he's going to lead the country to better economic standing and just a general positive direction. I always believe you give people the benefit of the doubt," Dames said. "If he messes up that's on him but right now he's at least just getting into the office."
Some students, like freshman mechanical engineering major Arialle O'neal, just wanted to see who else was coming to watch the inauguration.
O'neal, who wants to join the Navy, hopes Trump can strengthen the job market and military before she graduates.
"My parents are in the Navy and I spent a lot of time on a military base. I think Trump's decision to increase spending on the military will be good because a lot of the departments are lacking and not hiring people," she said.
This event marked the last of the presidential election watch party series.
__
For more information or news tips, or if you see an error in this story or have any compliments or concerns, contact [email protected].