UNF loses to number one FGCU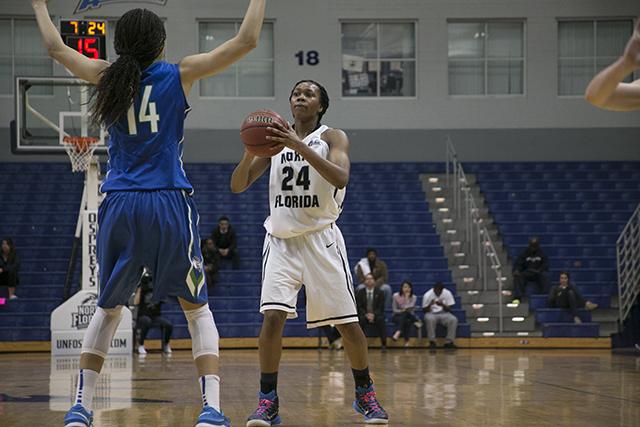 North Florida lost their fourth straight ASUN game to the number one seeded FGCU, despite Simone Brown scoring a career and game-high 23 points. With this loss, UNF is now in last place in the ASUN.
North Florida was looking to stop their three game slide, but FGCU had no intentions of snapping their undefeated ASUN streak.
Head Coach Darrick Gibbs addressed team's play in the conference.
"We've gotta take what we've learned from the first half and move forward," said Gibbs.
UNF played pretty well for the most part. The Ospreys converted on 50 percent of the shots they took, but their offensive juices never really seemed to get flowing. Two Osprey starters did not score, while three of the FGCU starters had double-digit scoring.
Brown averaged 15.25 points during the last four games. Gibbs had praise for Brown's excellent play.
"She been playing pretty solid over the last few games,"said Gibbs.
Tesh Hanson played for the first time since Jan. 23, after she took a hard fall during the game. Hanson played like she wasn't in pain and ended the night with 16 points and 4 rebounds.
"She's back to the point where she's good. We're still going to monitor her," said Gibbs,"It [her back] didn't affect her at all she wasn't hesitant."
North Florida went into halftime trailing 21-47.
Out of the halftime break, the Ospreys were relentless and hungry for the win. North Florida held the Eagles to just two points during this period and cut the down to as little as 10.
"It was probably one of our best quarters of the year there on both ends of the floor offensively and defensively on a really good team. It wasn't enough,"said Gibbs.
The Eagles were Birds of Trey in the UNF Arena that night. FGCU made 11 threes, with one of their players going four of five from behind the arch.  
North Florida never really put themselves in position to score. The Ospreys were unable to hold on to the ball long enough to get a basket of their own after making defensive stops on the other end. FGCU converted 25 points off UNF's 23 turnovers.
"We're kinda peeking through the door," said Gibbs, "We've gotta bust through the door and stop peeking."
FGCU took the game 68-51, continuing their perfect ASUN play. UNF starts the second half of ASUN play this weekend.
"I'm excited about the second half I know how good we can be, I see it every day in practice," said Gibbs.
Next the Ospreys look to recover against  Stetson in the UNF Arena at 1 p.m. on Feb. 4.  
—
For more information or news tips, or if you see an error in this story or have any compliments or concerns, contact [email protected].