UNF maintenance worker recalls heroics during frantic hostage situation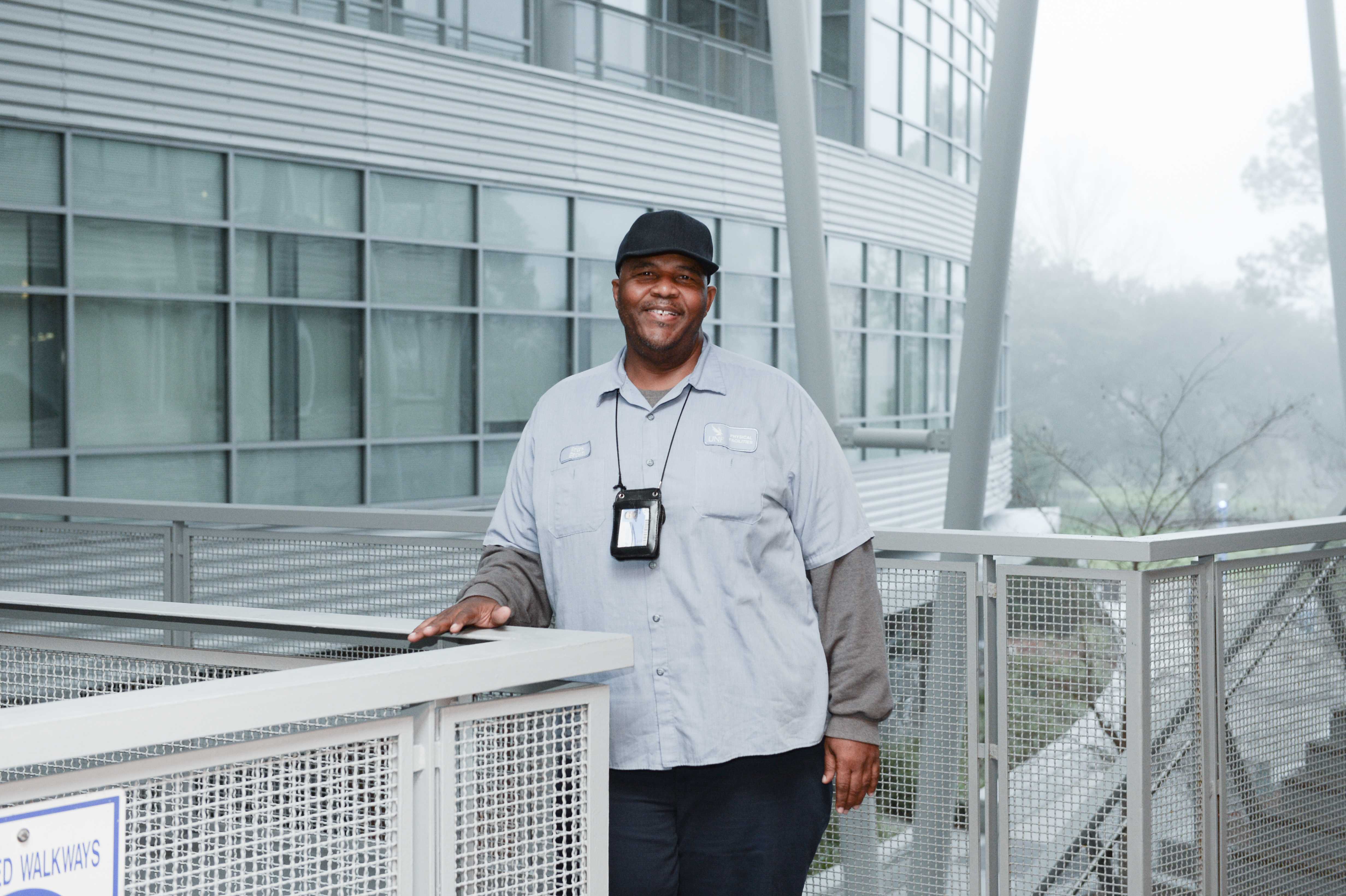 Nicholas Humphrey never sought money when he drew a handgun on the customers and staff at the Edgewood Community First Credit Union. He ordered the 13 hostages to line up behind a booth and wait until he could talk to his family.
The robber's pit bull was left to wander the adjacent cubicles. Away from the hostages, UNF custodial worker Frank Brown hid under a desk with a bank associate. That's when Brown told her to pray.
"The dog found me."
The pit bull came up to Brown, face to face. Pit bulls have a bit of a reputation, but Brown said he could tell the dog wasn't violent. Brown said he was normally scared of pit bulls, but it was in the adrenaline of the moment, where, like an irritated elementary school teacher, Brown placed his index finger to his mouth and whispered "Shhhhh." He said it was just reflexes. He said he didn't think about doing it.
Humphrey yelled, "Come on back!" to the dog. And the dog let Brown be.
Brown told the associate, "We're going to make it."
***
Brown didn't think his trip to the bank would take long after his eight-hour shift at UNF concluded. He was being careful, checking if his name was listed as the beneficiary of a newly opened bank account. Brown's name was on the account, it turned out, and he could go home. But there was someone in his way.
A skinny man — with a pit bull and a bag of dogfood — was making a scene. A bank employee told the man, a 23-year-old Humphrey, that he couldn't have his dog inside the bank.
Brown turned to the associate and said, "I didn't know that pit bull could be service dogs."
He repeatedly remarks that the following scene occurs in slow motion: Humphrey fires his handgun in the ceiling, orders everyone onto the floor and asks for their cellphones.
"Time was still. It was almost unreal," Brown said. "This is not really happening."
Humphrey doesn't notice Brown — a mere eight feet away — and the associate shuffle under a nearby cubicle.
"Emotion is flowing through your veins, everybody's jacked up, your adrenaline's going, his adrenaline's going," Brown said.
After he corralled the hostages, Humphrey yelled that he was going to shoot anybody he found. Brown was mostly worried about his phone — the ringtone James Brown's 1964 soul classic "I Feel Good," — which he promptly silenced.
"My wife was coming to the bank behind me. I didn't want her to call me," Brown said.
As the situation drew on with a SWAT team outside, Brown thought Humphrey was getting closer to snapping and taking lives.
"When he said he didn't want any money, the first thing that came to my mind was 'Terrorist!'" Brown said. "I think he's fixing to come in here and start killing people. How do you not want any money when you're in a bank?"
***
"Run. Hide. Fight." is the slogan of the controversial and widely-taught active shooter training video.
Brown took UNF active shooter night classes with Chief Mackesey, and watched the training video. Brown said that he hadn't thought about using the training in real life, but it helped during the hostage situation.
The training dictated that a person should hide if you can, run if you can, always try to think of a way of getting out. Brown said there's safety in numbers, and the potential victims shouldn't let themselves get tied up.
"In the training, if you make a loud noise and you distract the shooter, there's possibly enough time where either you can fight or get away."
While Brown, partially huddled under the desk, was composed, the associate wasn't. Brown said he thought she was in shock (he had to tell her the address of the bank when she called 911), he tried to joke and comfort her.
"I told her, 'If we get out of this alive, you're going to buy me breakfast,'" Brown said. "You know, I was just keeping her mind off the situation at hand."
Brown said that in the moment, he was at peace— he was ready to die.
There was reason to be hopeful, however. The handgun wasn't an automatic.
"There's more people than bullets. Somebody's going to walk out of this thing alive."
After two hours, Brown was ready to make a move for the door. But his leg had fallen asleep so he clattered into a group of chairs. Mid-fall, Brown pushed the chairs to make more noise. Brown thought that Humphrey believed the noise to be the SWAT team. Humphrey panicked and ran out of the room where the hostages were and the door locked behind him.
"He [Humphries] was on his own. That turned out to be the opportunity that SWAT needed," Brown said. "For no one to get hurt in there, hey, that doesn't normally happen."
Brown, who's almost 60, said he's had dreams about the hostage situation and sometimes his mind rewinds back to that morning.
"I'm still working through this. It plays over and over, I think about," Brown said. "It'll be a while before I go into that bank again."
His family and friends were proud of him and glad he was safe. They called him a hero.
"Everybody wants to know they're here for a purpose, they want to accomplish something, if I had to go meet my maker, at least I did something," Brown said. "If somebody lived, and your life touched people, sometimes you don't see how your life touches people, but sometimes you do."
—
For more information or news tips, or if you see an error in this story or have any compliments or concerns, contact [email protected].