Women's basketball takes a nail-biting victory over USC Upstate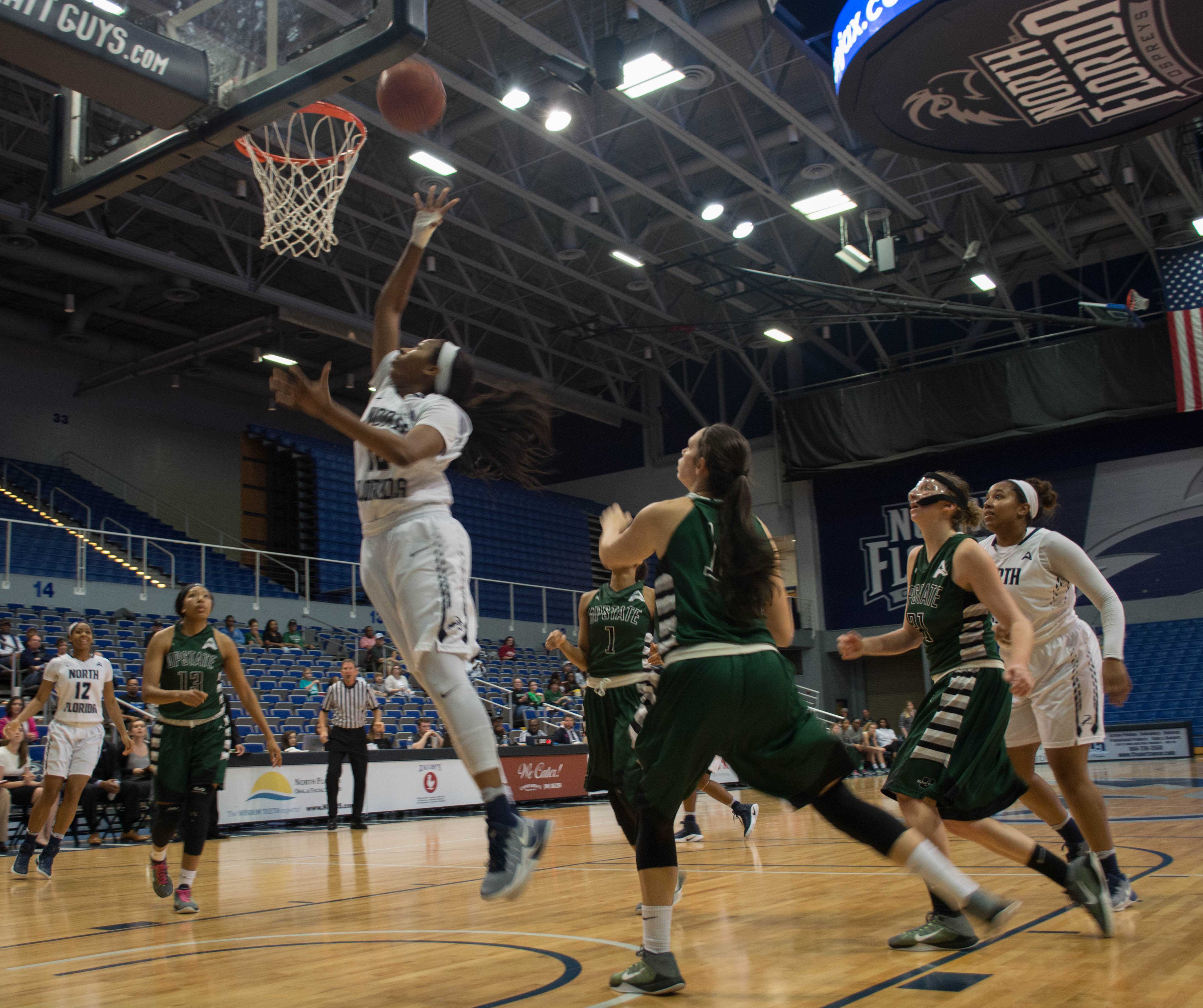 The women's basketball team's effort helped them snatch the win from USC Upstate in a triple overtime nail biter. With this win, North Florida snapped a six-game losing streak.
North Florida (9-16 overall, 2-8 ASUN) had six players score in double digits, and Upstate (9-16 overall, 2-8 ASUN) had four.
Head Coach Darrick Gibbs was proud for the way his team played and overcame.
"I'm proud of these guys a whole lot for finding a way to win. We've come up on the short end of the stick for a lot of these close games," Gibbs said.
Jaiveonna Norris garnered the only double-double of the game. Norris had a team-high 14 points and grabbed a game-high 12 rebounds during this triple overtime win.
Simone Brown made a clutch basket in the final seconds of regulation to tie the game at 55, sending them into the first overtime. Brown would end the game with 12 points, a game-high three steals, four rebounds and four assists.
Tesh Hanson returned for North Florida after missing a game because of a back injury. Hanson scored a team-high 14 points and assisted three buckets.
Upstate went up 61-59 during the first overtime, before Claire Ioannidis drove to the basket and was able to tie the game. This sent the game to yet another overtime. Ioannidis ended the game with 10 points.
"I'm proud of the team. There were moments when we could have got down, but we persevered through everything," Hanson said. "We were playing with all our heart."
During the second overtime, Sierra Shepherd hit a three, giving the Ospreys a 69-66 advantage. The Spartans were not going to lay down easily and answered with a three of their own, forcing the third OT.
At the post-game press conference, Gibbs said his thoughts going into the third overtime were "Can we finish this?" And that they did.
With made free throws from both Ioannidis and Adrienne Jackson, who scored 10 points and snatched down eight rebounds, the Ospreys were able to seal the win 77-74 in triple overtime.
"Everyone stepped up when we needed to. We all bowed in and got it done," said Jackson.
Next they will play NJIT on Feb. 13 in the UNF Arena, the game starts at 7 p.m.
If you can't make the game, Spinnaker Radio will be doing a live play-by-play on 95.5 FM, so be sure to tune in.
__
For more information or news tips, or if you see an error in this story or have any compliments or concerns, contact [email protected].